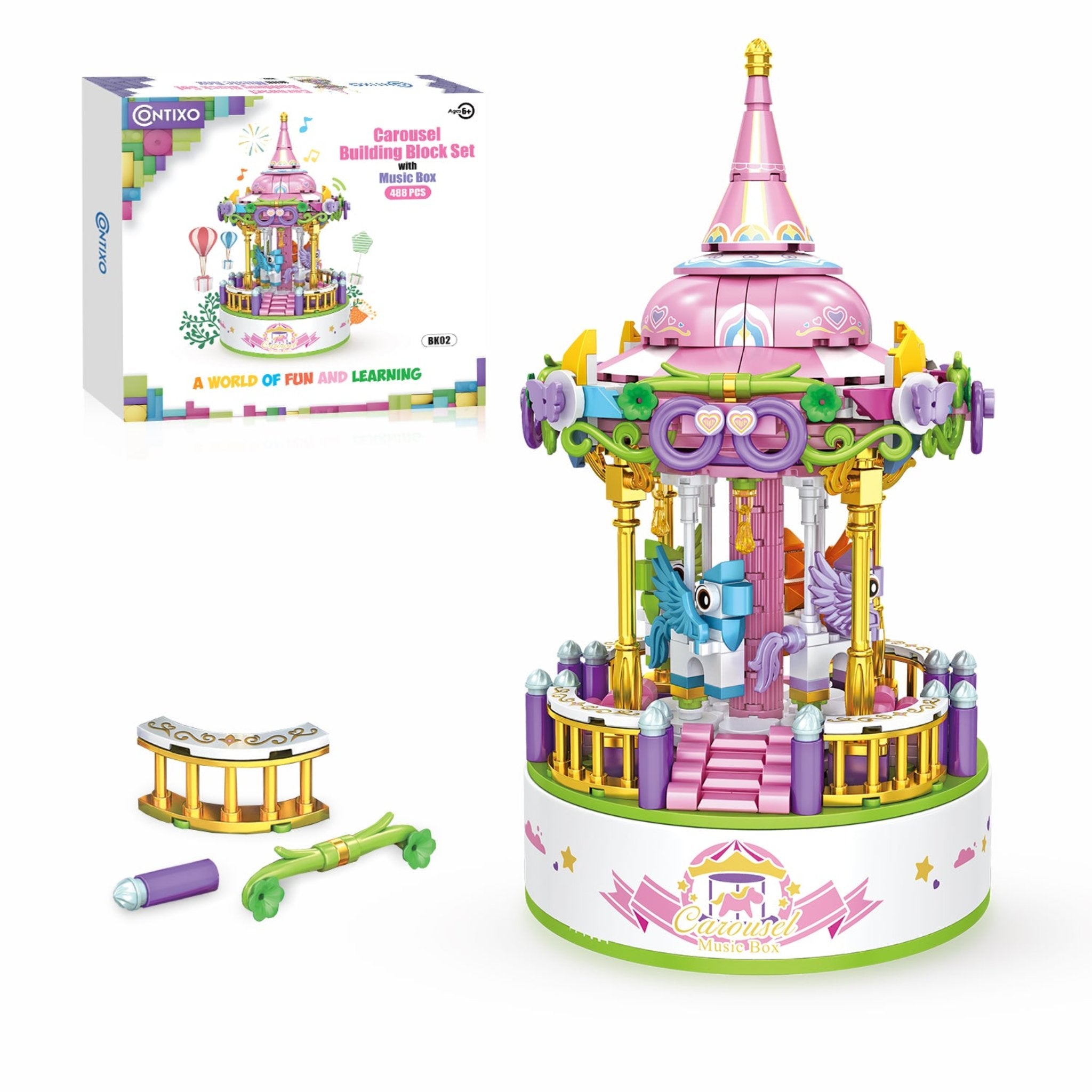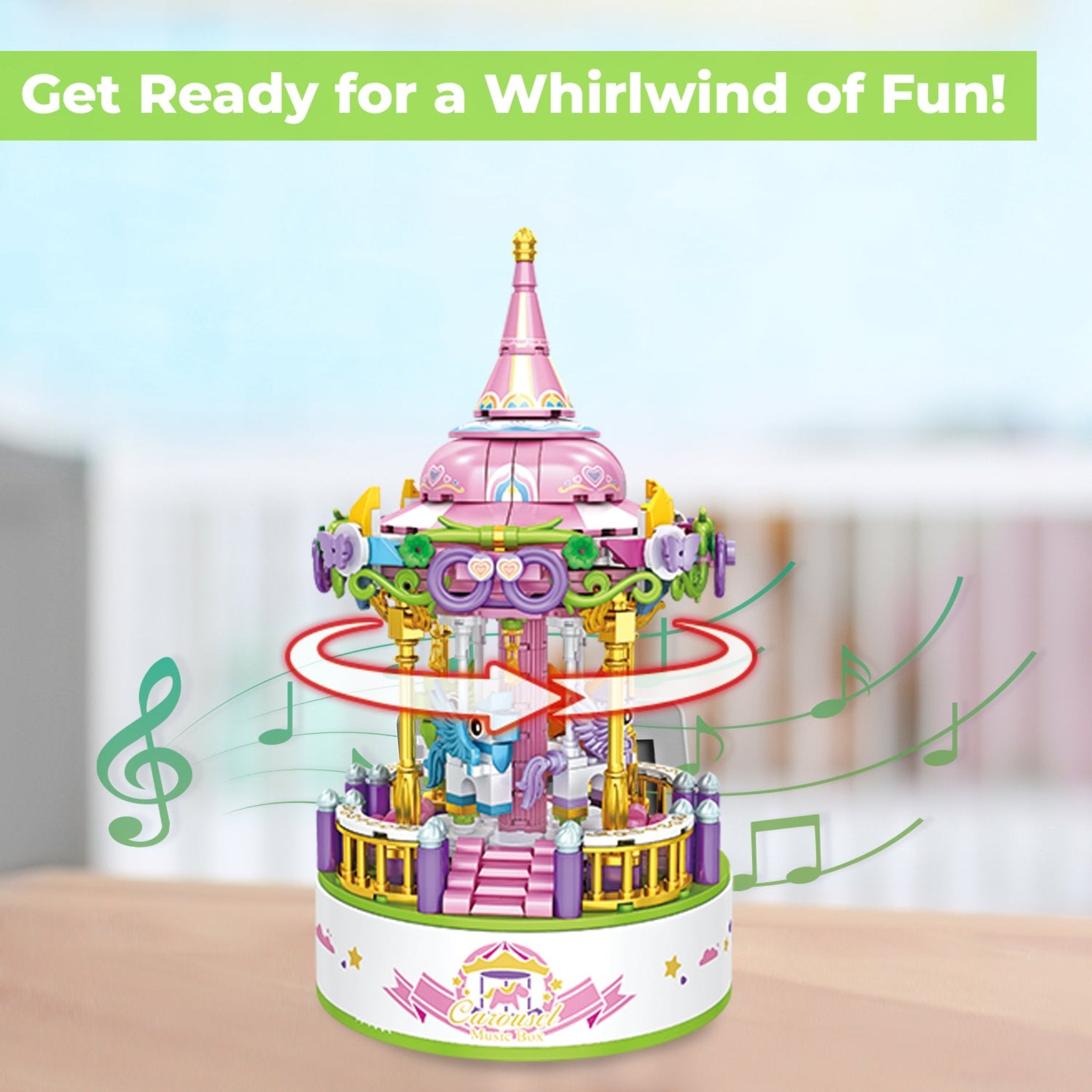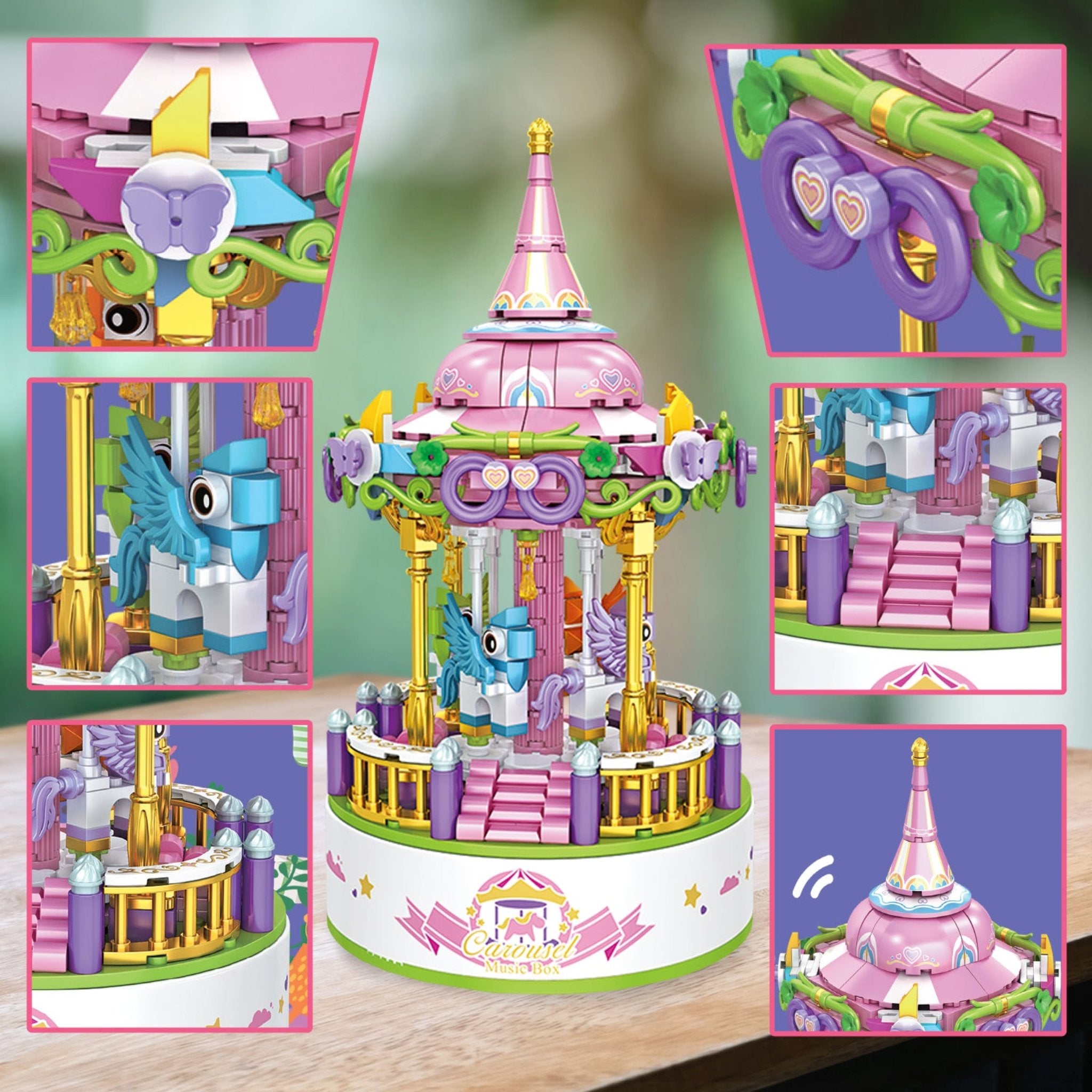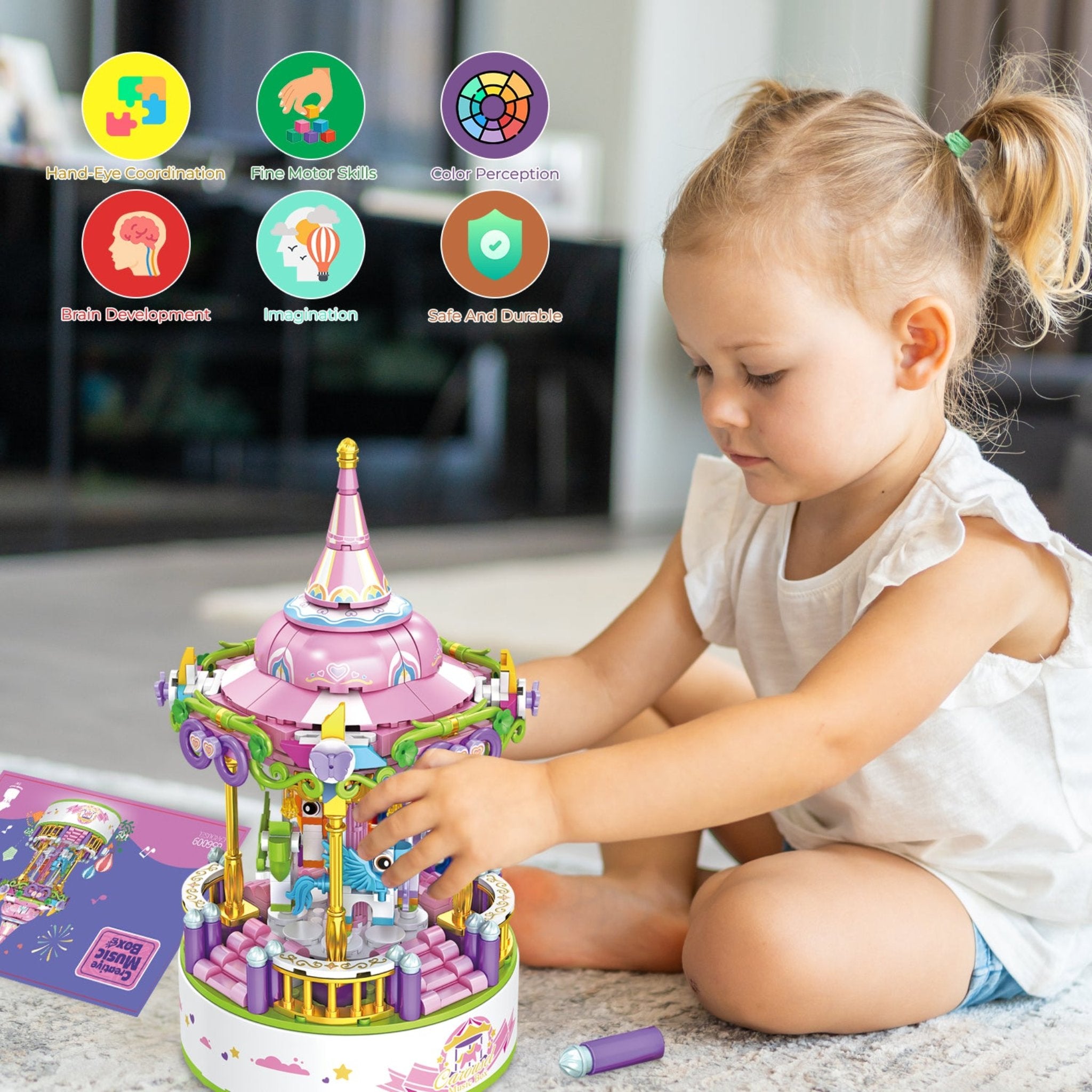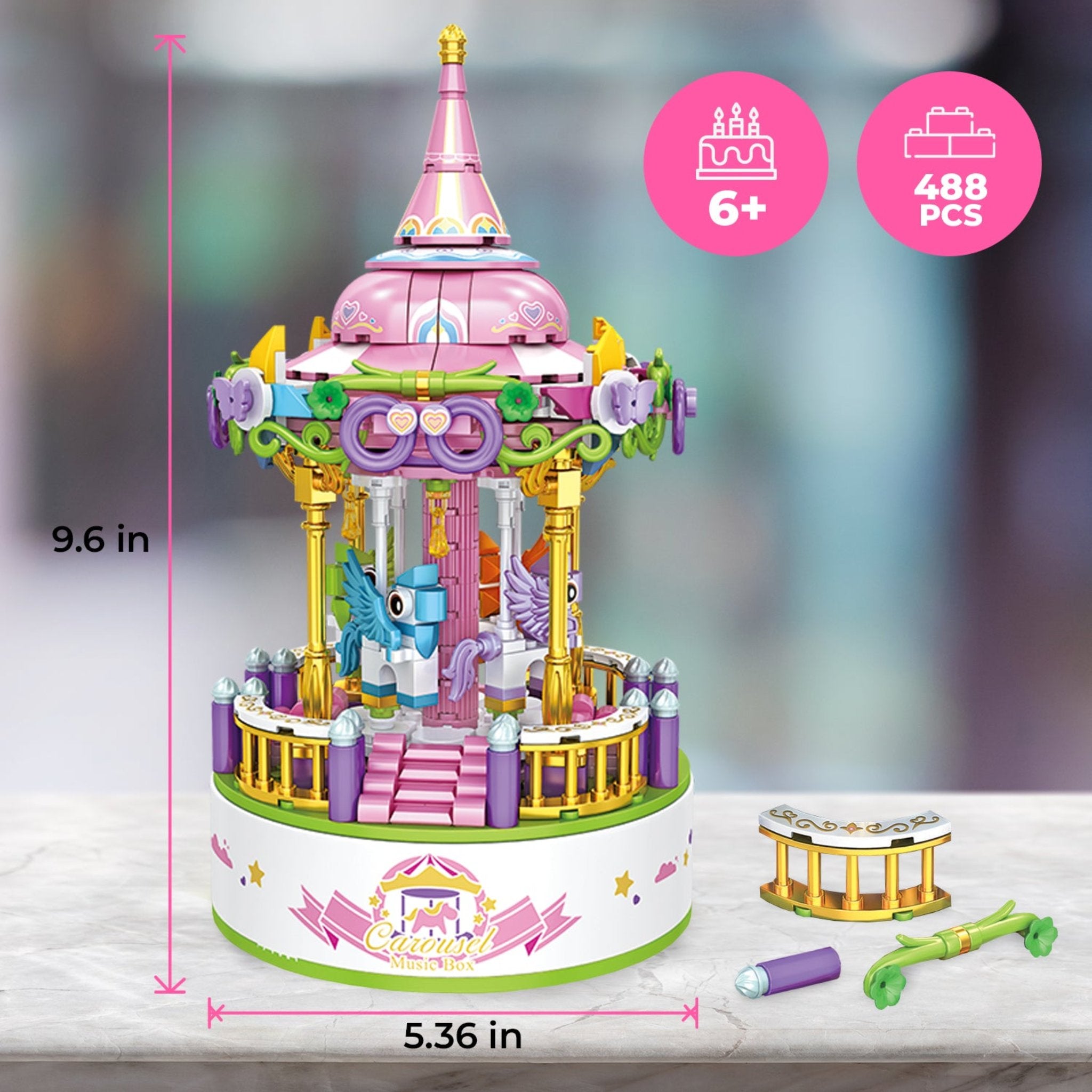 Contixo BK02 Carousel Building Block Set with Music Box - 488 PCS
Regular price
$45.99
Sale
Introducing the enchanting Contixo Metallic Pink and Purple Carousel Building Block Set, a whimsical world of creativity and fun! This captivating set combines the joy of building with the mesmerizing charm of a music box carousel, making it the perfect gift for children and collectors alike.
With a generous 488 pieces, this set provides endless opportunities for imaginative play and construction. Each block is carefully crafted with precision and vibrant colors, ensuring durability and a delightful visual appeal. Let your little ones explore their architectural skills as they assemble and reconfigure the blocks, developing fine motor skills, spatial awareness, and problem-solving abilities along the way.
The centerpiece of this set is the beautifully designed music box carousel. It gracefully rotates to the tune of a delightful melody, captivating young minds and filling the air with a sense of wonder. The carousel features intricate detailing, including charming horses, delicate fences, and elegant decorations, transporting children to a magical world of their own creation.
The Contixo Pink and Purple Carousel Building Block Set is not only an engaging toy but also a decorative piece that adds a touch of whimsy to any room. It serves as a charming display, bringing joy and imagination into the hearts of all who see it.
Designed with safety in mind, this building block set is made from high-quality, non-toxic materials, ensuring a worry-free playtime experience. The pieces are easy to connect and disconnect, allowing for seamless construction and endless variations in design.
Unleash your child's creativity and watch their imagination soar with the Contixo Pink and Purple Carousel Building Block Set. Whether they build a grand carousel, a majestic castle, or an entirely new creation, this set will provide hours of entertainment and countless memories. Give the gift of wonder and magic with this delightful toy that combines the joy of building, the enchantment of a music box, and the beauty of imaginative play.
Endless Adventure Awaits: This fantasy carousel kit is bursting with a whopping 488 pieces, this set is a gateway to limitless adventures in creativity and construction. With each block a canvas for imagination, prepare for a playtime like no other!
Vibrant Marvels at Your Fingertips: Crafted with meticulous precision, these mini blocks explode with lively colors, ensuring not just play but a visual feast. Durability meets dazzling hues for hours of excitement.
Carousel Symphony of Delight: The star of the show is the magical music box carousel. Behold as it spins to the tune of a enchanting melody, whisking kids into a realm of awe and delight. Intricate details galore, this carousel's a world to get lost in!
Decorative Whimsy Redefined: Say hello to more than a toy – it's a decoration that infuses rooms with whimsical charm. Transform spaces into wonderlands, where dreams and creativity swirl together, leaving all hearts brimming with joy.
Build, Play, Imagine, Repeat: Crafted with safety as king, these blocks are born from non-toxic materials for worry-free play. Connect, disconnect, and watch as your child crafts their dreams. From castles to carousels, watch their world bloom with joy, wonder, and endless memories!
Product Includes:
1 x Musical Base
488 x Building Blocks
1 x Instruction Manual
Educational Fun
The musical building block set fosters a love for music and encourages musical exploration.
Imagination Unleashed
The open-ended nature of the blocks allows kids to dream big and create their imaginative worlds.
Beautiful Keepsake
The music box becomes a cherished keepsake, holding fond memories for years to come.
Educational and Fun
Learning becomes enjoyable as kids explore various architectural concepts through play.
Hand eye coordination
By combining blocks of different shapes, she will develop good hand eye coordination skills.