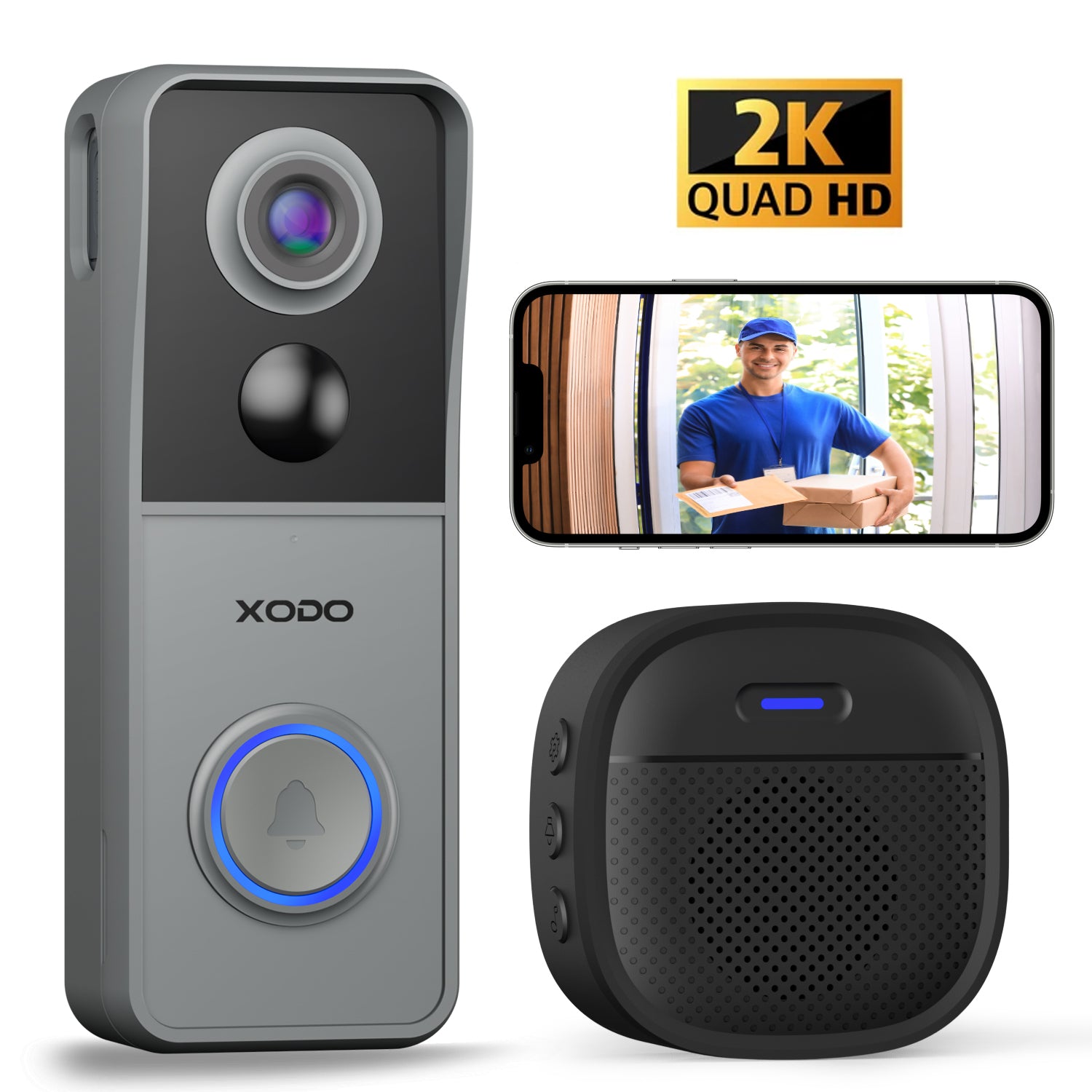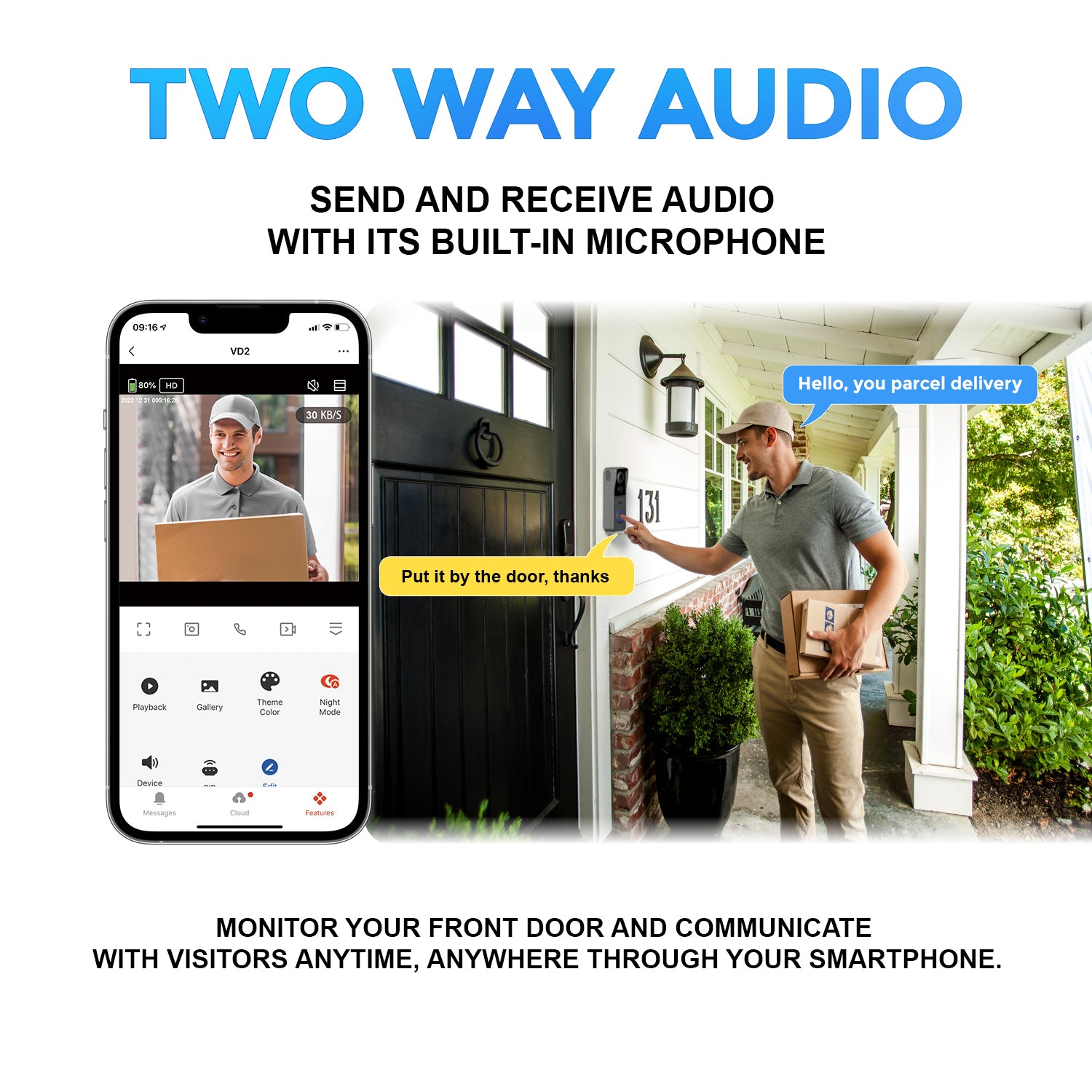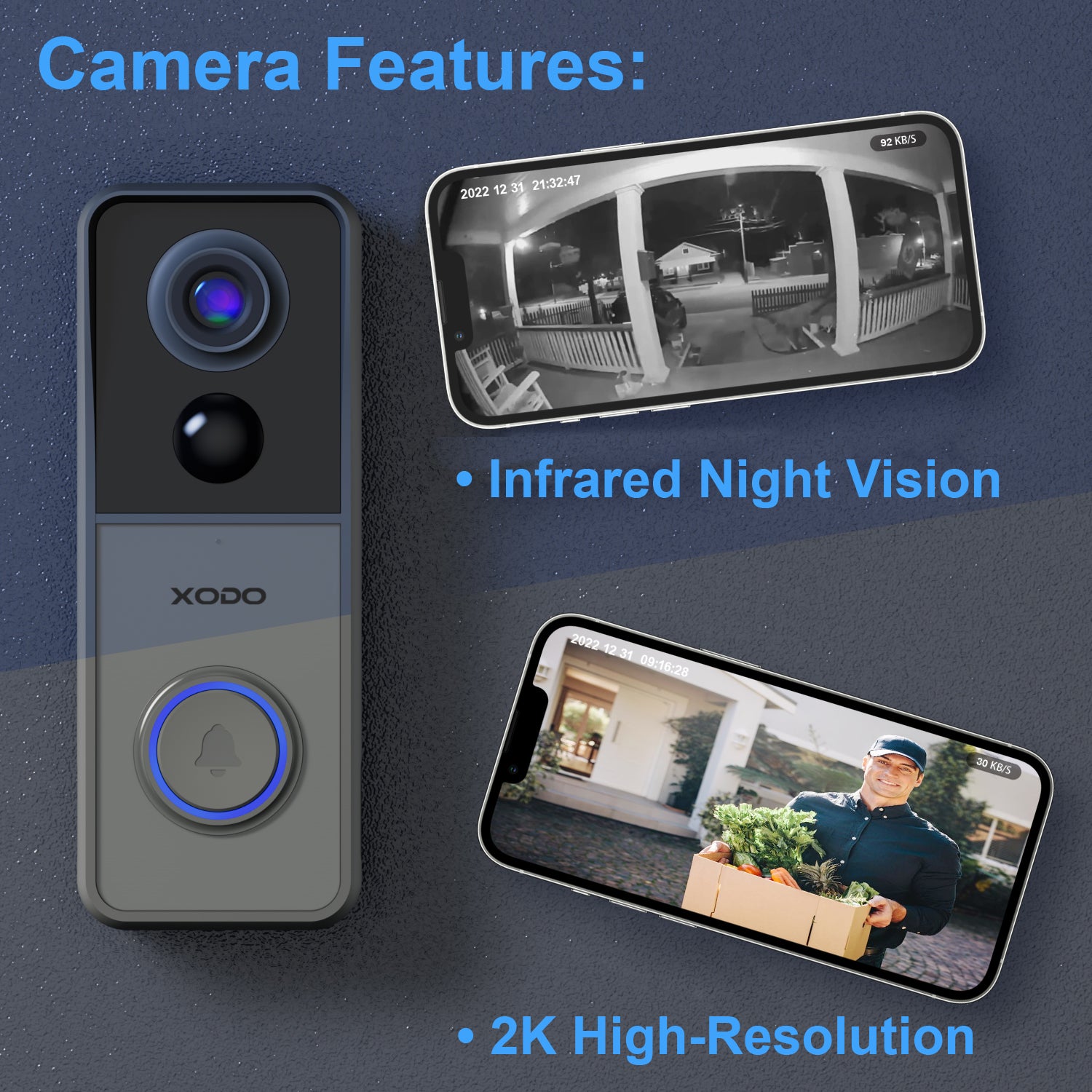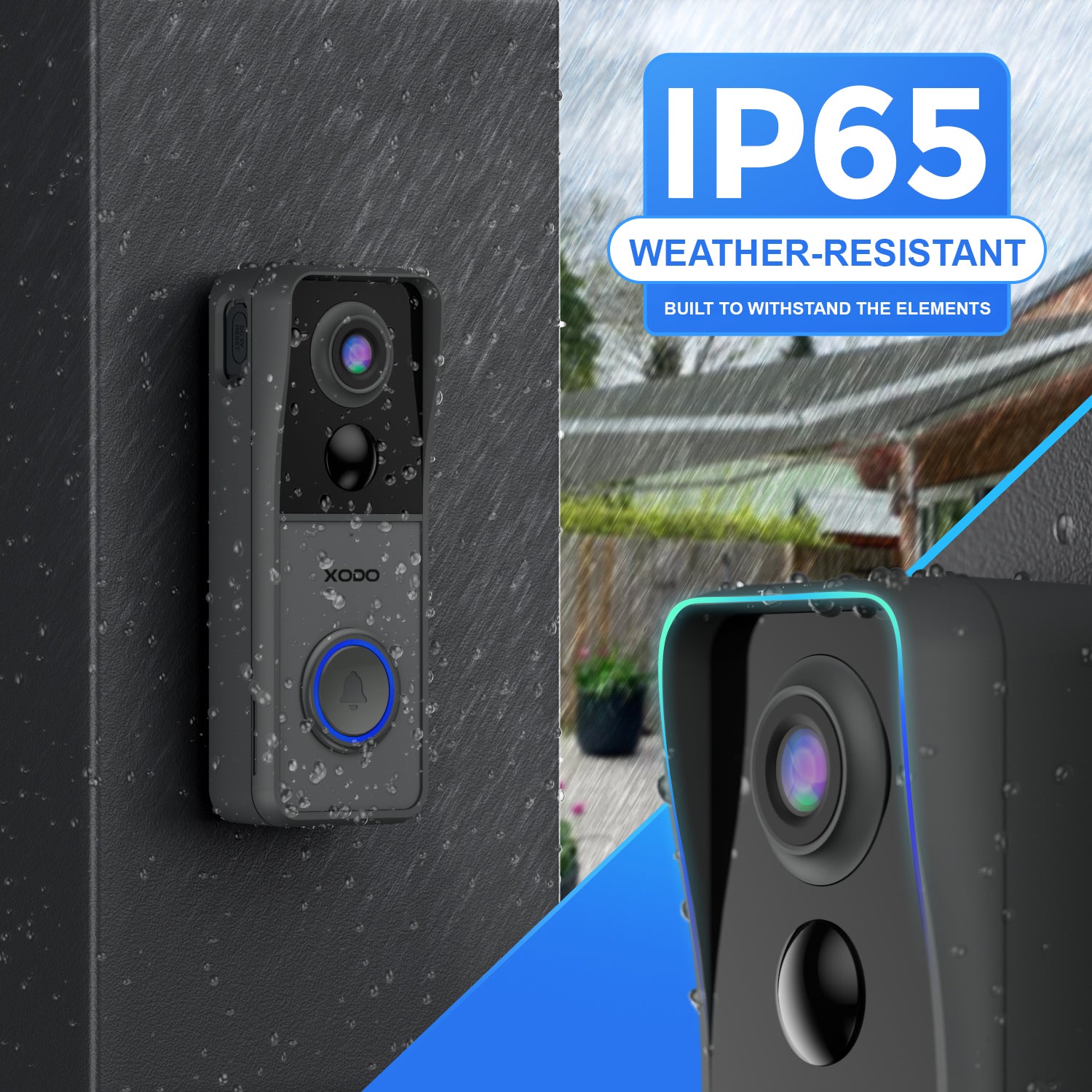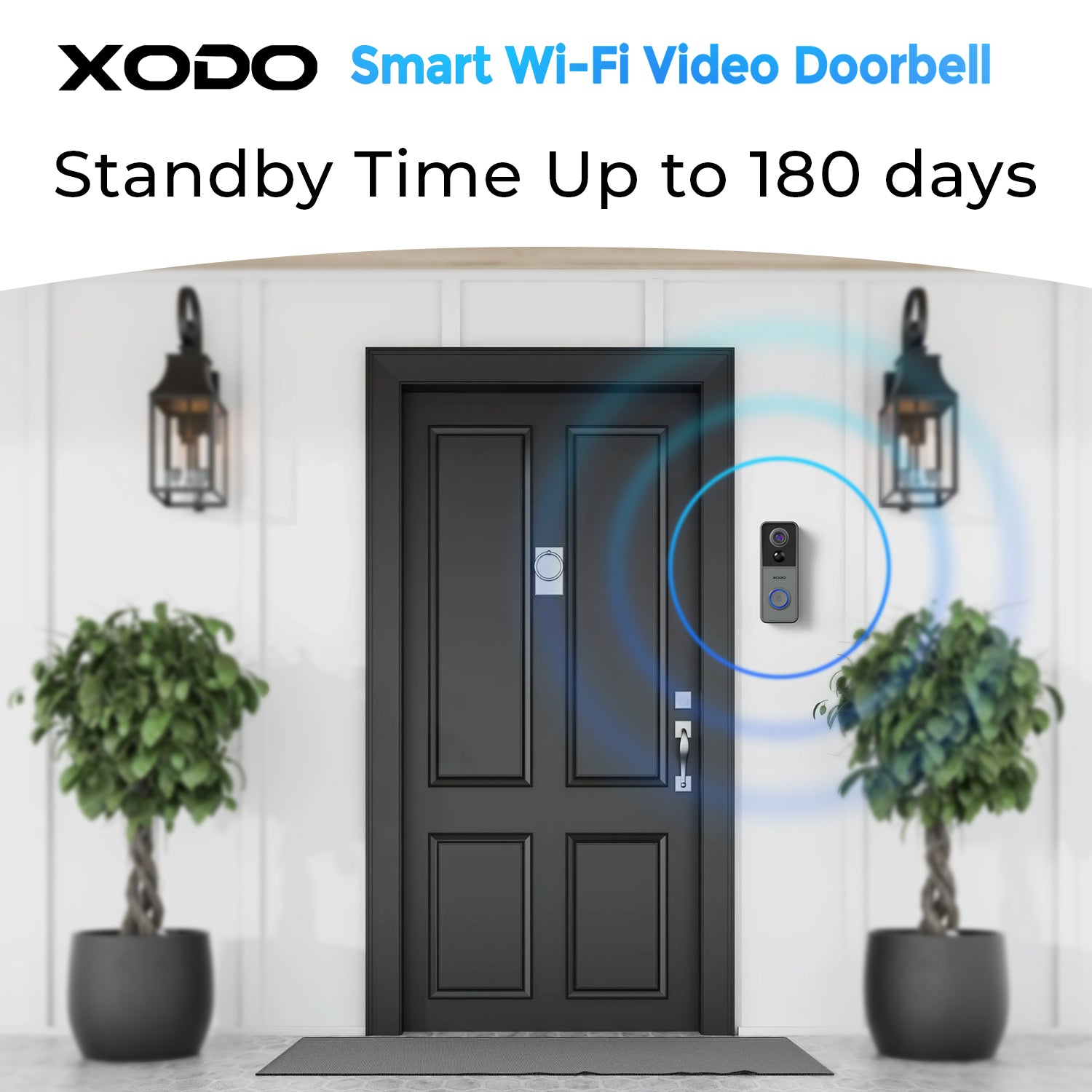 Xodo VD2 Smart Wifi Wireless Video Doorbell with 2K QHD Camera and Chime
Regular price
$99.99
Sale
Introducing the Contixo Smart Video Doorbell Camera
Your ultimate home security companion that brings excitement, convenience, and peace of mind to your doorstep! Get ready to revolutionize the way you greet visitors, monitor your surroundings, and protect your home with this cutting-edge device.
Experience Security Redefined: 2K FHD Brilliance! Unleash the XODO Doorbell Camera Wireless VD2 for an electrifying security upgrade! With an eye-popping 2K FHD resolution, this doorbell captures every detail, leaving no corner unexplored. Day or night, its advanced night vision ensures crystal-clear visuals, even when darkness falls. Elevate your home's security game and say hello to vividness like never before!
Instant Alerts, Real-time Connections: PIR Magic! Brace yourself for lightning-fast alerts and seamless connections with the XODO VD2. Its built-in PIR motion sensor guarantees you're the first to know, whether a friend's visiting or a package arrives. Engage in live two-way conversations using the integrated microphone and speaker, turning mere doorbells into your personal communication hub!
Weather Warriors: Unyielding Performance! Rain, shine, or snow, the XODO Doorbell takes it all in stride! With IP65 weatherproofing, it stands fearless against extreme conditions, ensuring your security is never compromised. And powered by robust 4800mAh batteries, it outlasts the competition with an incredible 180 days of standby time. Let it be your unwavering sentry through all seasons!
Data Dominance: Cloud or Local, Your Call! Empower your security strategy with XODO's flexible storage options. Embrace the encrypted Cloud service with a thrilling 30-day free trial, preserving your footage with top-tier protection. Alternatively, wield the power of up to 128G Micro SD (sold separately) for local storage. Plus, share the thrill with your family – connect up to 15 online users and 20 account holders!
Effortless Setup, Maximum Enjoyment! Redefine convenience with the XODO Doorbell's speedy installation! In less than 5 minutes, this marvel is up and running, thanks to its ingenious 4800mAh battery setup. Sync it effortlessly with your wireless chime for instant alerts wherever you choose to place it. The Xodo App is your trusty companion, putting control and excitement right at your fingertips! Upgrade your doorbell experience today and embrace security that's as exhilarating as it is protective!
| | |
| --- | --- |
|  SPECS: | Product Includes: |
| Model: VD2 | 1 x Smart Wi-Fi Video Doorbell |
| Power Input: 5V 1A(Min) | 1 x External Chime |
| Support System: Android or iOS | 3 x Screws/Anchors |
| Resolution: 2304 x 1296 | 1 x Key Pin |
| Video Compression: H.264 High Profile | 1 x User Manual |
| Wi-Fi: IEEE 802.11 b/g/n 2.4GHz | |
| Audio: Two-Way Talk, Noise Cancellation | |
| Memory Type: MicroSD Card (Not Included) | |
| Storage Support: 128GB | |
| Monitoring: PIR Detection, Remote Wake Up | |
| Power Source: USB Connection | |