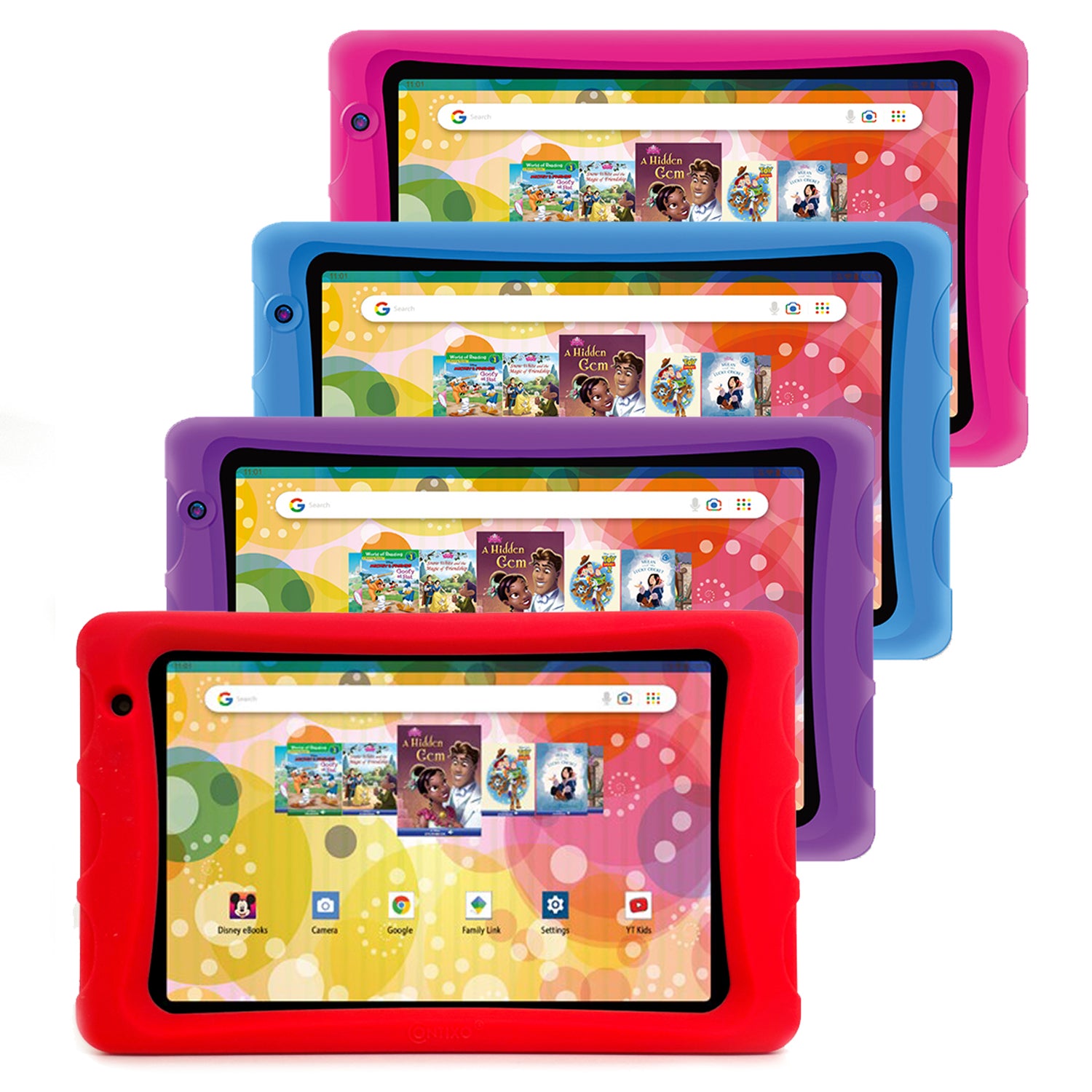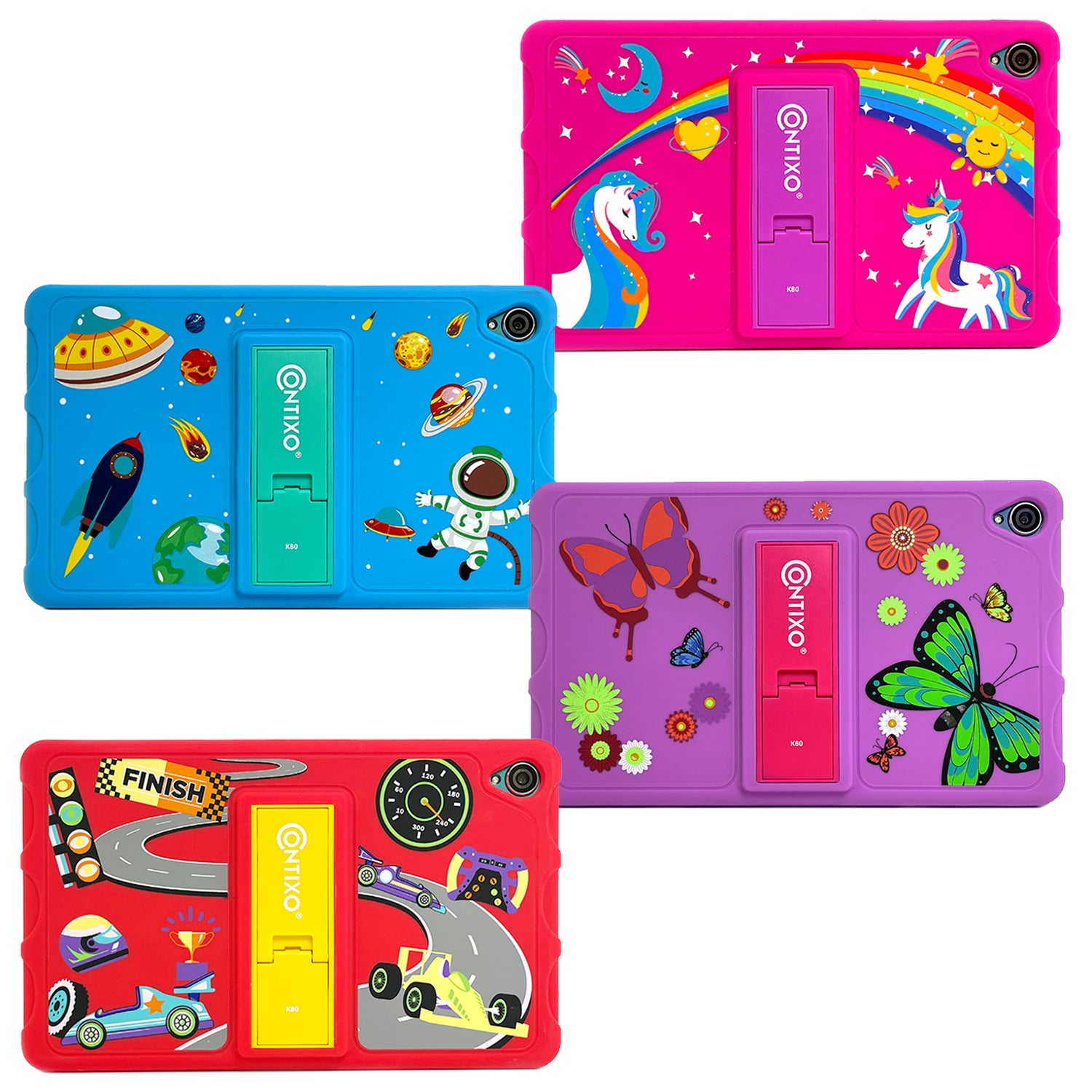 Contixo K80 8-Inch Kids Educational Tablet - 2GB + 64GB
Regular price
$89.99
Sale
Introducing the Contixo 8" K80 Kids Tablet 64G:
Ignite Your Child's Imagination!
Introducing the Contixo K80 Kids Tablet - an extraordinary gateway to a world of imagination and learning! With its brilliant 8-inch HD display, available in four vibrant colors, this tablet is designed to captivate young minds. Equipped with both front and rear-facing cameras, it encourages creativity and communication while ensuring parental peace of mind with robust controls. The tablet's 4000mAh battery keeps the adventure going for up to 4.5 hours, and its kid-proof case guarantees protection against the inevitable bumps and spills.
But that's not all - the Contixo K80 is a digital treasure chest, featuring 50 Disney Digital Audio Books like "Elsa's Gift" and "The Little Mermaid Storybook," plus 30 Watch + Read Video Books, including favorites like "Frozen" and "Mulan." It's more than a tablet; it's a magical portal to learning and entertainment. Get ready to unlock your child's potential with the Contixo K80 Kids Tablet!
Limitless Imagination: Unleash your child's creativity with the Contixo 8"K80 Kids Tablet featuring Disney magic, designed for ages 3-10.
Tech Savvy and Secure: Powered by a Quad-core 1.5GHz CPU and equipped with Android 10, it offers a secure and intuitive digital playground with parental controls.
Colorful Choices: Choose from four vibrant colors - Blue, Purple, Pink, or Red - to match your child's unique style.
Safe and Sturdy: The tablet comes with a Kid-Proof Case and pre-applied Screen Protectors, protecting it from accidents during playtime.
Disney Delights: Dive into 50 Disney Digital Audio Books and 30 Watch + Read Video Books, combining entertainment with education for endless fun and learning.
SPECS:
CPU Processor: Quad-Core 1.6Ghz A133
Operating System: Android 10 OS
Browser:  Chrome
Internal Storage: 64GB 
Memory (RAM): 2 GB DDR3
Expansion Slot: MicroSD slot supports up to 128GB
Screen: 8" IPS Touch Panel
Camera: 0.3MP Front Camera, 2MP Rear Camera
Screen Resolution: 800x1280
Input Method: Touch Screen
Built-in Speakers: 1W 8 ohm
Headphone Jack: 3.5mm
Charging Cable:  Type C
Battery: 4000 mAh
Size: 8.3 in x 4.3 in x 0.4 in
Weight: 11.64 ounce/330g
Operating Temp: -10C/14F to 40C/104F
Network Access: Wi-Fi (802.11 b/g/n)

Travel-Friendly Learning Companion!
Our family travels frequently, and the Contixo K80 Kids Tablet has become an essential travel companion for my 8-year-old. It's lightweight, has a long-lasting battery, and keeps him occupied with exciting Disney stories during long journeys.
Educational and Engaging - A Perfect Combo!
I'm amazed by the Contixo K80 Tablet's ability to keep my 9-year-old engaged in learning while having fun. The quad-core CPU ensures smooth performance, and the 64GB storage holds a vast collection of educational apps.
A Colorful World of Learning!
The Contixo K80 Tablet's vibrant colors immediately caught my 4-year-old's attention. The educational content and Disney stories keep her engaged and entertained.
Learning Made Fun with Contixo K80!
As a mom, I can't recommend the Contixo K80 Kids Tablet enough. The 8-inch HD display and the vast collection of teacher-approved apps make learning enjoyable for my 5-year-old. The added bonus of protective case and screen protectors ensures durability.
Quality Time with the Family!
The Contixo K80 Kids Tablet has brought our family closer together. We enjoy listening to Disney audio books as a family, and the tablet's kid-proof case ensures even the youngest members can participate.