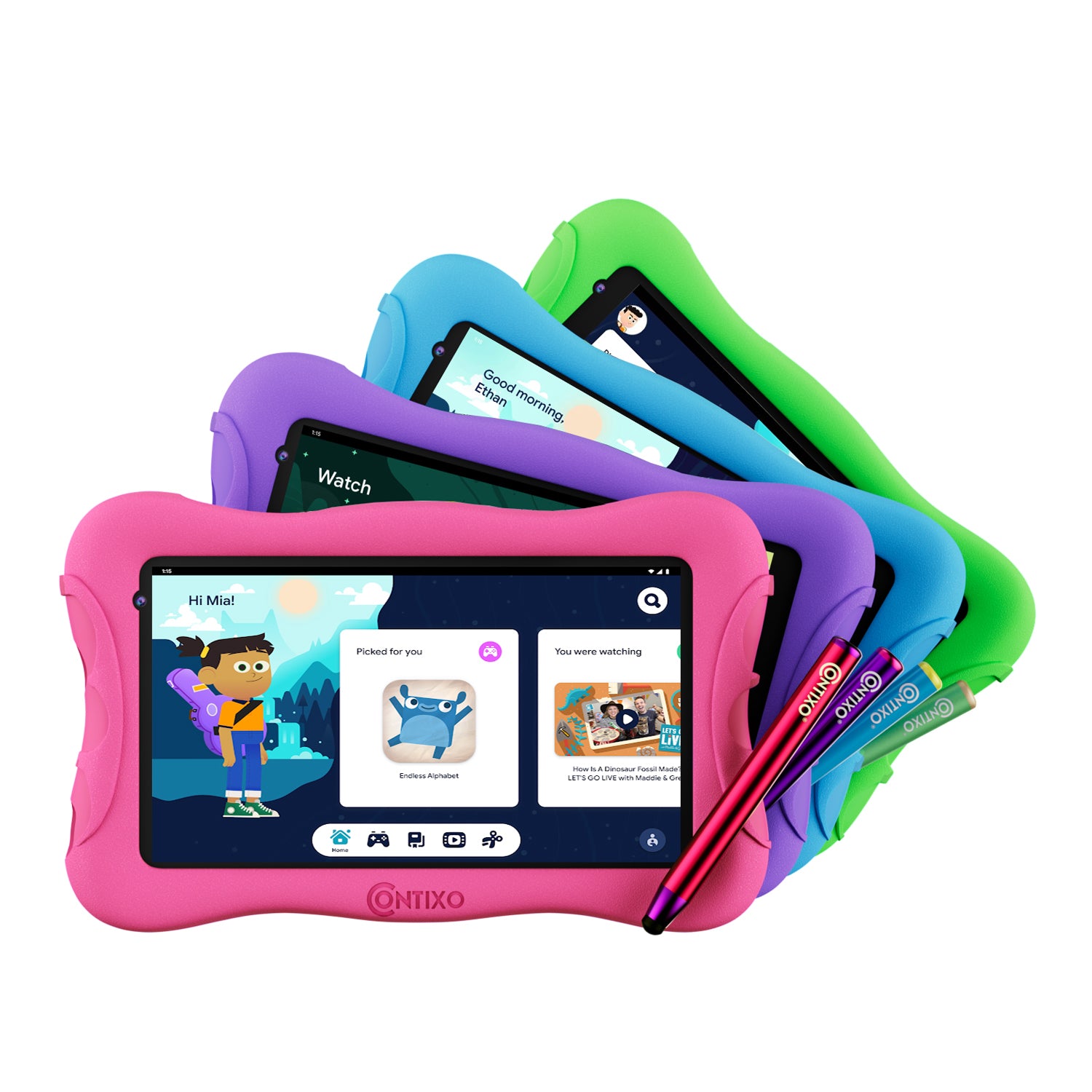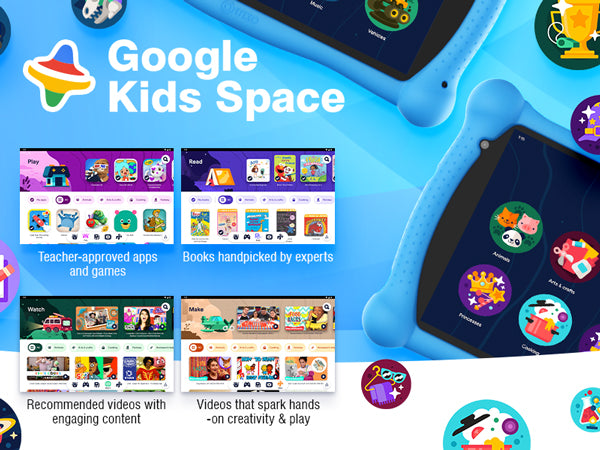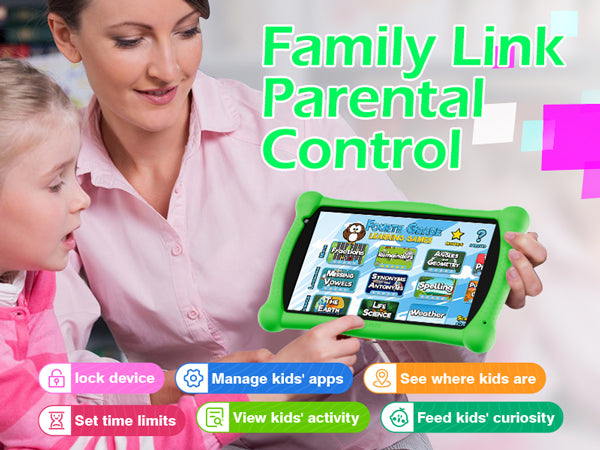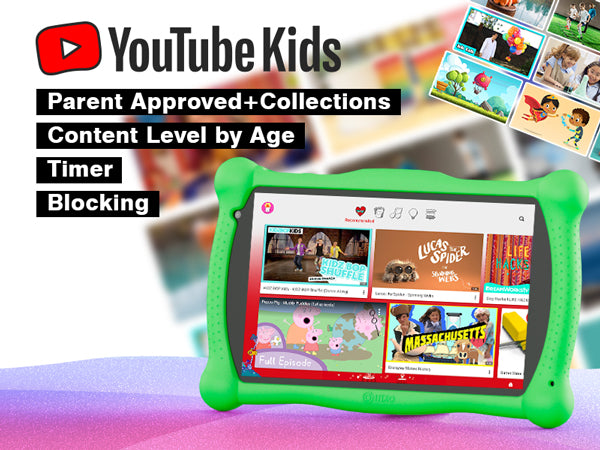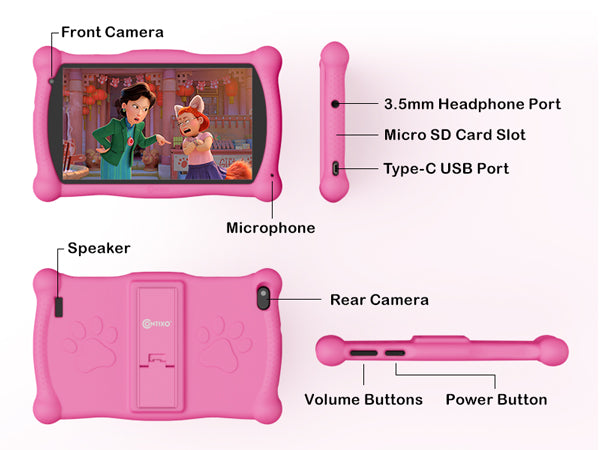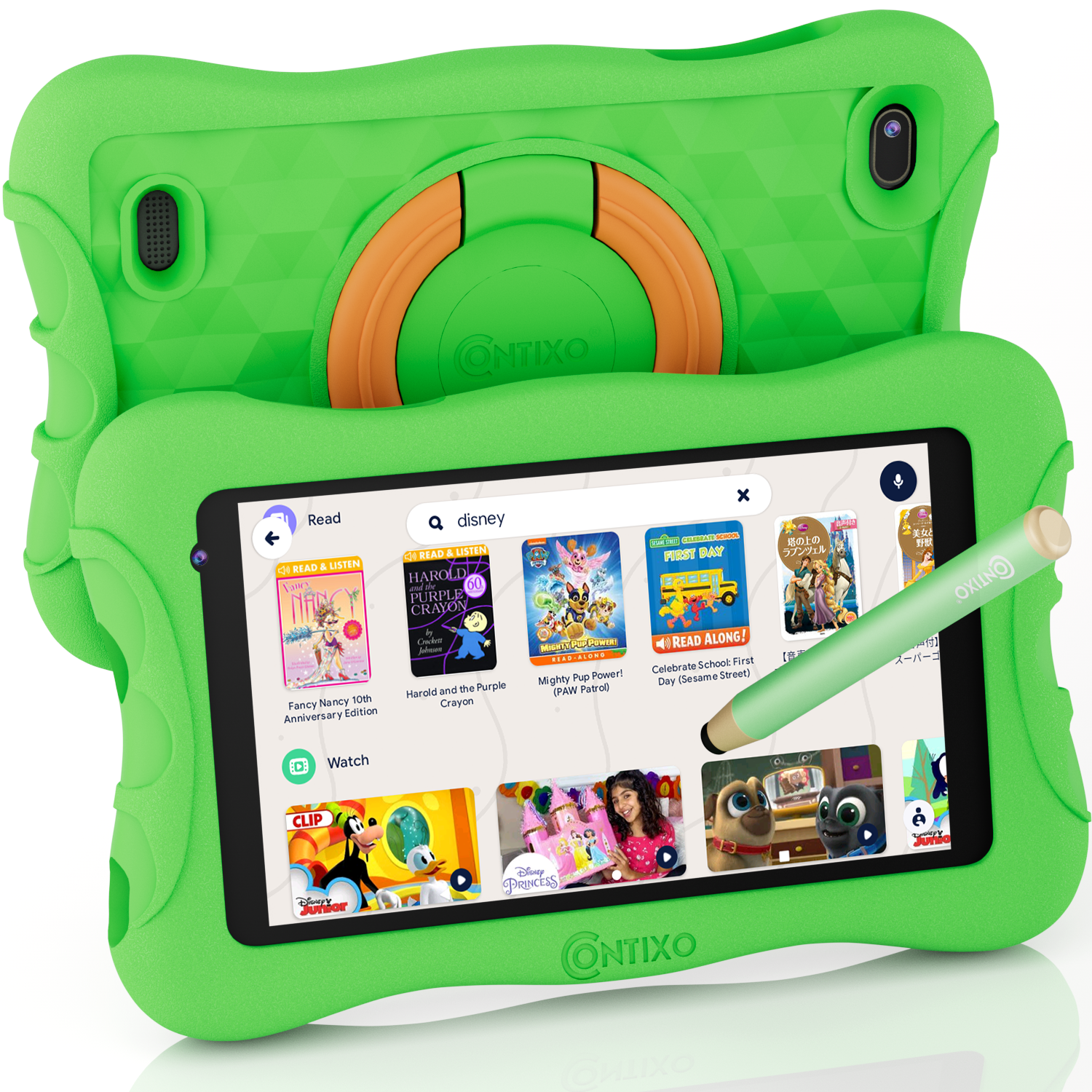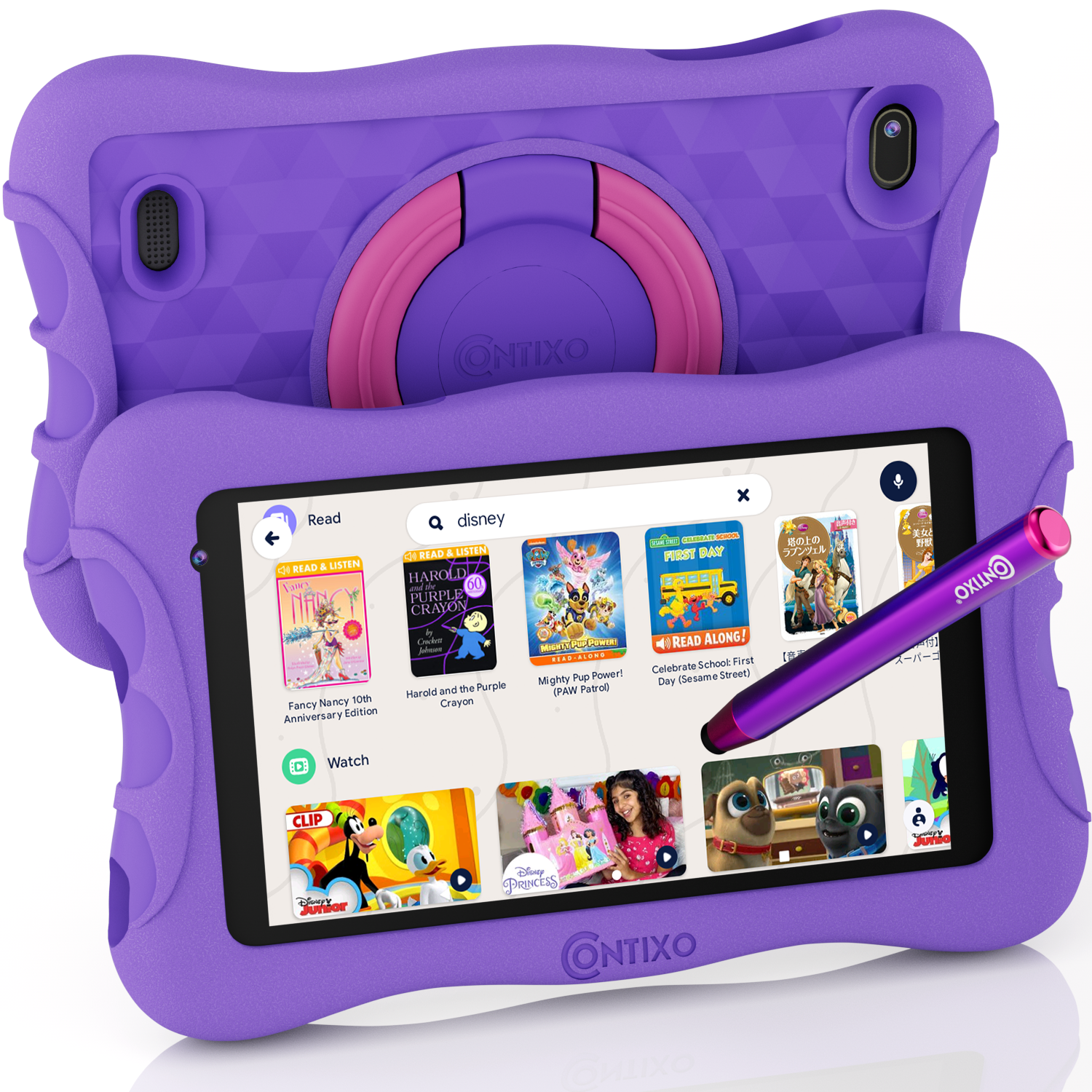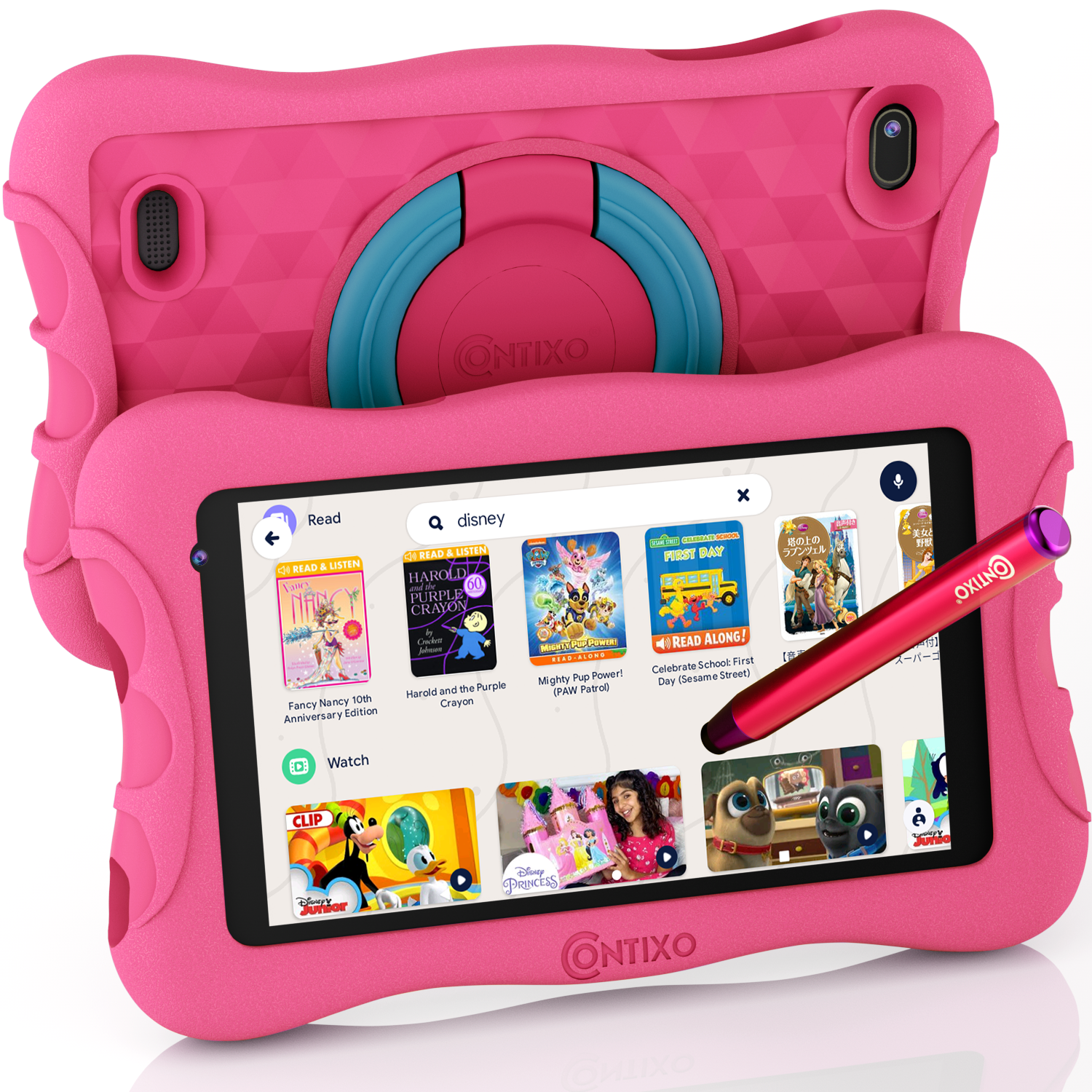 Contixo V10+ 7-Inch Kids 32GB Tablets
Regular price
$79.99
Sale
About this item
Top Rated Educator Approved Academy: Save up to $150.00: With 20+ kids-friendly educational apps (pre-installed) and creativity tools designed by the Academy Learning Experts (Worth more than $150.00), your loved ones and you can enjoy a kid-friendly and Android based tablet. Pay a single Kids Tablet and Parents can download popular android apps or choose 1000 + games, apps, videos, and music from Google Play Stores.
Easy Parental Control & Full Access to Google: Kids Place allows you to control screen time and kid friendly contents. Filter feature can ensure your kids see filtered websites, apps, video channels etc. This app has no ads and no in-app purchases without your permission. Contixo V10+ is also a fully functional Android Tablet. With GMS Certified, you have full access to the latest Google Service such as Gmail, YouTube, Disney + and many more apps and contents.
Easier for Kids Hands & Tough: Contixo V10+ Kids Tablet with kid-proof case is easy for young children from aged 3 to 10 to hold. Each side and edges are specifically designed to stay slightly above from the screen to protect the Contixo V10 Plus Kids Tablet from the occasional "oops" moments. The Built in kick-stand enables hands free video watching. The Stylus is designed for Kids aged 3-10. Little hands will have an easy time using and controlling this tablet.
A perfect WiFi Android Tablet for Online Learning: Contixo V10 Plus kids tablet features WiFi connectivity and full range of Google Services. You can download massive educational Apps from the Google Play Store such as Khan Academy for Kids, Duolingo, ABC Mouse, etc. The Contixo Academy will provide the endless age-appropriate contents, ensure safe engagement when you are busy working. An ultimate Learning Academy Partner for every Home.
Faster CPU, More Storage and Longer Lasting Battery: This perfect Wi-Fi Android tablet equipped with a 1.5 GHz Quad Core Processor and 2 GB RAM enables quick app launches, smooth videos, and 10 hours mix use tablet time. 32GB on-board storage can be expanded up to 128GB via microSD card slot.
KIDS PLACE PARENTAL CONTROL:
Kids Place allows you to control screen time and content. It can be used to filter websites, apps, video channels etc. This app has no ads and no in-app purchases without your permission. The basic app does all of this without ever asking for your credit card. Premium features available if you decide to subscribe. As your children mature and grow you can always adjust the security settings and levels to better fit their needs.
CONTIXO LEARNING ACADEMY:
Contixo Academy includes access to Teacher's Approved Catalog of 200 Fun and Educational Games. Hundreds of games for Students in Preschool, Kindergarten, and up to 7th grade (Age from 3 to 12). Track your loved ones playtime and progress from one centralized report. Help identify trends and find areas to focus on and improve. Every game follows a teacher designed curriculum that focuses on learning and participating key concept of math, language and science. Loved by Kids, parents and teachers!
HOMER LEARN & GROW
FREE 2-month trial (19.98 Value). It builds skills for school and life with thousands of activities personalized to age, interests, and learning level. HOMER's essential early learning program for kids ages 3-8 builds skills in reading, math, critical thinking, social-emotional development, and more
DA VINCI KIDS:
FREE 3-month trial (35.97 Value). It brings learning to life with a world of award-winning TV shows, documentaries, and games. All contents are carefully selected by educational experts and creates a perfect opportunity for families to share the wonder of learning together
LEARNING ACADEMY:
Perfect for preparing preschoolers and kindergarteners for school, our tablet includes school readiness apps, plus creative apps, music apps and many more. Exclusive CONTIXO learning technology is built into many of the learning games, accessing your child as they play and automatically adapting the curriculum to keep kids engaged and motivated. Get ready for some learning Fun!
THOUSANDS OF KIDS APPROVED APP:
All of this and access to the huge app library of the Google Play Store (YouTube Kids, Nickelodeon, Netflix, Hulu, etc.)
GET CREATIVE & STYLUS INCLUDED:
Contixo V10+ Tablet can take your kids to the virtual world for their intellectual growth. Our tablet will adapt to your kid's learning level by adjusting the skill level for the different games and activities offered in the forms of apps. New challenges will appear as your little brainiac hits mental milestones.
KID-PROOF CASE:
The kid-proof case is designed to cover the back, frame, and extends over the screen, and offer full round impact-resistant protection for Contixo V10+ kids tablet, so it fits perfectly in small hands. In addition, the material is harmless and friendly. Parents can rest assured to let children play with the tablet without worrying about damage and scratches.
EASY CARRY & ADJUSTABLE HANDLES:
Adjustable stand with 360 degree rotation, portrait and landscape modes allows toddlers to go hands-free for watching videos and video chatting.
Download
User Manual
Discover, Explore, Excel
Fits nicely in your hand and interacts with tablet very well.
Good quality!Worth the price!
Bought new tablets and love the pens, I highly recommend to anyone
Absolutely amazing!!!!
So far very happy with the product, easy to use and good quality
Fun Learning on the Go
My 4-year-old loves this tablet! It has a wide variety of teacher-approved apps that are both educational and entertaining.
Good kids gift
Pretty capable tablet for the price. I like that it comes with a case. Never had any damage even with some rough use from my 4 year old.