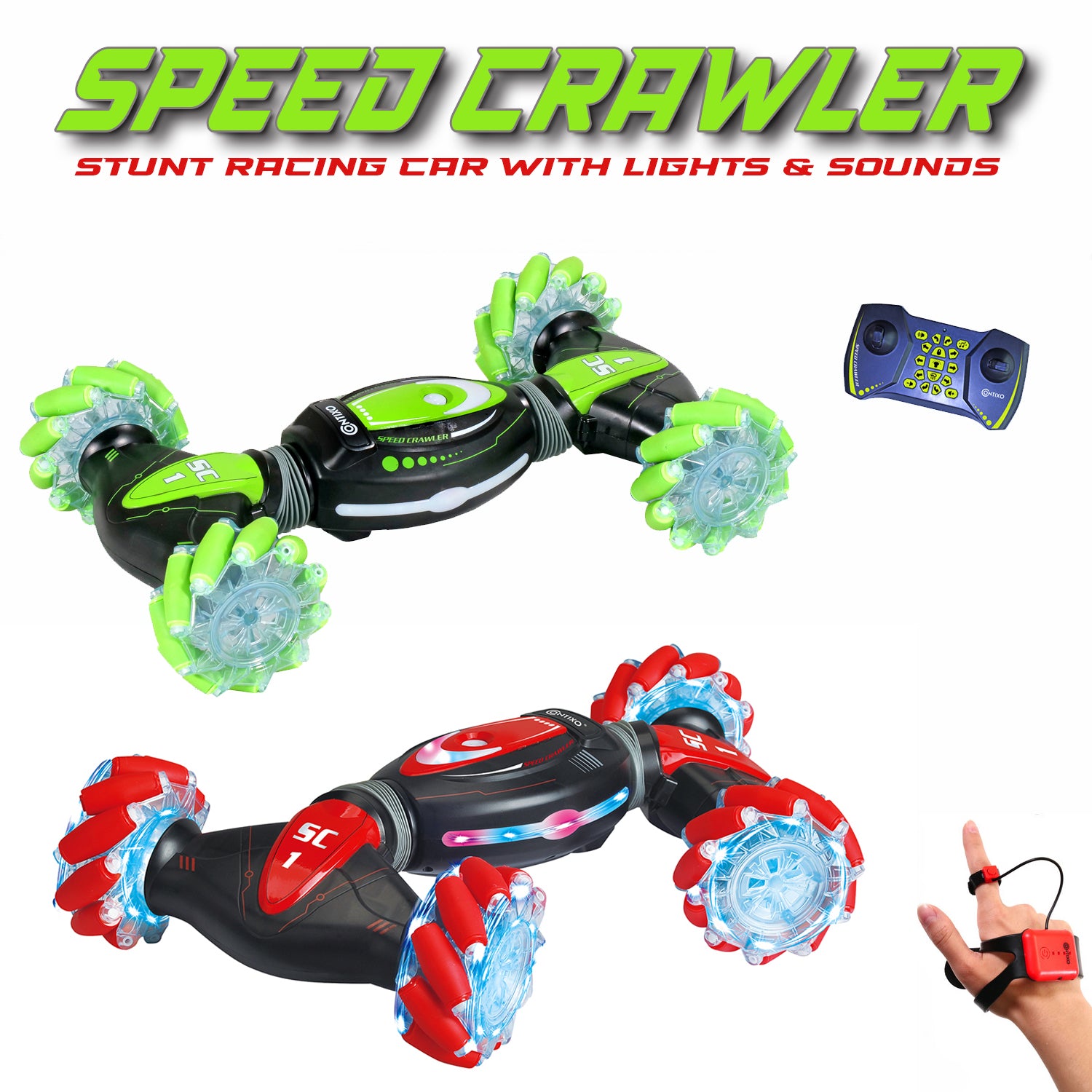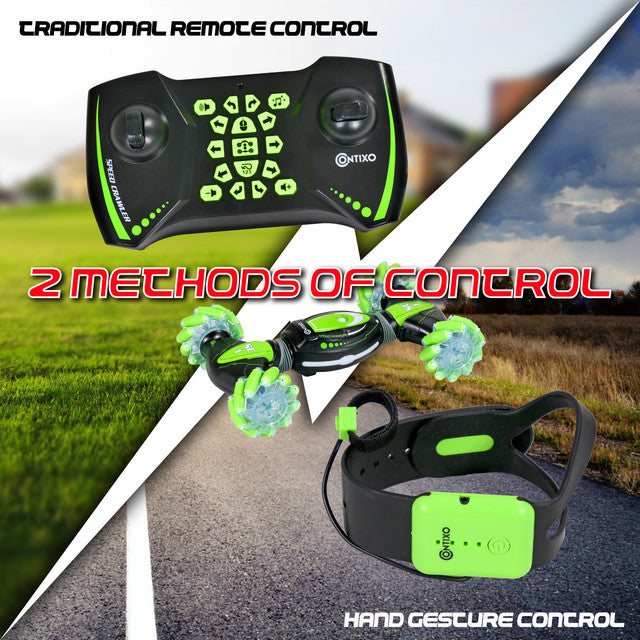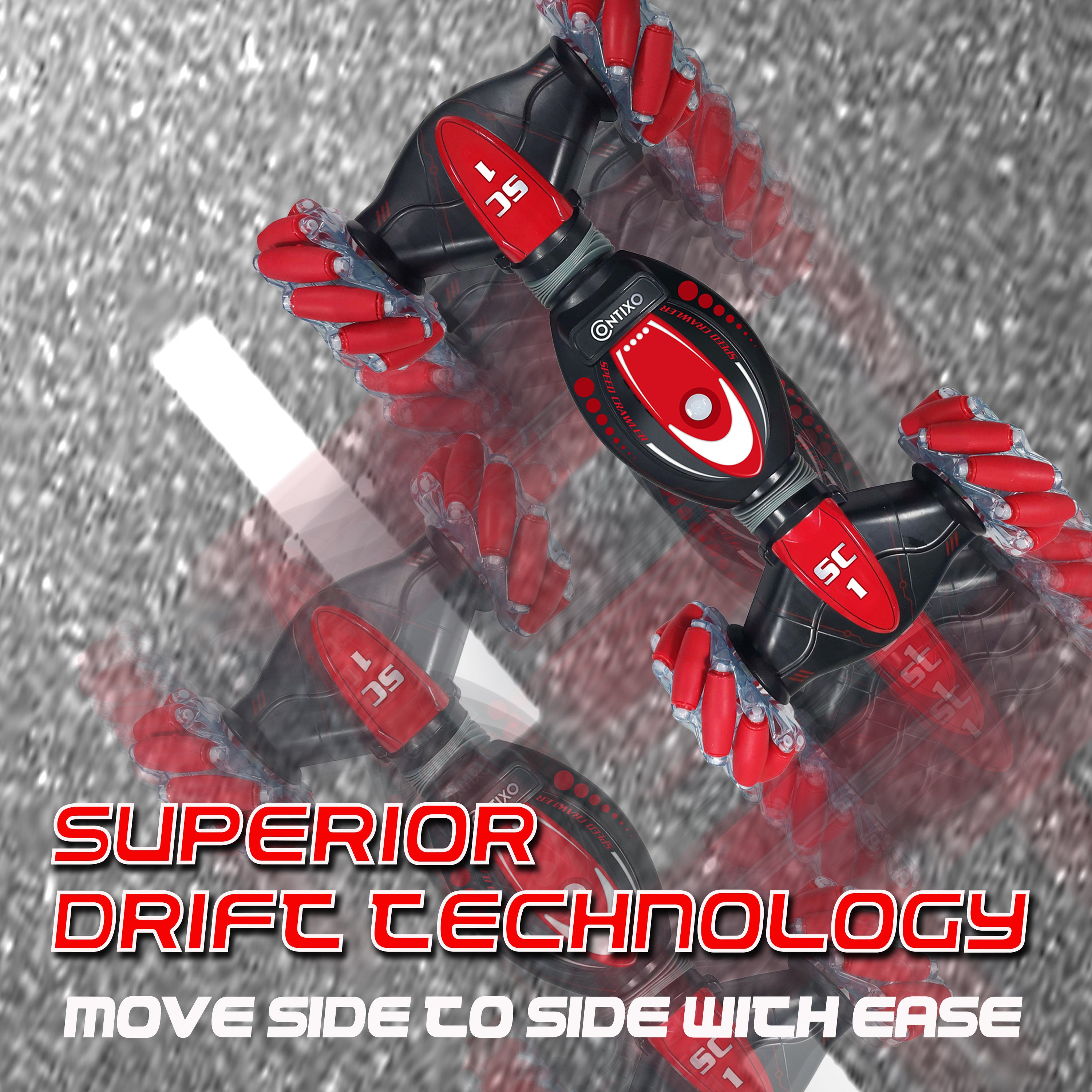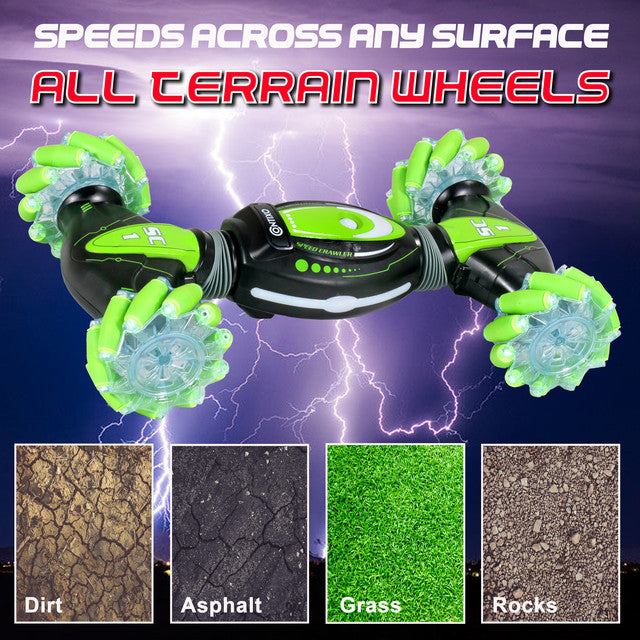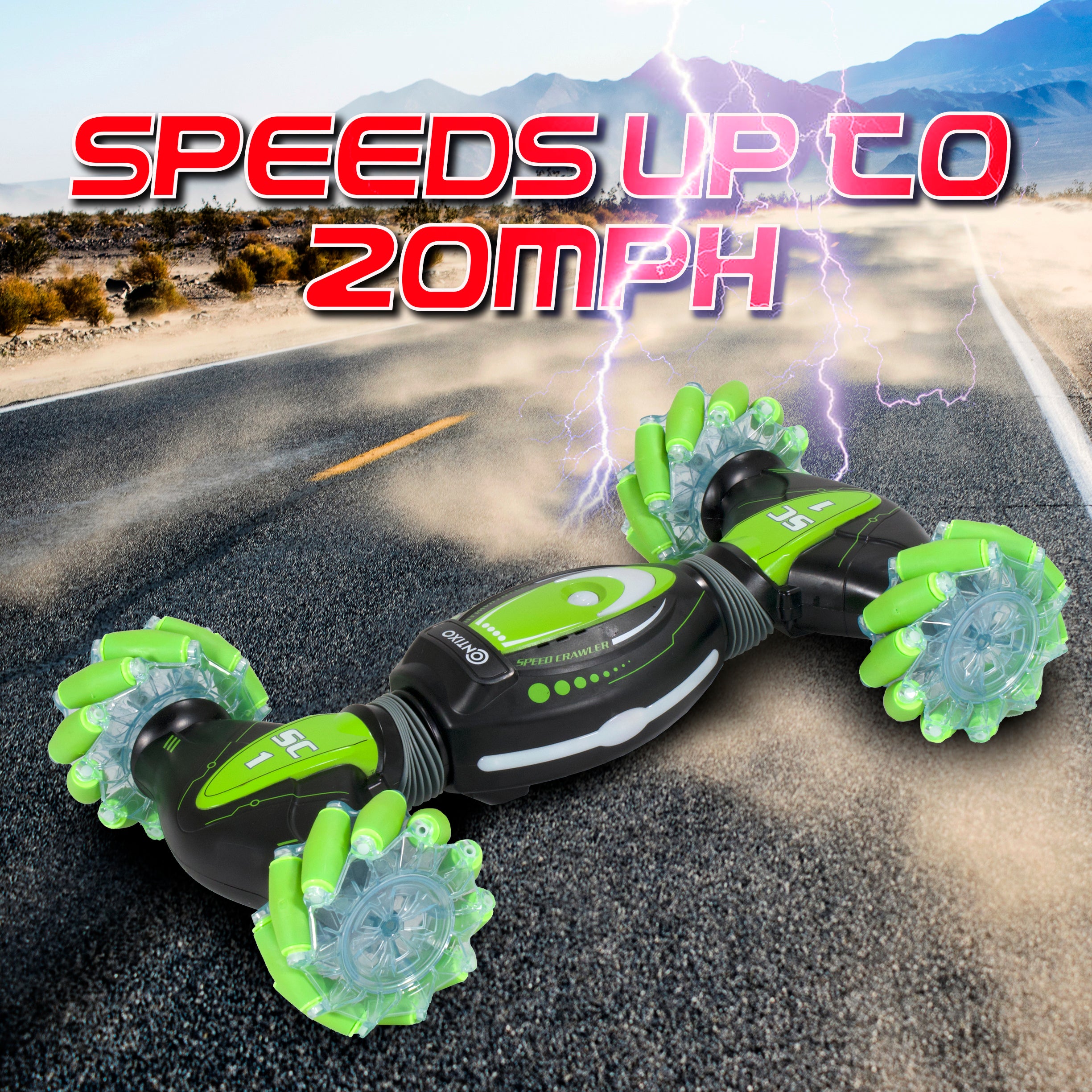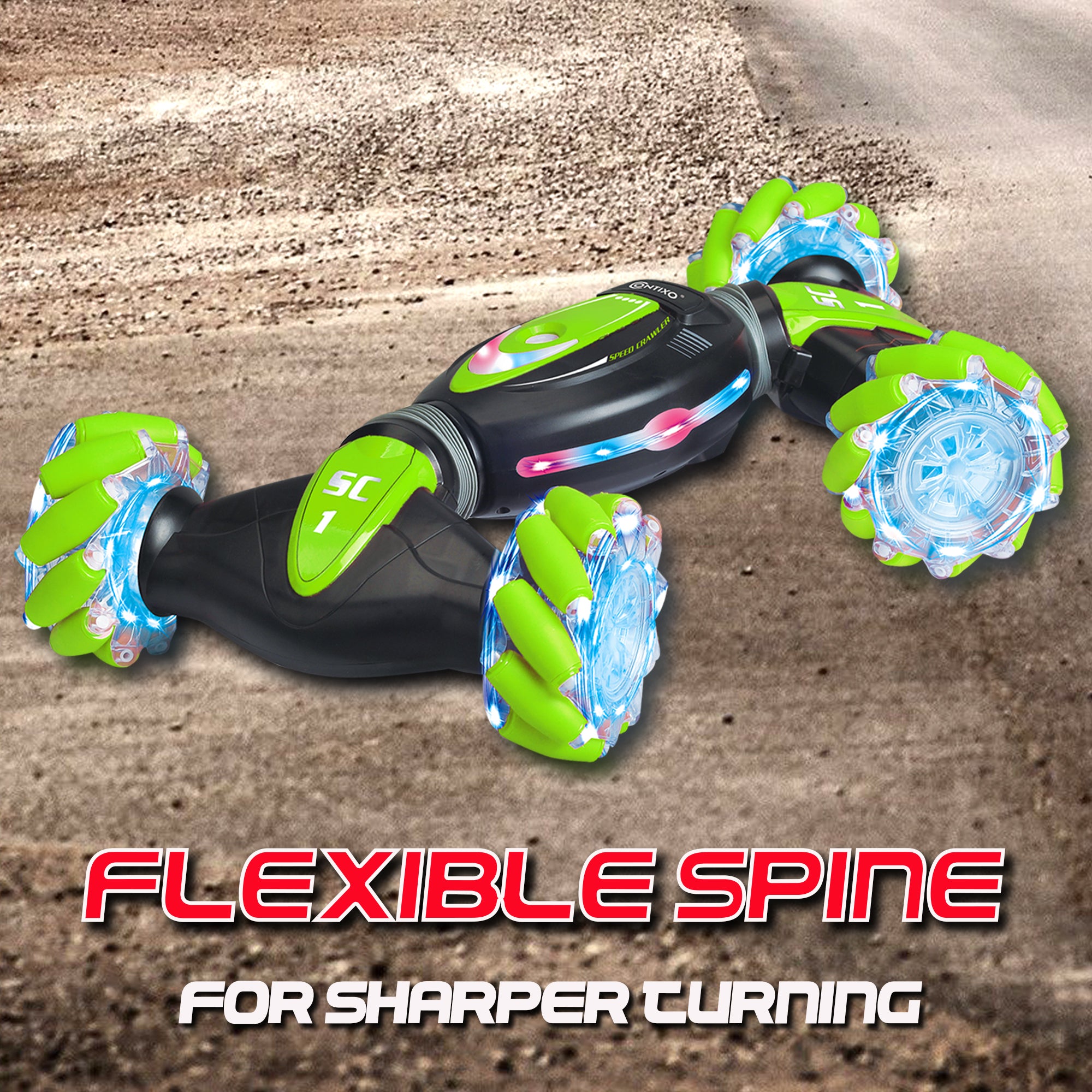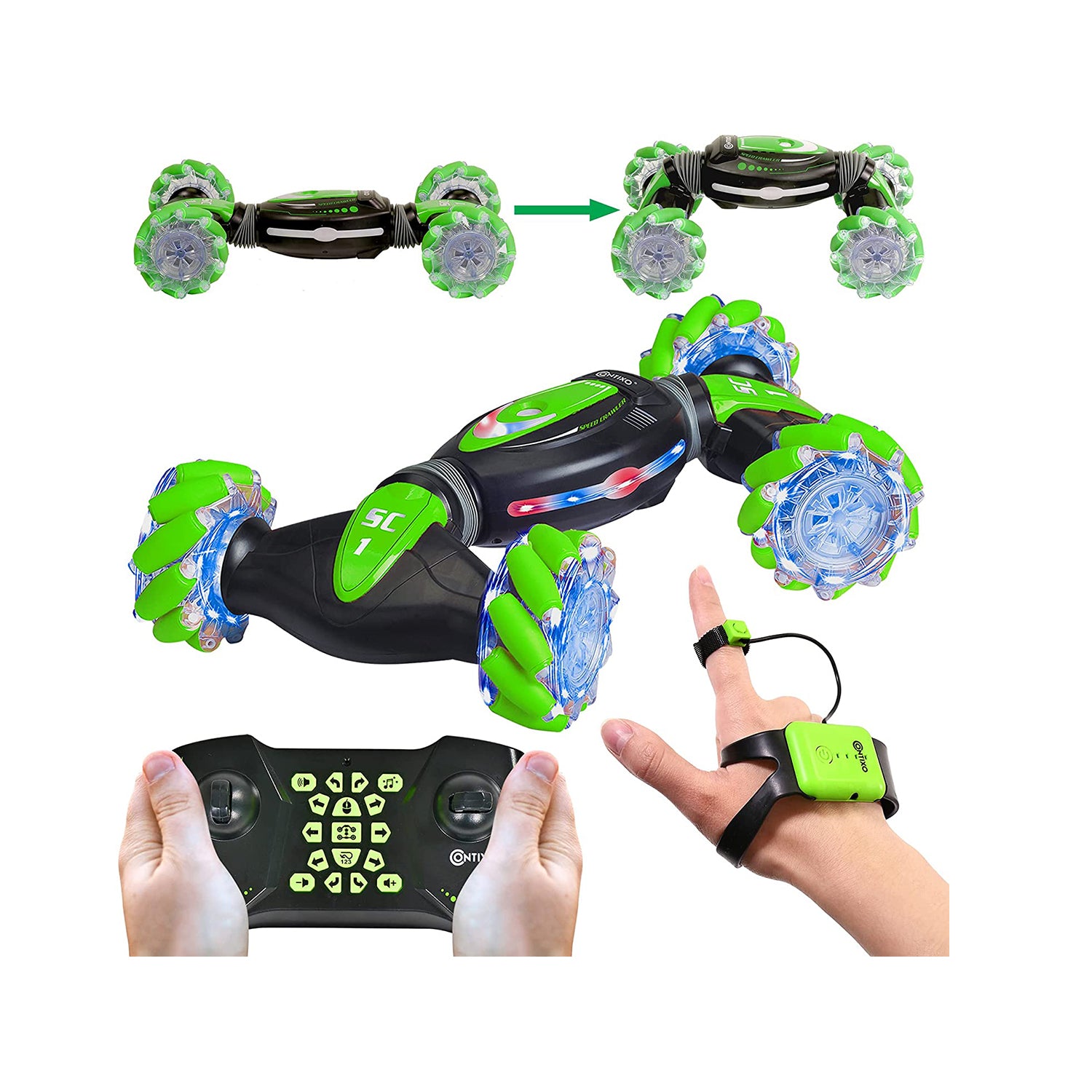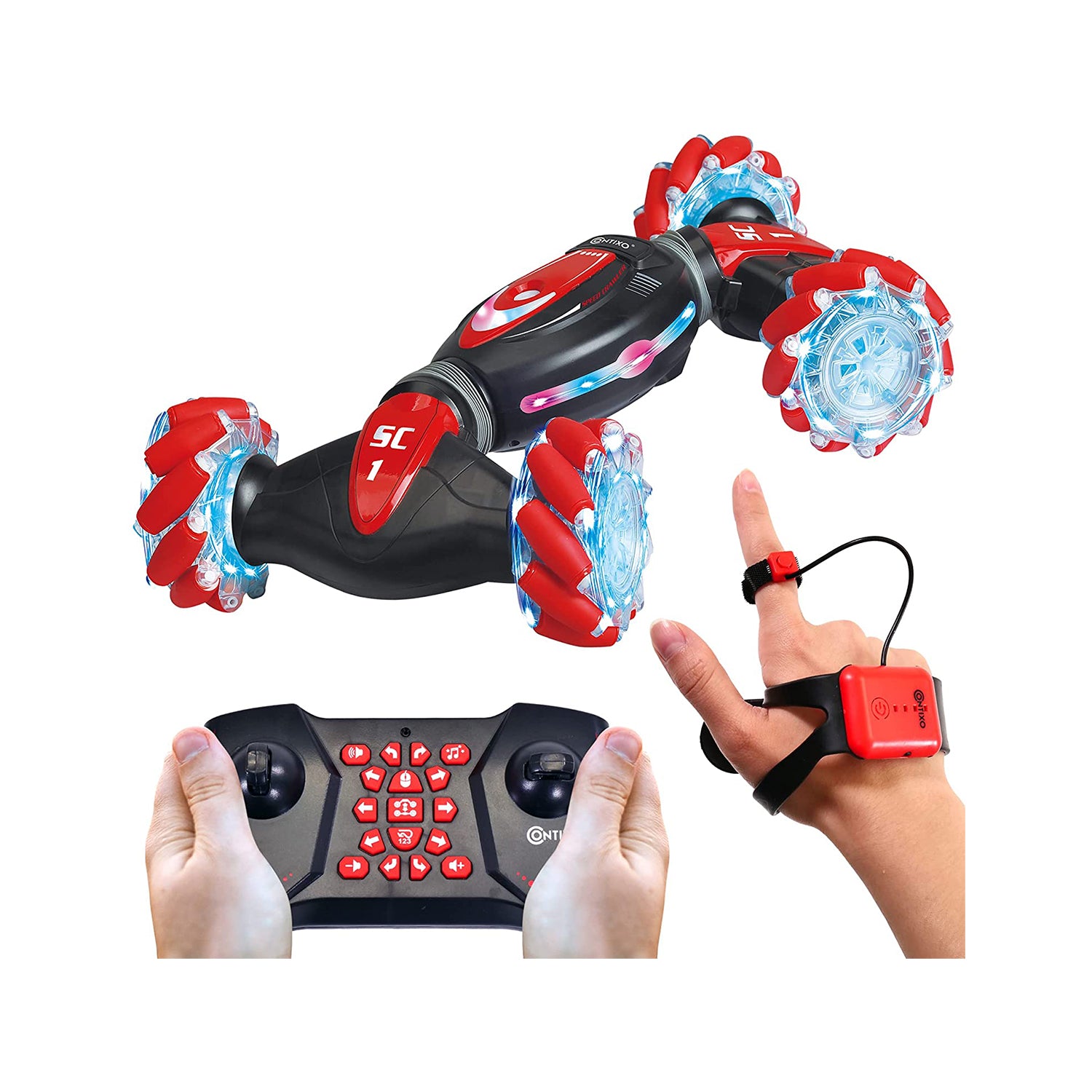 Contixo SC1 All Terrain Speed Crawler RC Stunt Car
Regular price
$54.99
Sale
Introducing the Contixo SC1 All Terrain Speed Crawler RC Stunt Car!
The epitome of excitement and fun! Get ready to embark on an electrifying adventure with this ultimate remote control car that will blow your mind and take playtime to the next level.
With an easy smart remote control, this 1:12 scale 4x4 climbing car is a breeze to maneuver. The 2.4GHz transmitter strength ensures a sensitive and responsive connection, allowing you to take charge even from a considerable distance. But that's not all – we've taken it a step further by including a wrist band watch that lets you control the car with your gestures! Imagine the thrill of transforming and driving the car just by moving your hand. It's a whole new level of interactive play!

Hold on tight as this beast speeds up to a jaw-dropping 20 mph, leaving everything else in its dust. With a remote distance of 100 ft., there's no stopping the SC1 All Terrain Speed Crawler. It can move in all directions, perform insane 360-degree tumbling spins, and even execute daring double-sided rolls! Thanks to its four-wheel drive climbing capabilities, this stunt car defies gravity and leaves your imagination running wild.

Turn up the excitement with dazzling light and music effects. The SC1's cool and elegant design will impress kids of all ages, while the twisting tiger whistle adds an authentic touch to the experience. It's not just a remote control car; it's an immersive adventure!

We've also made sure the fun lasts longer with updated batteries included. The climbing vehicle is equipped with a high-capacity 3.7V 1300 mAh rechargeable battery, providing long-lasting playtime. Charge it up for just two hours, and you get a thrilling 30 minutes of continuous action. The remote control requires two "1.5V" AA batteries (not included), and the gesture sensor comes with a built-in rechargeable battery for your convenience.

Looking for the perfect gift that will amaze and delight? Look no further! The Contixo SC1 is the best gift idea for any occasion. Whether it's a creative birthday party gift, a back-to-school surprise, or a special treat for Halloween, Christmas, or Children's Day – this RC stunt car is sure to be a hit. Not just for kids, it's also an excellent stress relief toy for anyone seeking some thrilling playtime.
Unleash the adrenaline, conquer any terrain, and experience the joy of remote control car stunts like never before with the Contixo SC1 All Terrain Speed Crawler RC Stunt Car. Get ready to rev up the excitement and make unforgettable memories with this ultimate off-road powerhouse!
PACKAGE COMES WITH:
1 x Speed Crawler
1 x Smart Remote Controller
1 x Gesture Controller (Battery Included)
1 x 3.7v 1300mAh Battery (Included)
1 x USB Charging Cable
1 x Gesture Control Charging Cable
1 x Instruction Manual
1 x Water Injection Bottle
Download
User Manual
RC Stunt Car Therapy
Daily sessions of RC stunt car therapy! The SC1 has become our family's prescription for happiness. It's like a burst of joy in a remote-controlled package. My kids love taking turns being the stunt master, and I find myself sneakily playing with it after bedtime. Don't tell anyone, but the SC1 has become my secret stress-buster too!
The RC Car That Laughs in the Face of Boredom!
Boredom? Not on the SC1's watch! It's the perfect antidote to dull days. When my kids start complaining about being bored, I bring out the stunt car, and their faces light up like fireflies. The laughter is infectious, and boredom vanishes in seconds. It's the ultimate playtime solution, and I couldn't be happier. Farewell, boredom – the SC1 has banished you for good!
A Back-to-School Surprise That Earned Me Extra Hugs!
Back-to-school surprises just got a whole lot cooler with the SC1. I decided to gift it to my daughter as a motivation booster for the new school year, and let me tell you, it worked like a charm! She was thrilled beyond words and couldn't wait to show it off to her friends. It's not only a fantastic toy but also a confidence booster. Mission accomplished, Contixo!
Fun Across Generations!
The SC1 is a time traveler that bridges generations! From grandparents to grandkids, everyone in our family loves playing with it. It's amazing how this little car unites us all and creates unforgettable moments of laughter and joy. The SC1 is proof that fun knows no age, and it's the perfect family heirloom that will be cherished for years to come!
Be the Maestro!
Calling all conductors of fun! With the SC1, you become the maestro of a stunning symphony. The wrist band watch control gives you power like no other, and it's exhilarating to watch the car follow your every move. My kids love orchestrating their own stunts, and I get to sit back and enjoy the show. It's entertainment at its finest!