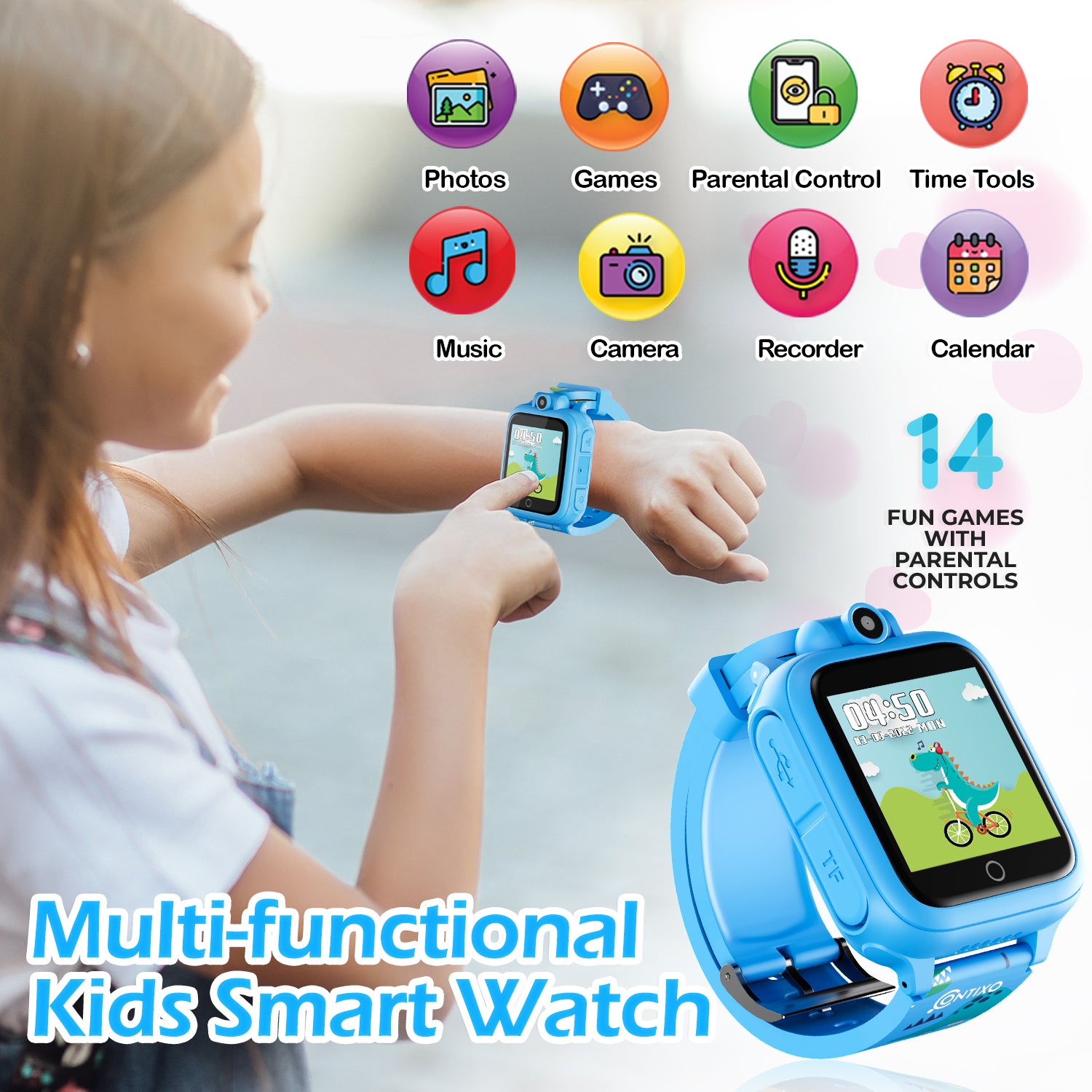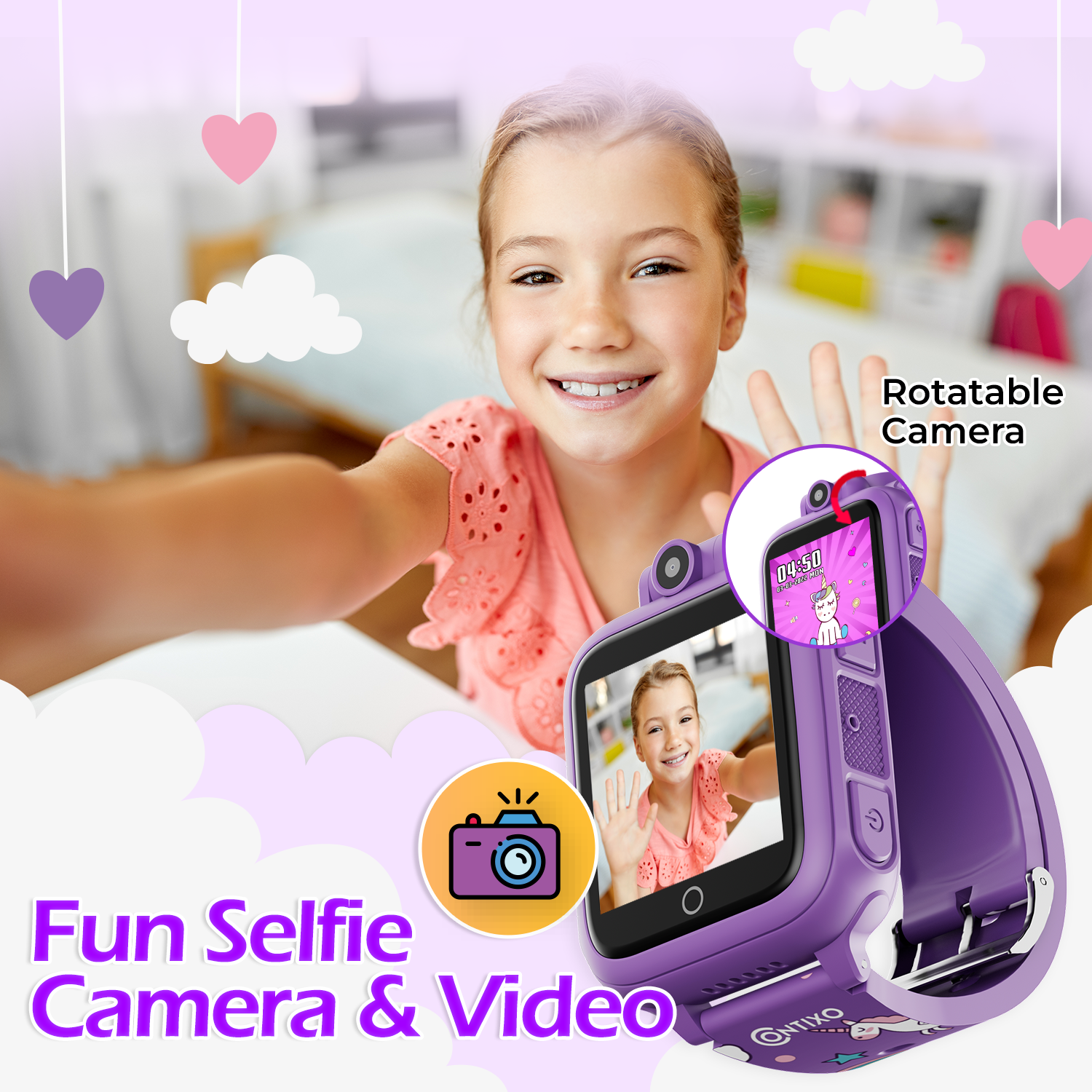 Contixo V10 7" Kids Tablet with Smart Watch Bundle
Regular price
$114.99
Sale
Contixo V10 Kids Tablet is ready for Kid-approved fun: Google Kids Space offers quality content that help your loved ones to discover, create and learn. Choose from 10,000 curated apps and games, hundreds of free e-books, and thousands of YouTube Kid's videos. Your child can also customize their personal experience by setting up their own characteristics and their interests.
Contixo academy pre-loaded educational teacher's approved apps and learning games: Our tablets for toddlers and kids come with pre-loaded academic 20+ learning games and entertaining apps valued at 150 dollars. From the moment you receive the tablet, your loved ones can play immediately without Wi-Fi network. Get access to a range of kid age-appropriate creativity contents.
Parental control settings: Contixo kids learning tablet partnered up with Google Family Link allowing you as a parent to take complete control. With the Family Link Parental Control, you can hand-pick content, control screen time, block from unsafe internet contents and set educational goals. The security settings can also be adjusted to be more tailored as your child grows.
Smart learning tablet for toddlers and kids: A kid-friendly tablet equipped with Android 11 Go OS, 1.5GHz Quad-Core Processor, and 32GB storage. The intelligent tablet has a 7-inch shatter-safe HD touch screen display with dual cameras and 189 language settings, including Spanish. Backed by a 1 Year Manufacturer Defect Warranty.
Long-lasting battery time: Our children's tablets have a 3,000mAh battery that allows for up to 6-hours of mix usage on a single charge, making it convenient for long flights, camping, and road trips. With 32GB of onboard storage, you can also add up to 128GB with microSD for extra storage.
Kids proof screen protector and case: Our learning tablets for toddlers and kids come equipped with a 3-layer screen protector to protect the screen from scuffs and scratches. You also get a specially designed protective case to help keep the android tablet protected from dust, bumps, and minor drops. Kid-friendly right out of the box, the Contixo V10 Kids Tablet comes with a stylus, tough bumper with a built-in kickstand and a shatter free safe screen.
Product Includes: 

7-Inch Award Winning Kids Tablet with Stylus & Case
KW1 Smart Watch
Tablet Specs:

CPU Processor: AllWinner CorexTMACPU A100
Operating System: Android 11 OS
Browser:  Google
Internal Storage: 32GB 
Memory (RAM): 2 GB DDR3
Expansion Slot: Micro SD Card Slot, Support up to 32GB Flash
Screen: 7" IPS Touch Panel
Camera: 
   • Front - 0.3 megapixel
   • Rear - 2.0 megapixel
Screen Resolution: 1024x600
Input Method: Touch Screen
Built-in Speakers: 1W 8 Ohm Built in speaker
Earphone Jack: 3.5mm
Charging Cable: Type C
Battery: Rechargeable 3000mAh Battery
Size: 7.46 in x 4.31 in x 0.39 in
Weight: 9.17 ounce / 260 g
Voltage: AC 110-240 50/60Hz DC 5v/2A
Operating Temp:  -10C/14F to 40C/104F
Network Access: Wi-Fi (802.11 b/g/n)
Parental Controls: 
   • View Kids activities
   • Manage Kids Apps
   • Set Time Limits
   • Lock Device
   • See where kids are
Preloaded:
    • Contixo Academy Preloaded
    • 20+ Educational Learning Games
    • Teacher Approved Learning Apps
    • Google Kid Space
Warranty: 1 Year Manufacture Defect 
Watch Features: 
Screen Size:

 

1.54" IPS high definition 240x240 multiple touch display
Fun Selfie Camera & Video:

 

90° Rotating Camera for Photos & Videos. Children can use the Adjustable Magic Camera to record every happy moment in their lives. Set your favorite photo as wallpaper.
Parental Control:

 

Parental Control Settings for Game Play
Watch Face:

 

10 watch faces
Included Games:

 

Contixo Kids Gaming Smart Watch comes with 14 engaging educational games. It helps Kids learn through playing. The interactive Puzzle Games are carefully curated to enhance Children's Coordination Ability, Reaction, Logical Analysis and Creative Thinking Agility.
Listen to Music on the Go:

 

Transfer your Media Files to SD Card (Not Included) to access HD Music through the Contixo Kids Smart Watch. Touch to play Saved Music. You can also directly connect the Kids Smart Watch to the computer to transfer files.
Safe & Comfortable Design:

 

Contixo Kids Smart Watch is made from Non-Toxic ABS Plastic Material, with soft and durable adjustable Silicone Strap. It is Sweatproof. Wear it anywhere from Amusement Park, School Trips to Outdoor Activities. 
Long Lasting Battery Life:

 

Contixo Smart Watch for Kids comes with built-in rechargeable battery, the standby working time can be used in between 3 to 7 days. It will take about 2 hours to fully charge the watch.
Download

User Manual
The Best Tablet for Kids' Fun
Top-notch tablet bundle for kids! The cover and smart watch are a great package. YouTube videos load quickly and the silicone case is sturdy. Battery life is outstanding!
Unlock Your Child's Potential with a Kids Tablet
Couldn't be happier with this kids tablet bundle! The cover and smart watch are fantastic extras. YouTube plays flawlessly and the silicone case is a lifesaver. Battery lasts all day!
Perfect tablet for kids
The included cover and smart watch are a nice touch. YouTube Kids and other streaming apps play without any issues. The battery life is exceptional. Highly recommend this bundle
Educational Entertainment with the Kids Tablet
Highly recommend this kids tablet bundle! The cover and smart watch are a great bonus. YouTube videos load quickly and the silicone case keeps it safe. Battery lasts all day!
The Ultimate Tool for Young Explorers
Great tablet bundle for kids! The cover and smart watch are a game-changer. YouTube videos play without any issues and the silicone case is durable. Battery life is excellent!