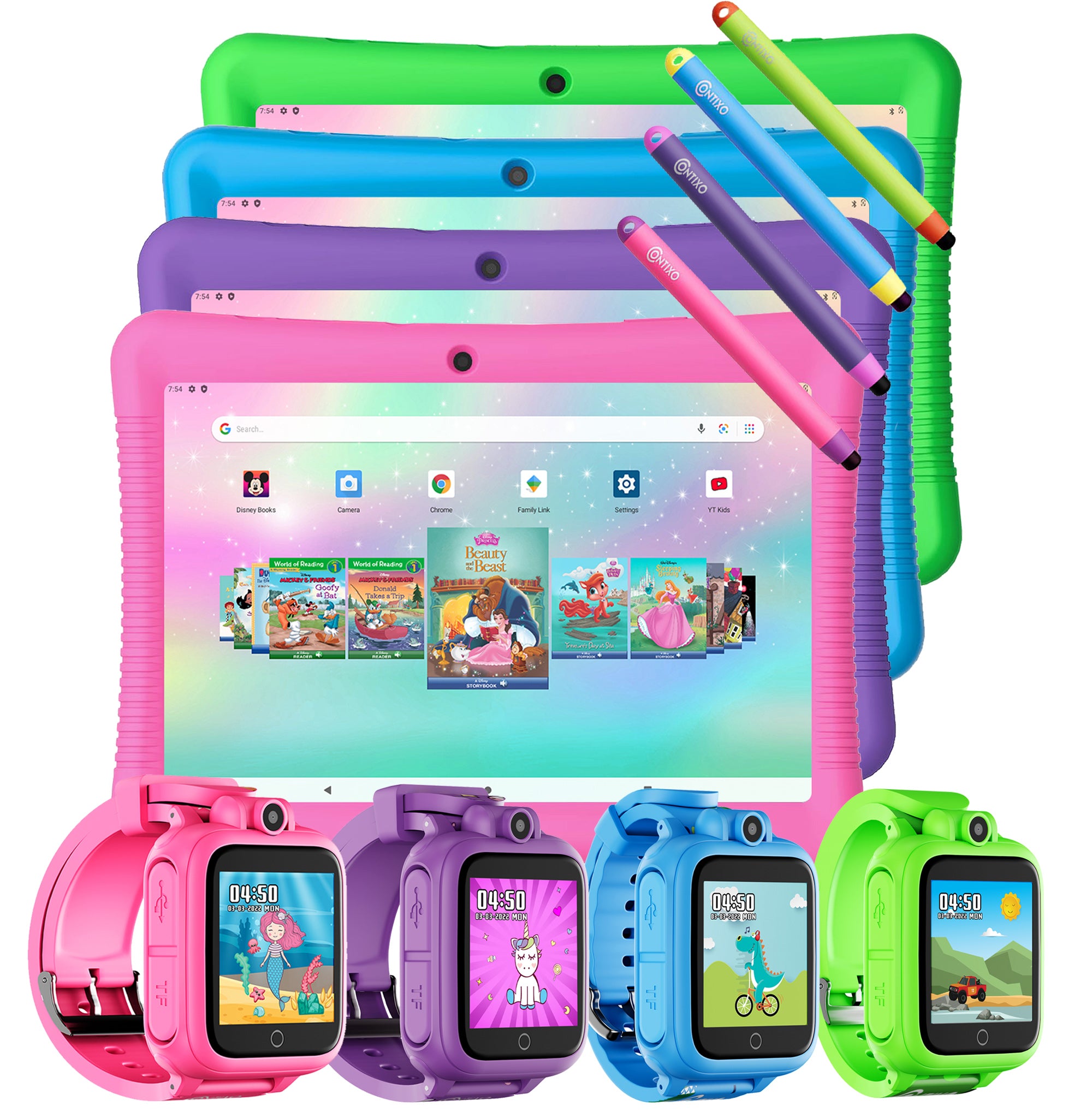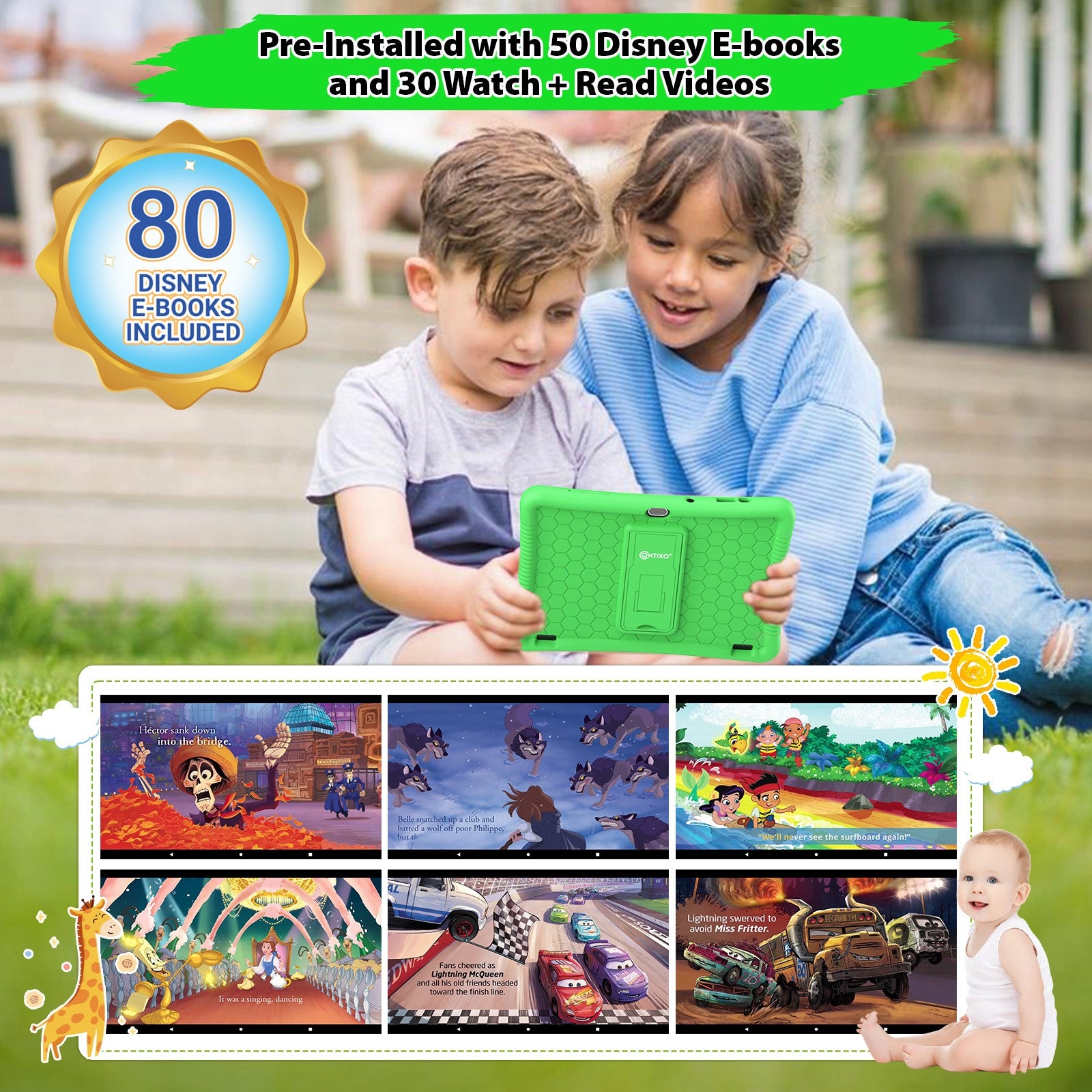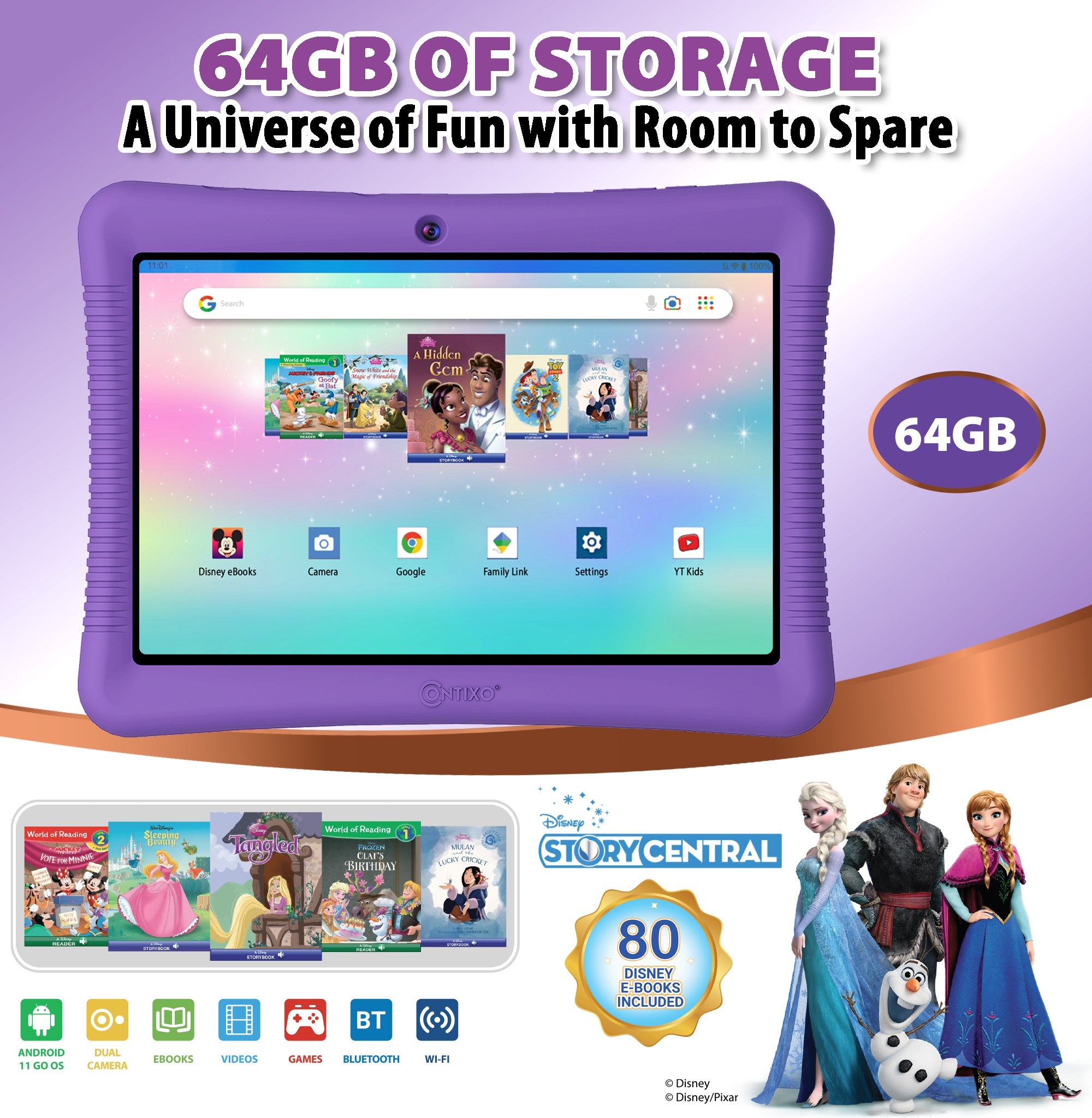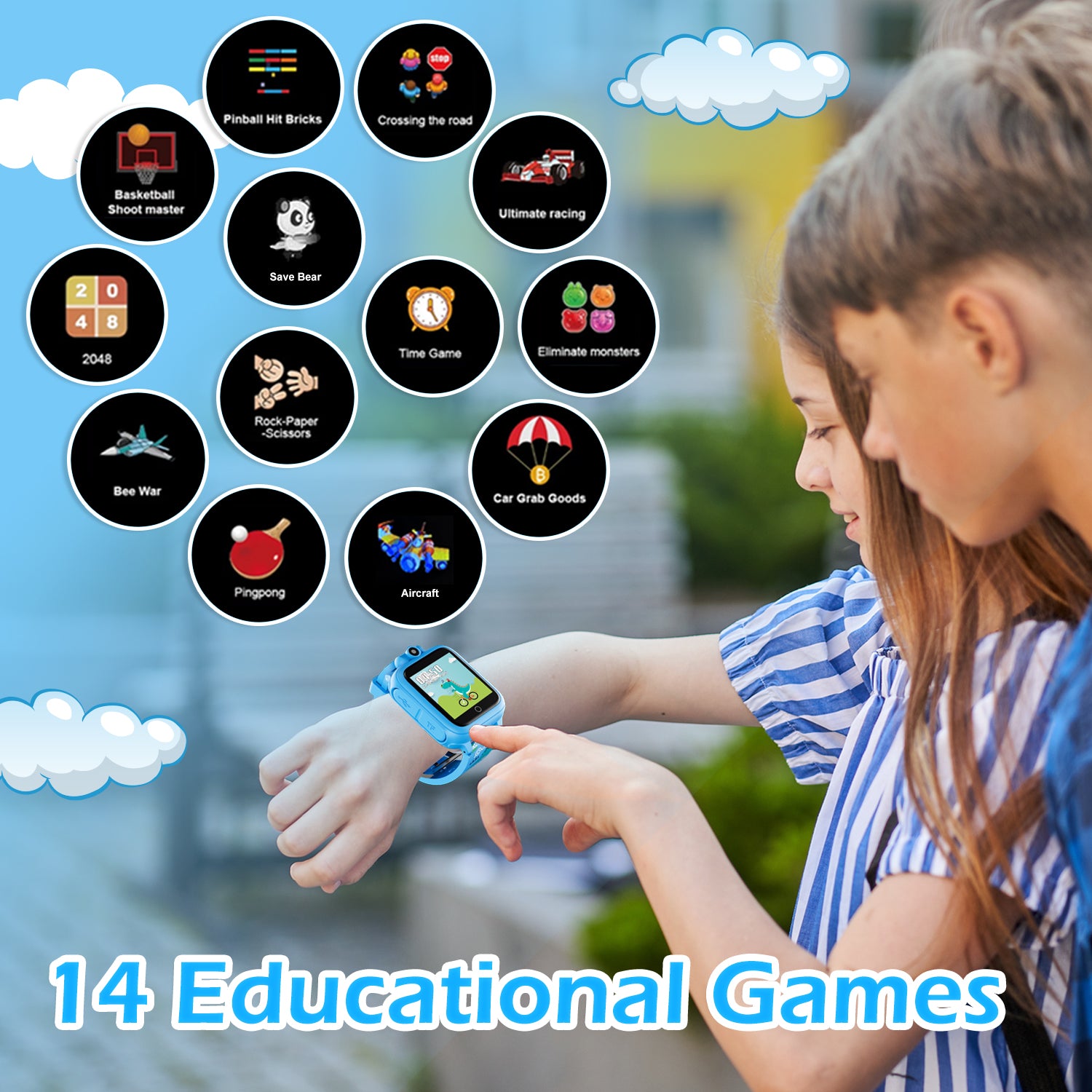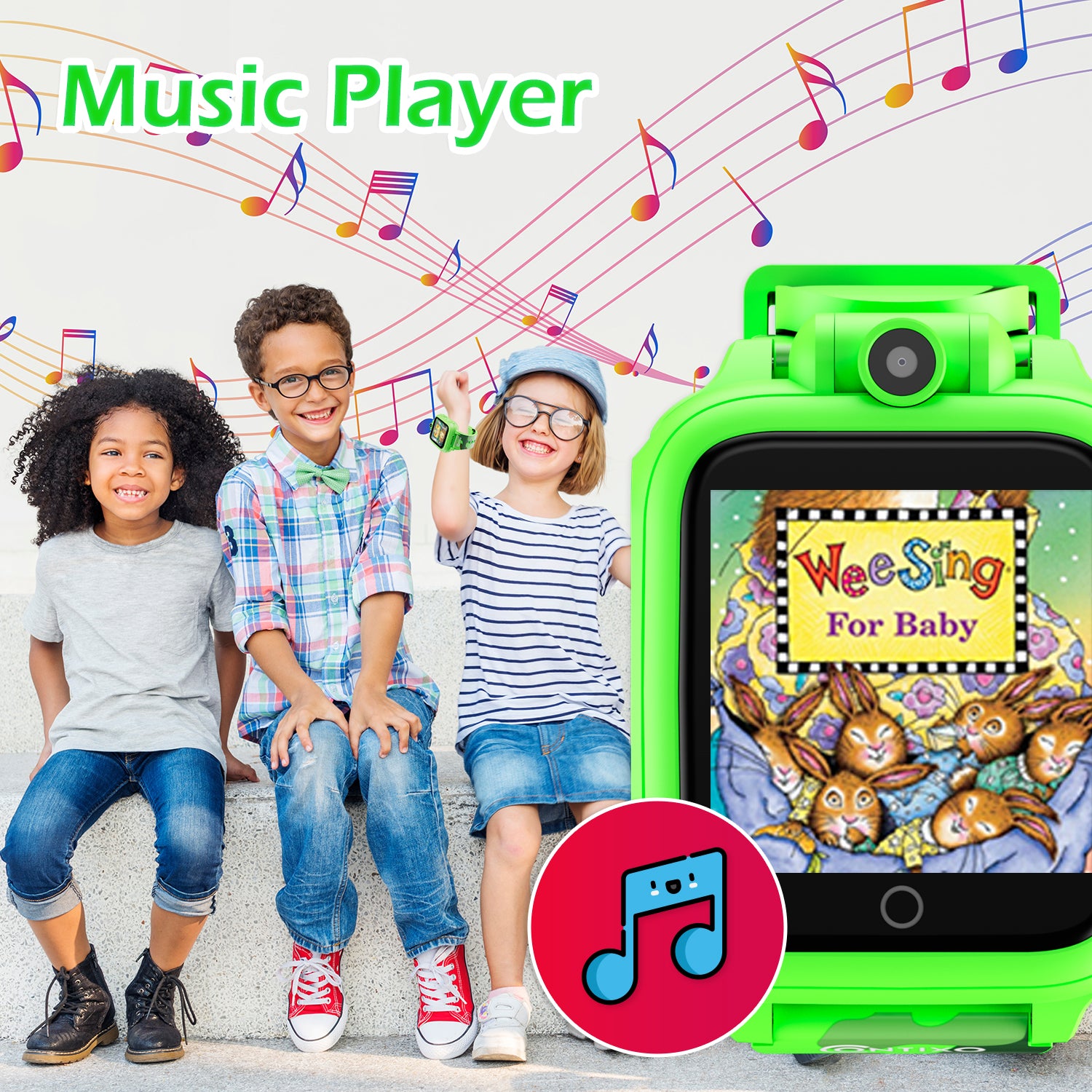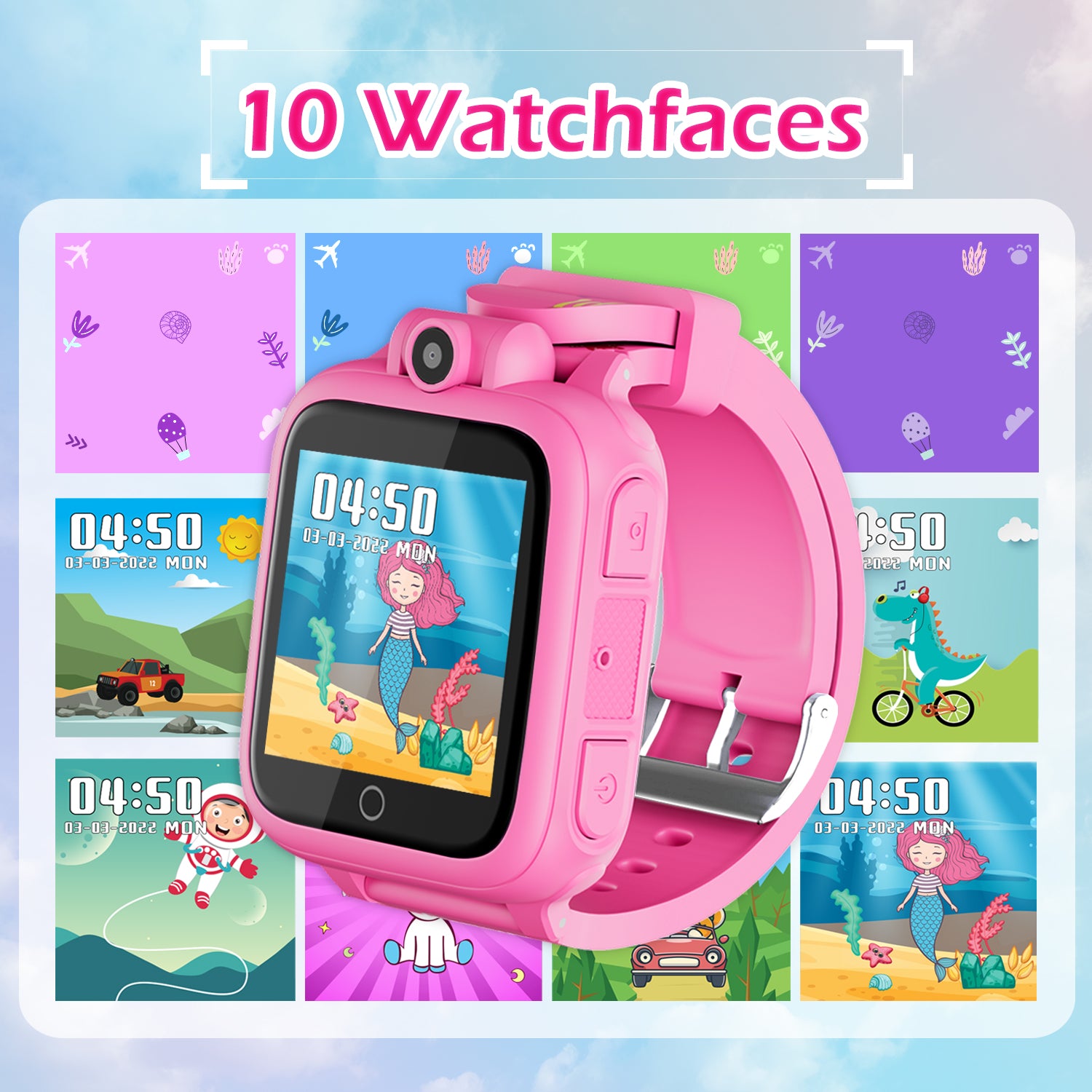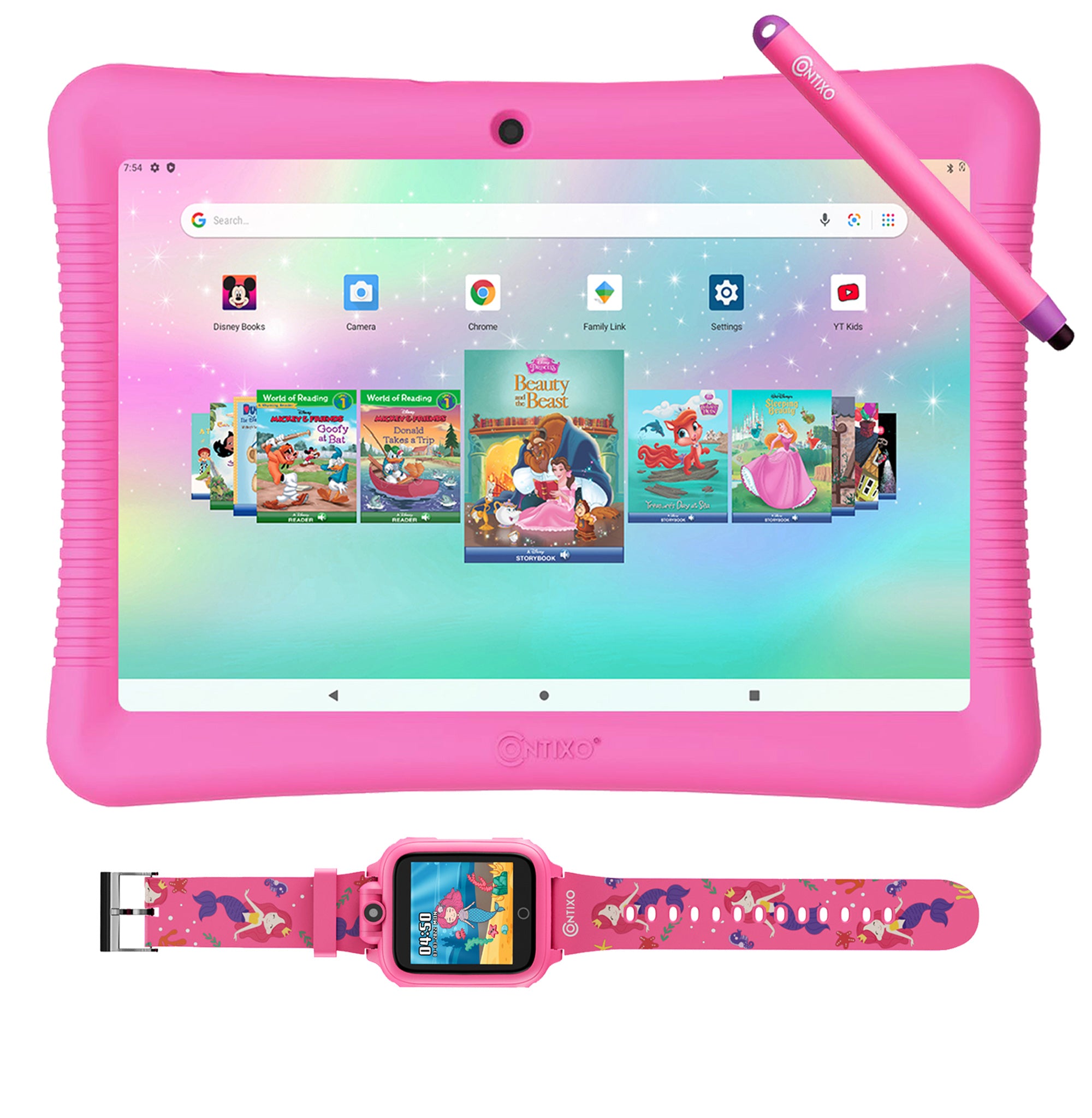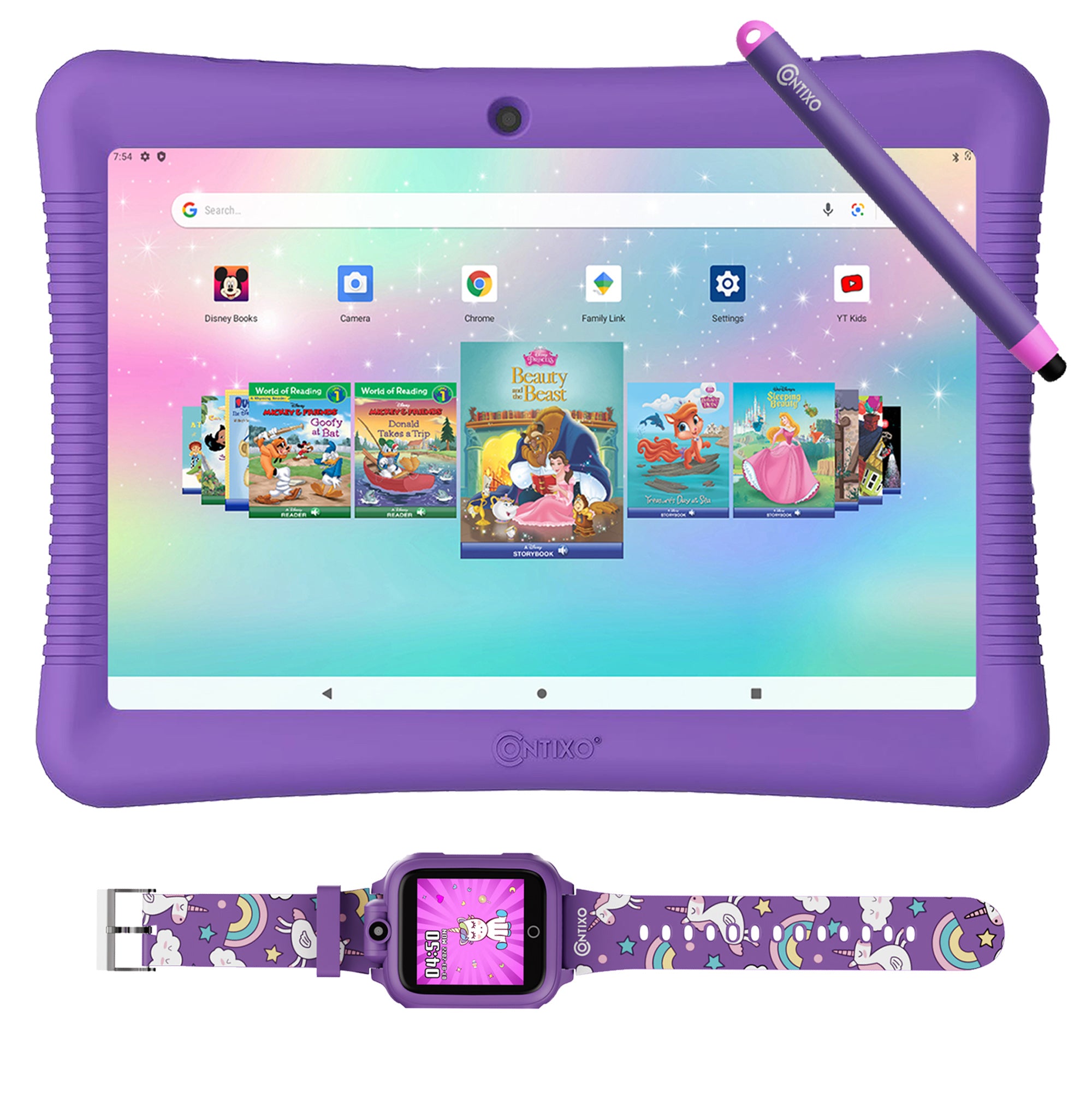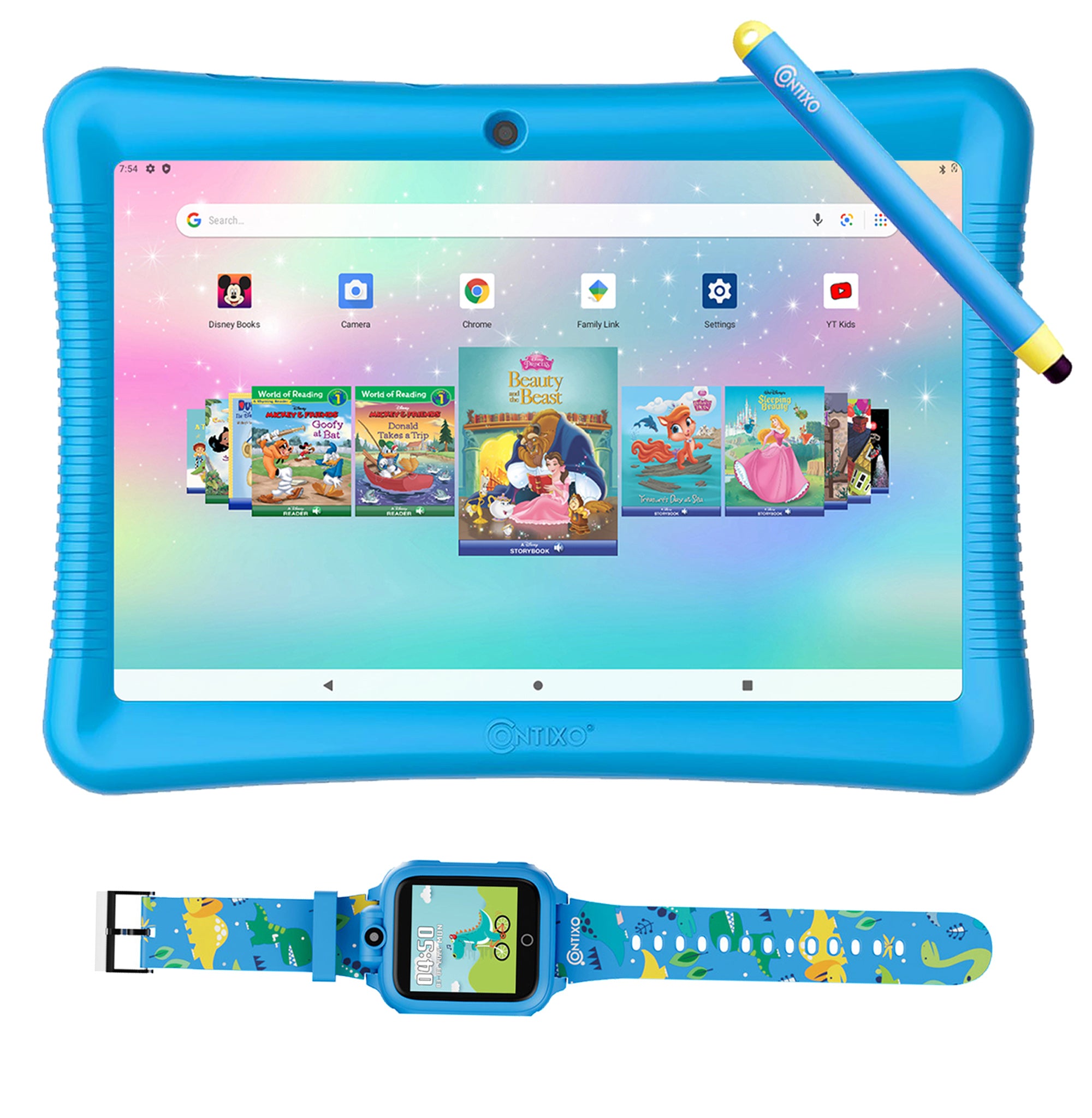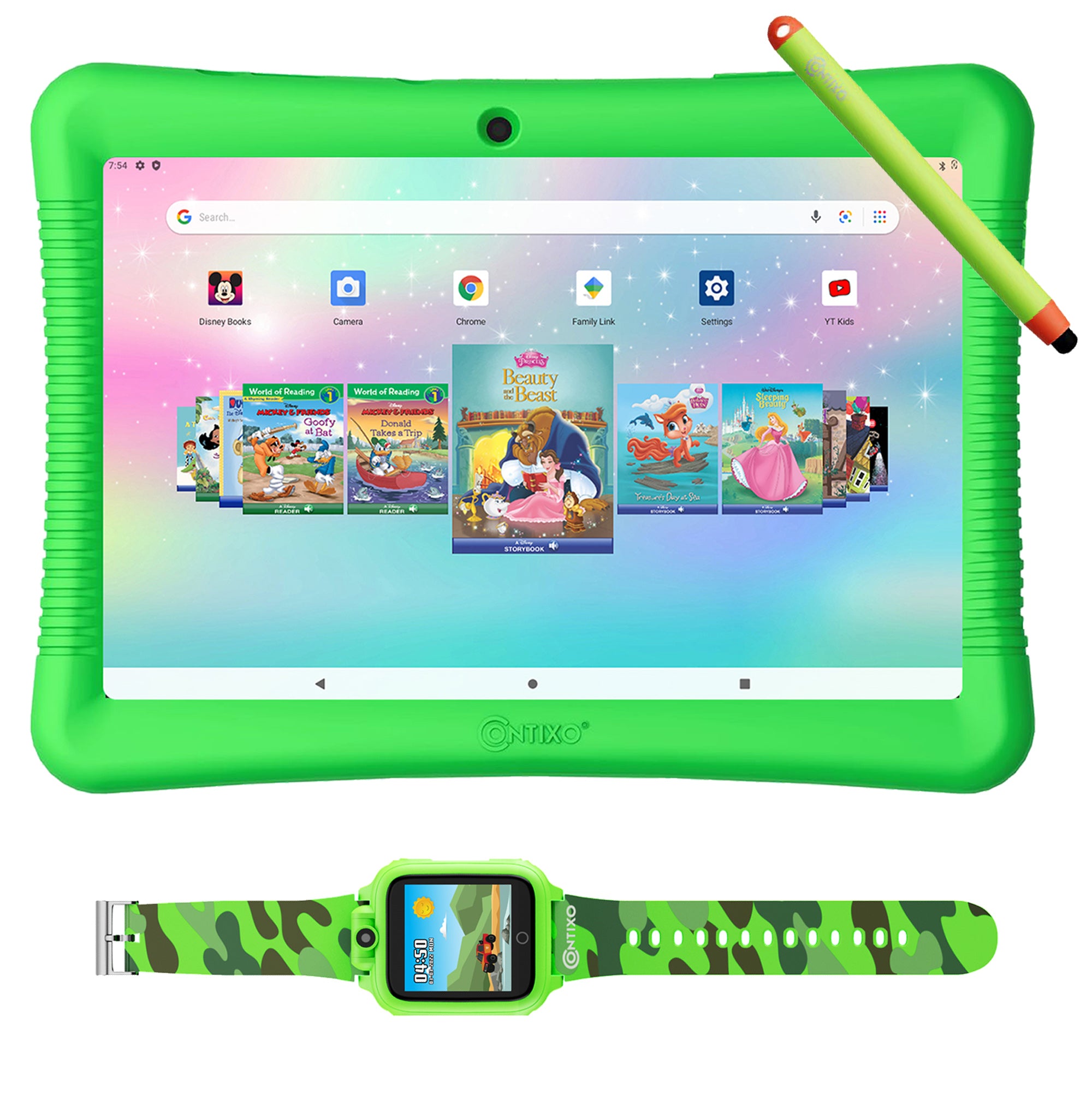 Contixo K102 10" Kids Tablet with Stylus and Smart Watch Bundle
Regular price
$99.99
Sale
Introducing the Contixo 10" K102 Kids Tablet 64GB - Your Child's Gateway to Adventure!
Introducing the Contixo K102 Kids Tablet - a gateway to boundless imagination and endless adventures! With its vibrant 10-inch IPS 1280x800 HD display, this tablet is designed for kids aged 3-12. It's not just a tablet; it's a world of wonder packed with features like a built-in camera, Android 10 operating system, Quad-Core 1.5GHz CPU, and a spacious 64GB of storage. Choose from a spectrum of colors - purple, blue, green, or pink - to match your child's unique style.
Worried about bumps and spills? Fear not! We've got you covered with a protective case and pre-applied screen protectors. Capture memories with the 2MP rear-facing camera, stay connected with the 0.3MP front-facing camera, and dive into 50 Disney Digital Audio Books and 30 Watch + Read Video Books, featuring beloved tales like "Elsa's Gift," "The Little Mermaid Storybook," "Cars 3," "Toy Story 2," and many more! Plus, with a 5000mAh rechargeable battery, the fun lasts up to 4.5 hours on a single charge. The Contixo K102 is more than a tablet; it's a ticket to hours of excitement, learning, and exploration anytime, anywhere.
Disney Magic Awaits: Immerse your child in a world of enchantment with 50 Disney e-books and 30 videos, including beloved classics like "Frozen" and "Beauty and the Beast."
Vibrant 10-inch Display: Featuring a dazzling 1280x800 HD IPS display, this tablet is perfect for ages 3-12, igniting creativity and learning.
Safe and Smart: With parental controls, a Kid-Proof Case, and screen protectors, it's designed to keep your child's experience safe and secure.
Powerful Performance: Powered by Android 10 and a speedy Quad-Core 1.5GHz CPU with 2GB RAM and 64GB storage, it's ready for educational adventures.
Long-Lasting Fun: Enjoy up to 4.5 hours of fun on a single charge with the built-in 5000mAh battery. Available in four vibrant colors: Purple, Blue, Green, and Pink.
Get ready to witness the joy and excitement on your kids' faces as they embark on this thrilling learning adventure with the Contixo K102 Kids Tablet! Hurry and grab yours now, because the fun is about to begin!
Watch Features: 
Screen Size:

 

1.54" IPS high definition 240x240 multiple touch display
Fun Selfie Camera & Video:

 

90° Rotating Camera for Photos & Videos. Children can use the Adjustable Magic Camera to record every happy moment in their lives. Set your favorite photo as wallpaper.
Parental Control:

 

Parental Control Settings for Game Play
Watch Face:

 

10 watch faces
Included Games:

 

Contixo Kids Gaming Smart Watch comes with 14 engaging educational games. It helps Kids learn through playing. The interactive Puzzle Games are carefully curated to enhance Children's Coordination Ability, Reaction, Logical Analysis and Creative Thinking Agility.
Listen to Music on the Go:

 

Transfer your Media Files to SD Card (Not Included) to access HD Music through the Contixo Kids Smart Watch. Touch to play Saved Music. You can also directly connect the Kids Smart Watch to the computer to transfer files.
Safe & Comfortable Design:

 

Contixo Kids Smart Watch is made from Non-Toxic ABS Plastic Material, with soft and durable adjustable Silicone Strap. It is Sweatproof. Wear it anywhere from Amusement Park, School Trips to Outdoor Activities. 4 colors available
Long Lasting Battery Life:

 

Contixo Smart Watch for Kids comes with built-in rechargeable battery, the standby working time can be used in between 3 to 7 days. It will take about 2 hours to fully charge the watch.
PRODUCT INCLUDES:
K102 10" Tablet
Protective Case with kickstand
Screen Protector & Stylus
KW1 Smart Watch

PRODUCT SPECS:
CPU Processor: Quad-core 1.5GHz A100
Operating System: Android 10.0
Browser:  Google
Internal Storage: 32GB 
Memory (RAM): 2GB RAM
Expansion Slot: Micro SD Card Slot, Support up to 32GB Flash
Screen: 10.1" IPS Touch Panel
Camera: 
   • Front - 0.3 megapixel
   • Rear - 2.0 megapixel
Screen Resolution: 1280 x 800
Input Method: Touch Screen
Built-in Speakers: 1W 8 Ohm Built in speaker
Earphone Jack: 3.5mm
Charging Cable: Type C
Battery: Rechargeable 4500mAh Battery
Size: 10 in x 6.8 in x 0.4 in
Weight: 17.99 ounce / 510 g
Voltage: AC 110-240 50/60Hz DC 5v/2A
Operating Temp:  -10C /14F to 40C / 104F
Network Access: Wi-Fi (802.11 b/g/n)
Parental Controls: 
   • View Kids activities
   • Manage Kids Apps
   • Set Time Limits
   • Lock Device
   • See where kids are
Warranty: 1 Year Manufacture Defect 


Download
User Manual
The Ultimate Learning Tool for Kids
Impressive tablet for kids. The kids tablet bundle is a winner. The protective cover is a nice touch and the durable battery is a game-changer. My daughter loves it!
Unleash Your Child's Creativity with a Kids Tablet
Great tablet for kids! The included cover and smart watch are a bonus. The camera quality is impressive and the battery life is perfect for long trips.
Unleash Your Child's Creativity with a Kids Tablet
Great gift for kids. The kids tablet bundle is a winner. The protective cover is a great feature and the durable battery is a game-changer. My niece loves it!
The Perfect Gift for Tech-Savvy Kids
Impressive features and great value for money!
Endless Fun and Learning with the Kids Tablet
This tablet is a game-changer for my kids. The cover and smart watch are awesome bonuses. The camera captures great moments and the battery life is outstanding.