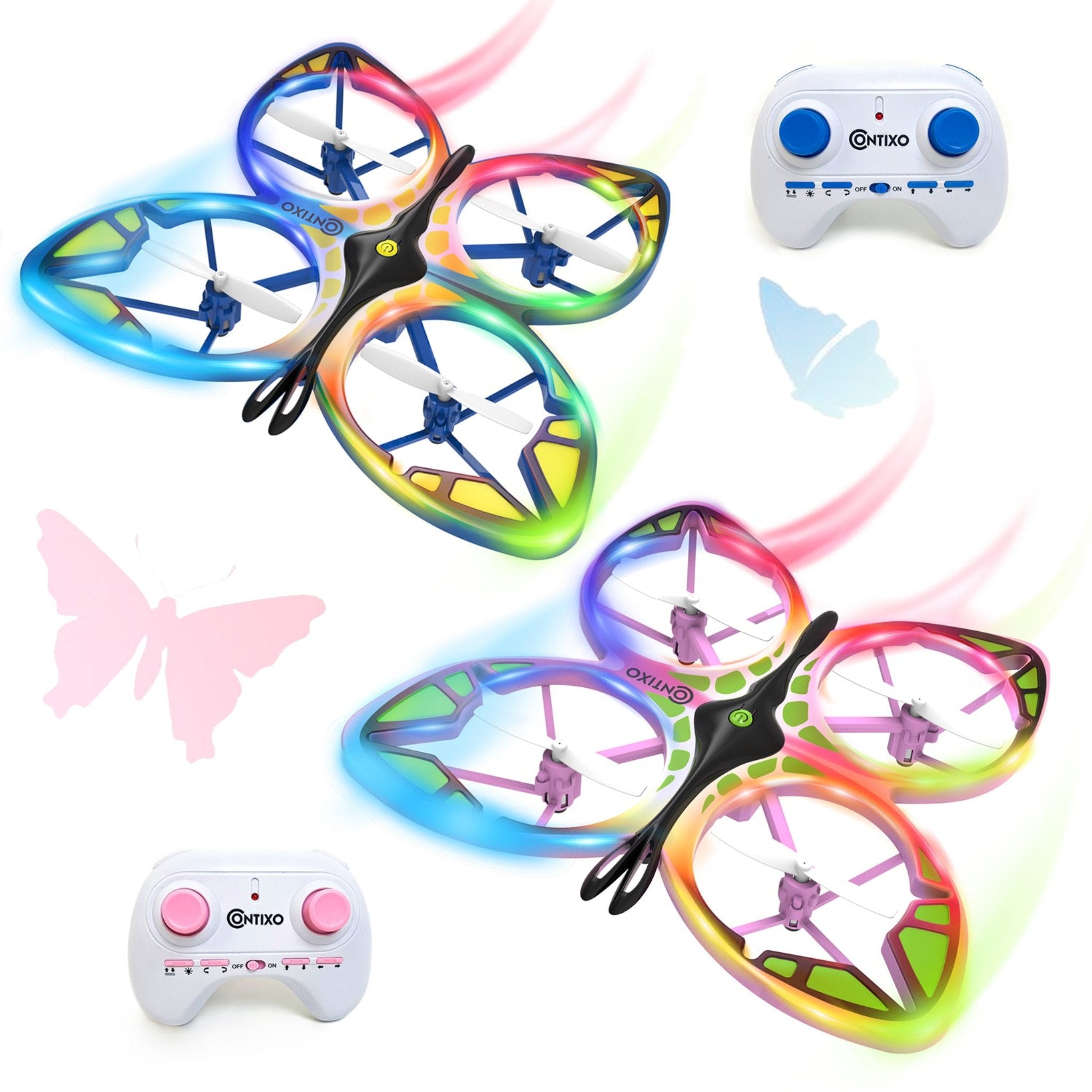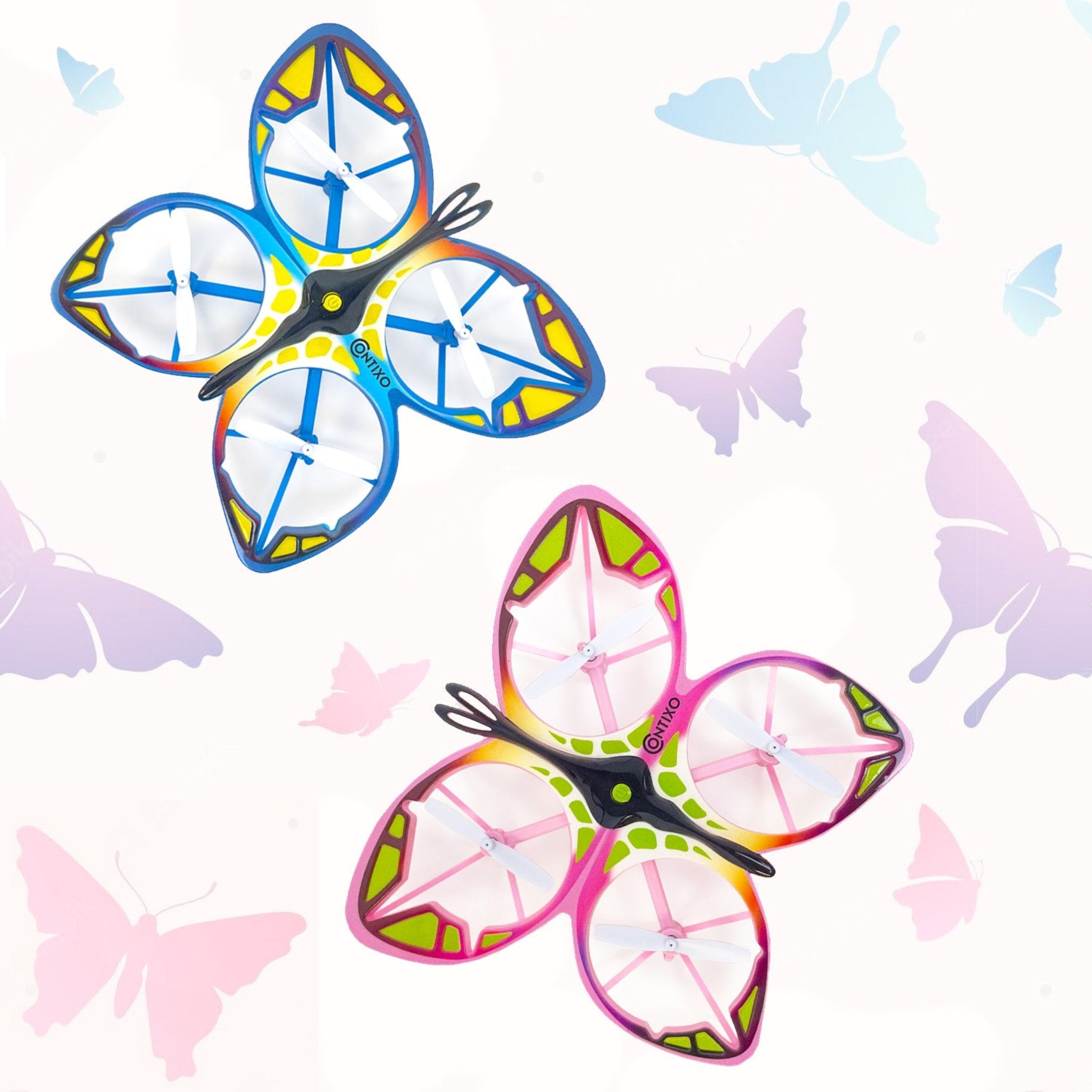 Contixo TD2 Butterfly Drone with LED Light Effects
Regular price
$59.99
Sale
Introducing our exciting new Mini Butterfly Drone
Available in Vibrant Pink and Electric Blue!
Get ready to embark on a thrilling flight adventure with this adorable drone that resembles a majestic butterfly. Designed specifically for children and beginners, it's the perfect toy to unleash your imagination and have endless fun!
With its innovative altitude hold system, this mini drone effortlessly hovers in the air, allowing you to marvel at its graceful movements. Take off and land like a pro with the simple one-button start/stop feature, making it super easy to operate. Plus, we've added two speed modes that range from gentle to exhilarating, so you can choose your preferred level of excitement!
Prepare to be amazed by the impressive flight time of up to 7 minutes, providing you with extended entertainment. Thanks to the Headless Mode, the drone's direction always aligns with the way you're facing, making it perfect for all skill levels. It's a worry-free experience, ensuring kids, beginners, and even novices can take to the skies with confidence.
To make your drone even more enchanting, we've adorned it with vibrant and colorful lights that can be controlled remotely. It's a visual spectacle that adds an extra layer of excitement to every flight. Crafted with high-quality materials and featuring exquisite UV printing technology, this mini drone boasts a stunning pterodactyl appearance and unparalleled durability. It's built to withstand the wildest adventures and keep you entertained for hours on end.
Get ready to soar through the skies and immerse yourself in a world of joy and wonder with our Mini Butterfly Drone. Let the thrill of flight take you to new heights and create unforgettable memories in a happy and exhilarating atmosphere. Are you ready to spread your wings and experience the magic firsthand?
Mesmerizing Butterfly Design: Watch in awe as this mini drone flutters through the air, resembling a beautiful butterfly. Its unique shape and simulated look will captivate both children and beginners, making it the perfect toy for playtime.
Effortless Flight for Everyone: Experience the magic of hovering effortlessly with our mini butterfly drone. Thanks to the altitude hold system, it automatically maintains its height, allowing you to focus on enjoying the flight. Takeoff and landing become a breeze with the easy one-button start/stop feature. Plus, with two speed modes, you can choose between a leisurely flight or an adrenaline-pumping adventure. Prepare for up to 7 minutes of pure excitement!
Headless Mode: Break free from conventional flight limitations! In Headless Mode, your mini butterfly drone always moves in relation to your direction, making it suitable for pilots of all levels. Whether you're a kid, a beginner, or a novice flyer, worry-free flights are now within your reach.
Radiant Colors Illuminate the Skies: Set the sky ablaze with vibrant and captivating lights. Our mini drone boasts colorful lights that can be easily switched using the remote control. Create a mesmerizing light show as your butterfly drone dances through the air, leaving a trail of wonder and awe.
Unparalleled Quality and Safety: We take pride in crafting our drone with the utmost care and attention to detail. Made from high-quality materials and featuring exquisite UV printing technology, this drone not only has a stunning pterodactyl look, but it's also built to withstand accidental drops. With its durability and long-lasting flight capabilities, it will keep you soaring for hours, immersing you in a world of joy and happiness.
| | |
| --- | --- |
|  SPECS: | PRODUCT INCLUDES: |
| Model: TD2 | 1 x Drone |
| Control Frequency: 2.4GHz | 1 x Remote Control |
| Remote Control Battery: 3 x AAA (Not Included) | 2 x Batteries |
| Drone Battery: 3.7V 550mAh | 4 x Spare Propellers |
| Flight Range: Up to 100 Ft. | 1 x Charging Cable |
| Flight Time: Up to 8 Minutes | 1 x User Manual |
| Charging Time: 90 Minutes | |
| Size: 7.9 x 6.7 x 1.3 Inch | |
| Flight Weight: 68 g / 2.4 Oz | |
Dazzling LED Lights, Perfect for Nighttime Flights
The LED lights on the TD2-Pink are a real showstopper. They create a mesmerizing light display, making nighttime flights a truly magical experience. The drone becomes a vibrant spectacle in the dark sky, leaving onlookers amazed.
Easy to Fly, Great for Beginners
It's incredibly easy to fly, thanks to its user-friendly controls and assisted landing feature. Within minutes, you'll be navigating the skies like a pro very cooooool!
Fantastic Gift Idea
If you're looking for a unique gift for a tech enthusiast, this drone is a great choice. It's well-built, easy to fly, and the LED lights make it look like something out of a sci-fi movie. A definite crowd-pleaser!
Endless Fun for Kids and Adults Alike
Both kids and adults have been having a blast flying this drone, performing cool stunts!
Eye-catching colorful lights
I'm amazed at how well this drone holds up to crashes. It's like it's made of indestructible material.I can't say enough good things about this mini butterfly drone. The unique shape and simulated look make it a standout toy.