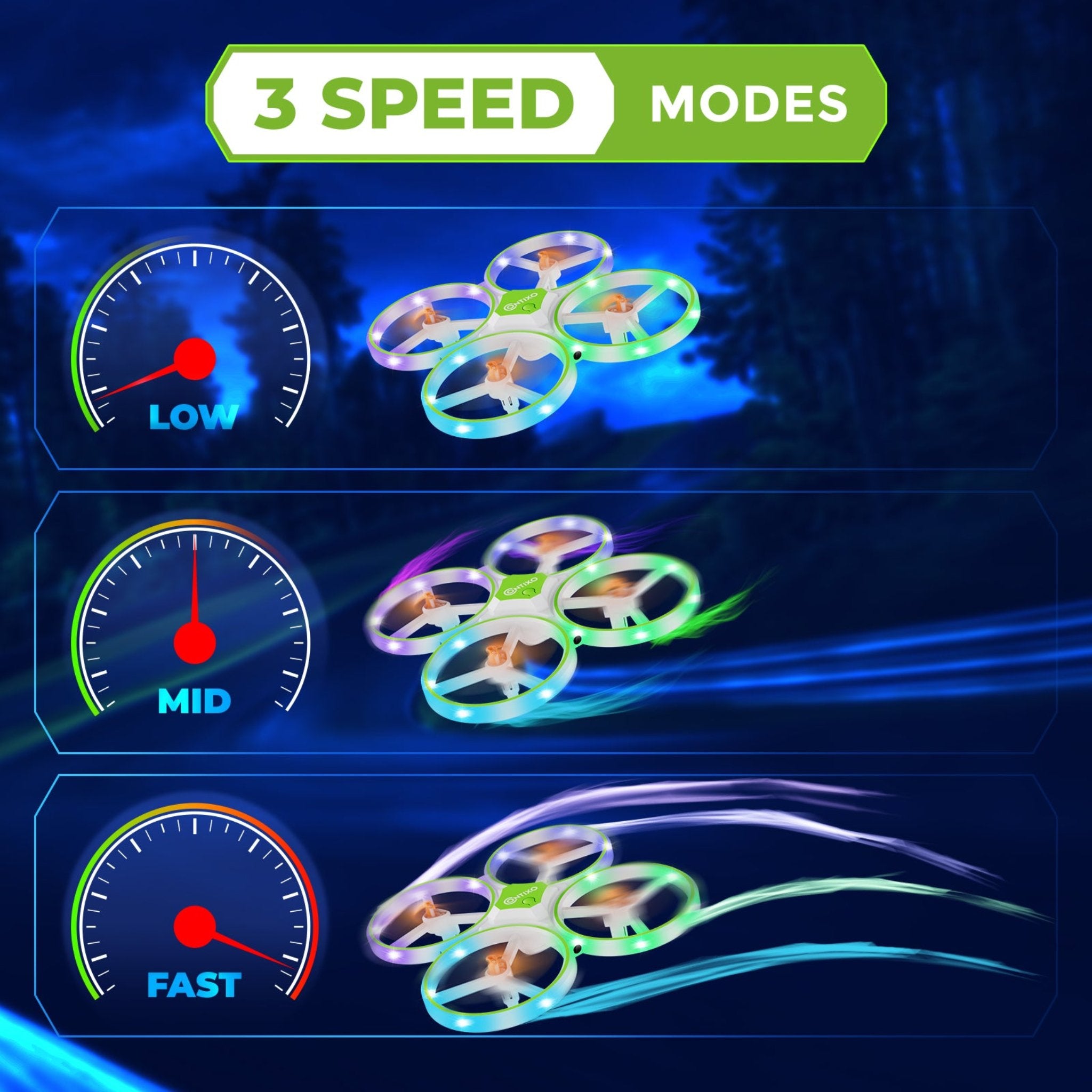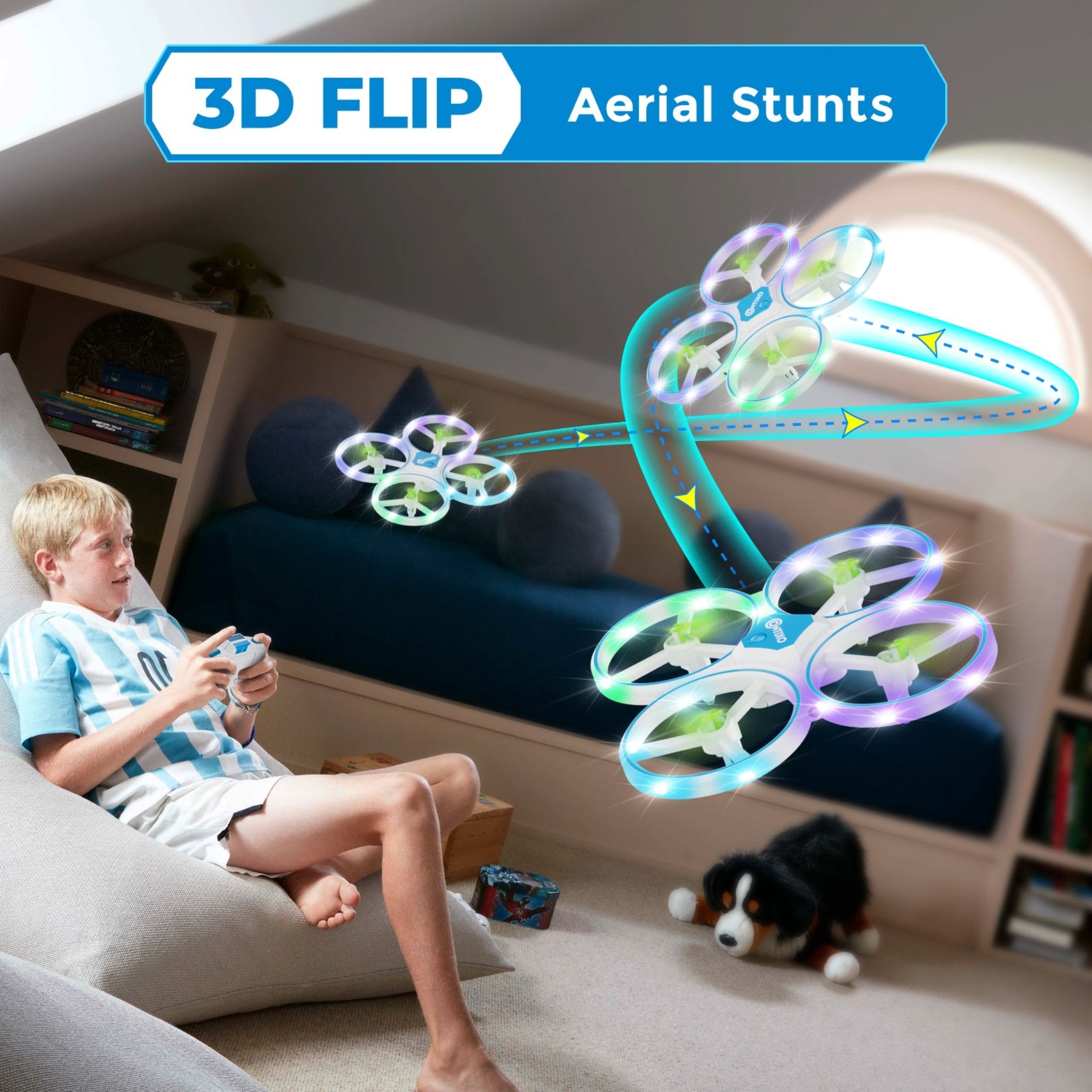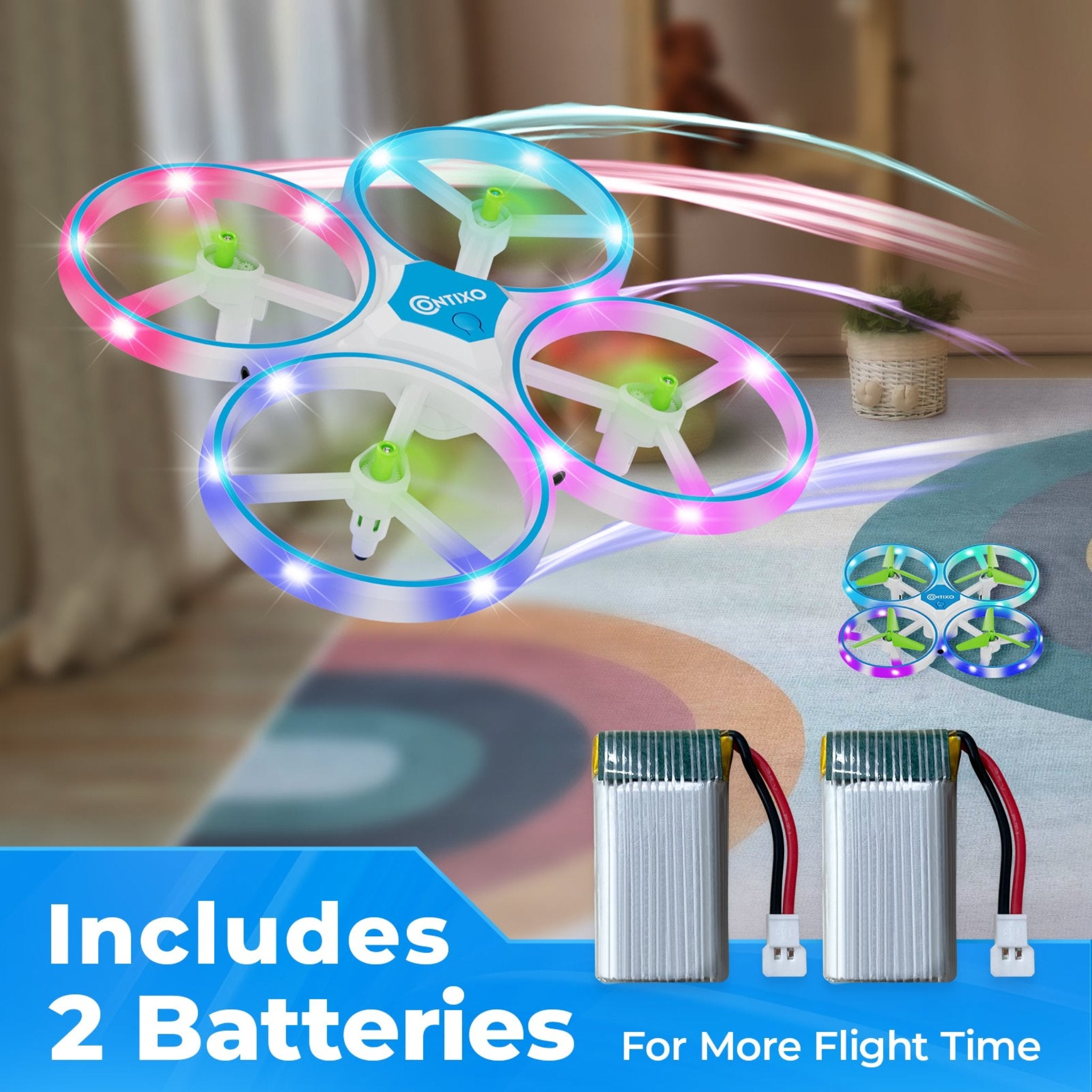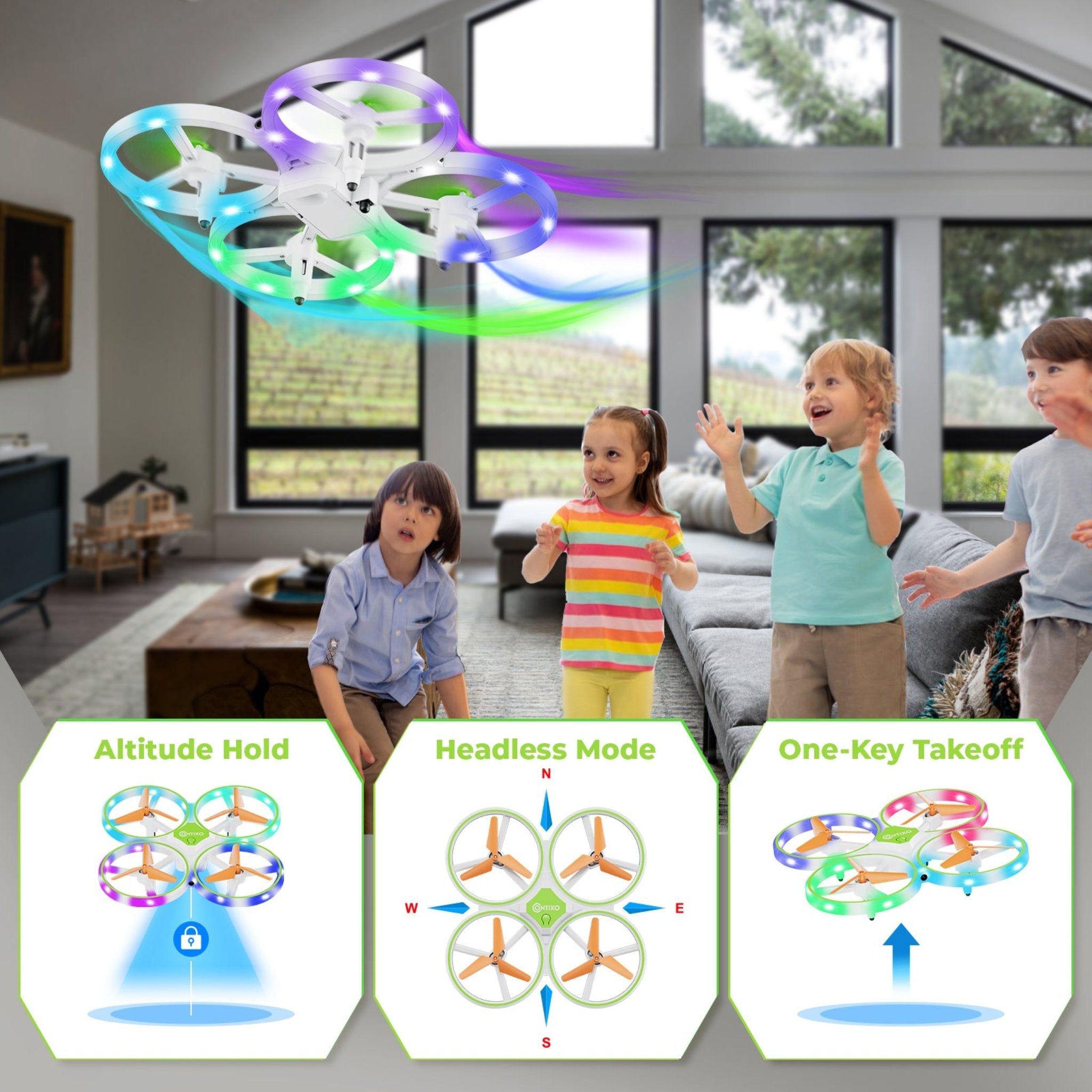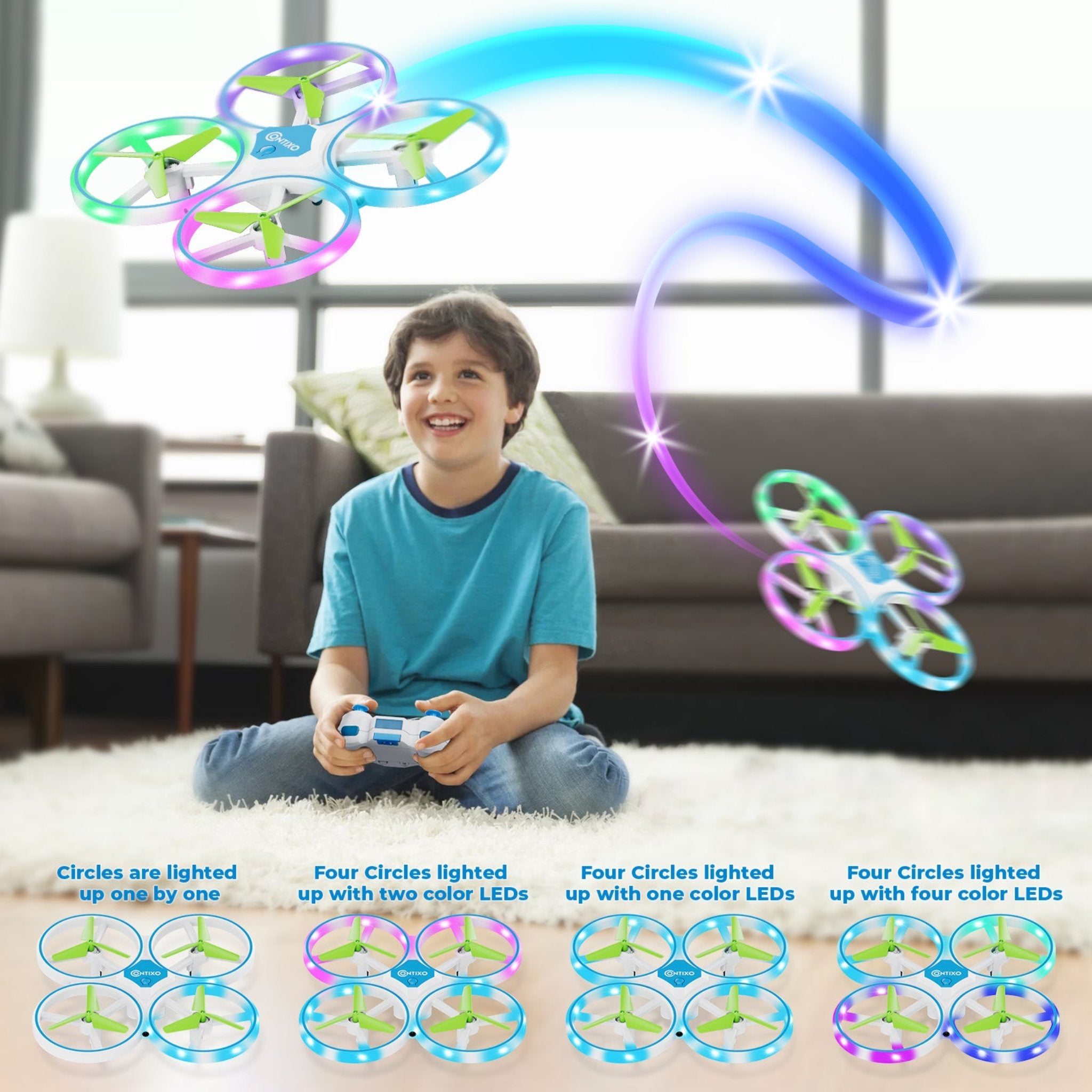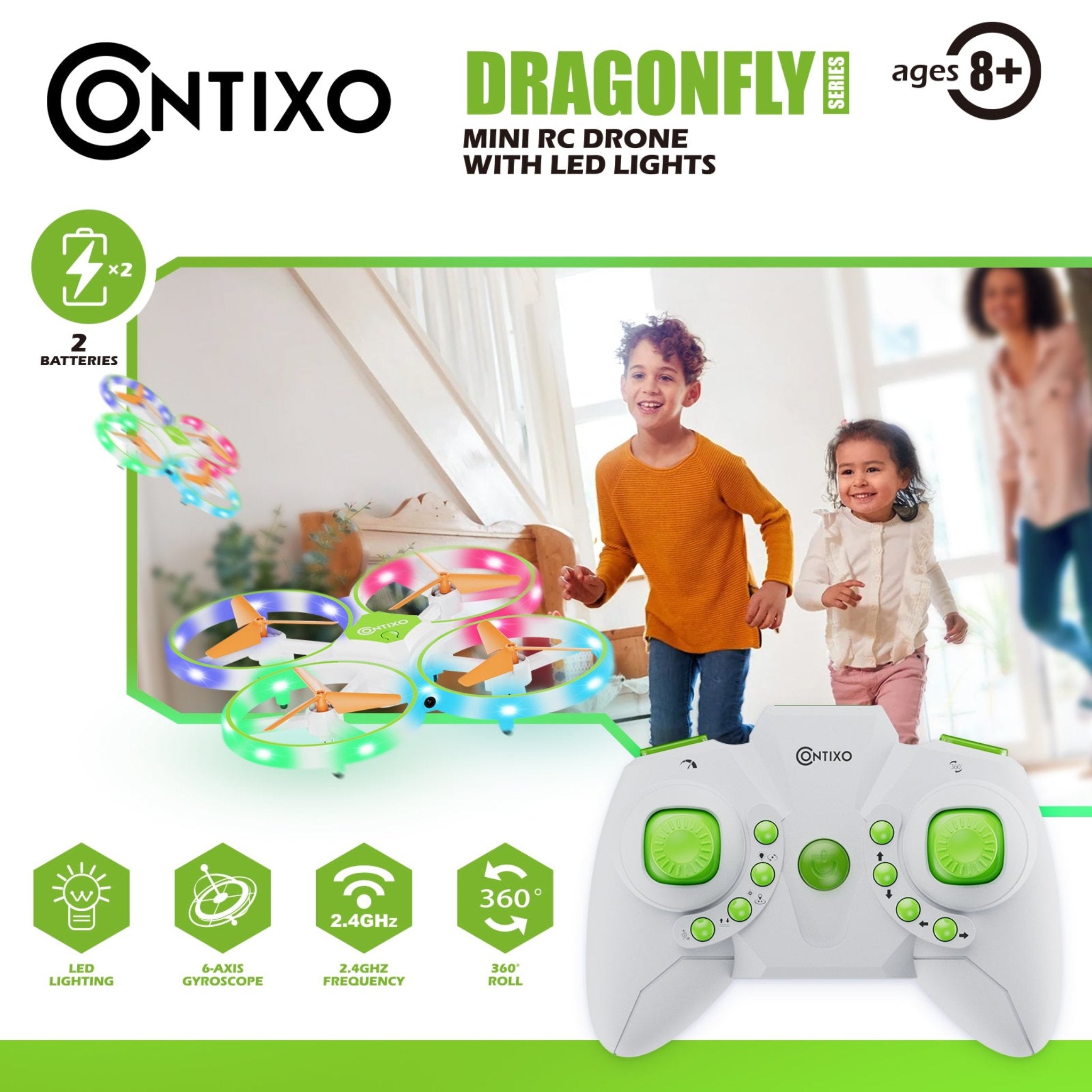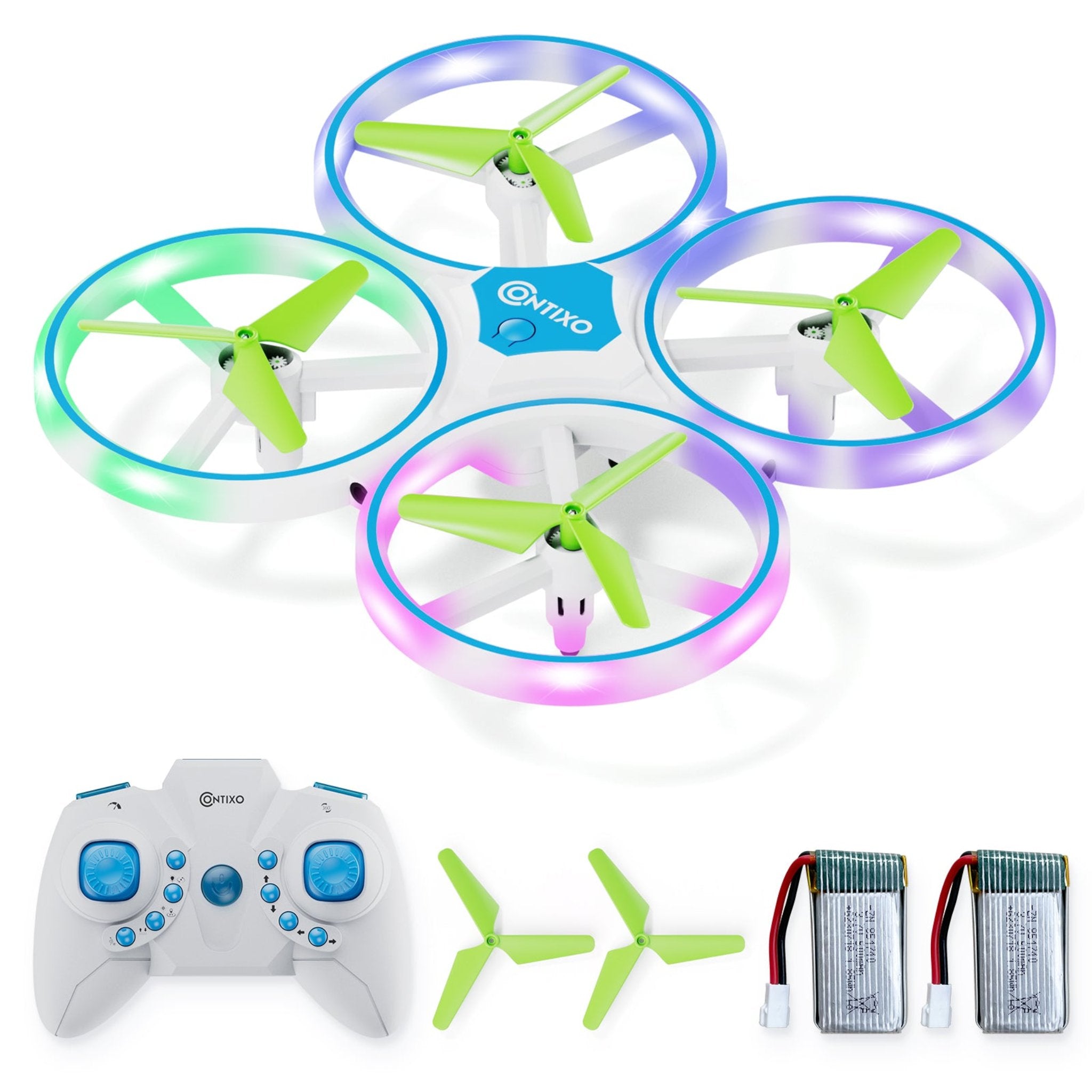 Contixo TD1 Dragonfly Drone with LED Light Effects
Regular price
$39.99
Sale
Introducing our incredible Dragonfly Drone!
Prepare for a thrilling and exhilarating flying experience as you unleash its mind-blowing stunts. Get ready to be amazed as this drone performs mind-boggling 360-degree rotations and flips that will leave you in awe!
But that's not all. With just a simple press of the speed switch button on the 2.4Ghz non-interference remote, you can accelerate this drone to new heights, allowing multiple players to join in the action-packed stunts simultaneously. And when the sun sets, the bright LED strip inside the drone illuminates the night sky, creating a dazzling display as it showcases its impressive moves and provides visual guidance for your every maneuver.
With two rechargeable batteries included, you can extend your flying time up to a whopping 16 minutes, ensuring non-stop entertainment for all. And the best part? This mini drone is incredibly easy to use, with convenient one-button controls for takeoff, landing, and return. No more complicated setups or confusing instructions!
Safety is our top priority. The Dragonfly Drone features an altitude holding function that keeps it suspended in the air, guaranteeing a stable flight for young pilots. The headless mode ensures that even beginners won't lose their way, making it a breeze to navigate and explore the skies.
But that's not all! This ultra-light and compact drone measures just 6.7 x 6.7 x 1.6 inches, making it perfect for on-the-go fun. Slip it into your pocket and take it anywhere you desire. And don't worry about accidents—our Dragonfly Drone comes equipped with a protective round circle around its propellers, ensuring the safety of your little ones while safeguarding the drone from collisions.
Looking for the ultimate gift for a tech-savvy teen boy? Look no further! The Dragonfly Drone is not just a toy; it's a gateway to endless excitement and adventure. Give them a gift they'll never forget and watch their eyes light up with joy!
Unleash the Dragonfly Drone today and let the sky be your playground!
Unleash the Dragonfly Drone's Thrilling Moves: Prepare to be mesmerized as our Drone with Cool Stunts performs mind-blowing 360-degree rotations and flips, delivering an exhilarating flying experience that will leave kids on cloud nine! Activate the speed switch button on the 2.4GHz non-interference remote, and watch as this hand drone accelerates to perform stunts with multiple players simultaneously, creating an adrenaline-fueled spectacle!
Dazzling Lighting Spectacle: Let the Dragonfly Drone steal the spotlight with its fantastic lighting effect! Adorned with vibrant LED strips, it sets the stage for nighttime stunts, illuminating the sky with a breathtaking display. Not only does it add a touch of splendor to your remote control drone, but it also serves as a guide, indicating the directions for your next daring maneuver. With two rechargeable batteries, your flying time extends to a whopping 16 minutes, ensuring the fun never fades away!
Embark on a Journey as Beginner Drones for Kids: Prepare to embark on an epic flight with our easy-to-use mini drone, perfect for kids! Take off, land, or return with a single click of a button, granting you effortless control. The altitude holding function keeps the drone suspended in the air, ensuring a stable flight experience. Thanks to the headless mode feature, even beginners won't lose their way, making it a breeze to navigate and explore the skies!
Unleash the Adventure Anywhere: Experience the freedom of ultimate portability with our ultra-light and compact Dragonfly Drone. With dimensions of just 6.7 x 6.7 x 1.6 inches, this incredible toy can effortlessly fit in your pocket, ready to accompany you on your next escapade. Take it to the park, the beach, or even on a road trip—the possibilities for high-flying fun are endless!
Safety Takes Flight: We prioritize your child's safety above all else. The Dragonfly Drone boasts a thoughtful design that encases the propellers in a protective round circle, ensuring your kids can enjoy their flights worry-free, free from any accidental scratches or collisions. Plus, these amazing drones also make fantastic gifts for those cool teens in your life!
| | |
| --- | --- |
|  SPECS: | PRODUCT INCLUDES: |
| Control Frequency: 2.4GHZ | 1 x TD1 Drone |
| Drone Battery: 3.7V 500mAh | 1 x Remote Control |
| Flight Range: Up to 150 Ft | 2 x Batteries |
| Flight Time: Up to 9 Minutes | 2 x Spare Propellers |
| Charging Time: 60 Minutes | 1 x Charging Cable |
| Motors: 4 pcs | 1 x Mini Screwdriver |
Improves communication and collaboration
I recently purchased this drone toy and I'm impressed with its performance. The stunts it can do, like 360-degree flips and rotations, are eye-catching and provide an exciting flying experience. The bright LED strip inside adds a fantastic lighting effect, especially when flying at night. The two rechargeable batteries also extend the flying time, allowing for longer play sessions. Overall, it's a great toy for both kids and adults!
User-Friendly One-Button Control
Flying this drone is a breeze with its user-friendly one-button control. It's perfect for beginners and kids who want to experience the joy of flying without any hassle.
Enhances fine motor skills
The drone is very stable in the air, even in windy conditions. It's great for outdoor flying.I bought this drone toy for my son's birthday and he hasn't stopped playing with it. The range is impressive and it's very stable in the air. Highly recommend!
Reliable and consistent performance
Safety was my top priority when choosing a drone for my daughter, and this one exceeded my expectations. The little propellers are protected in a round circle, which not only prevents scratches but also protects the propellers from collisions. The drone is also lightweight and small, making it easy for her to handle. It's a great toy for kids and also makes a cool gift for teen boys!
Portable and Compact Design
This drone's compact size and portable design make it convenient to take with me on any adventure. Whether I'm hiking, traveling, or simply exploring the outdoors, I can easily bring this drone along for some aerial fun.