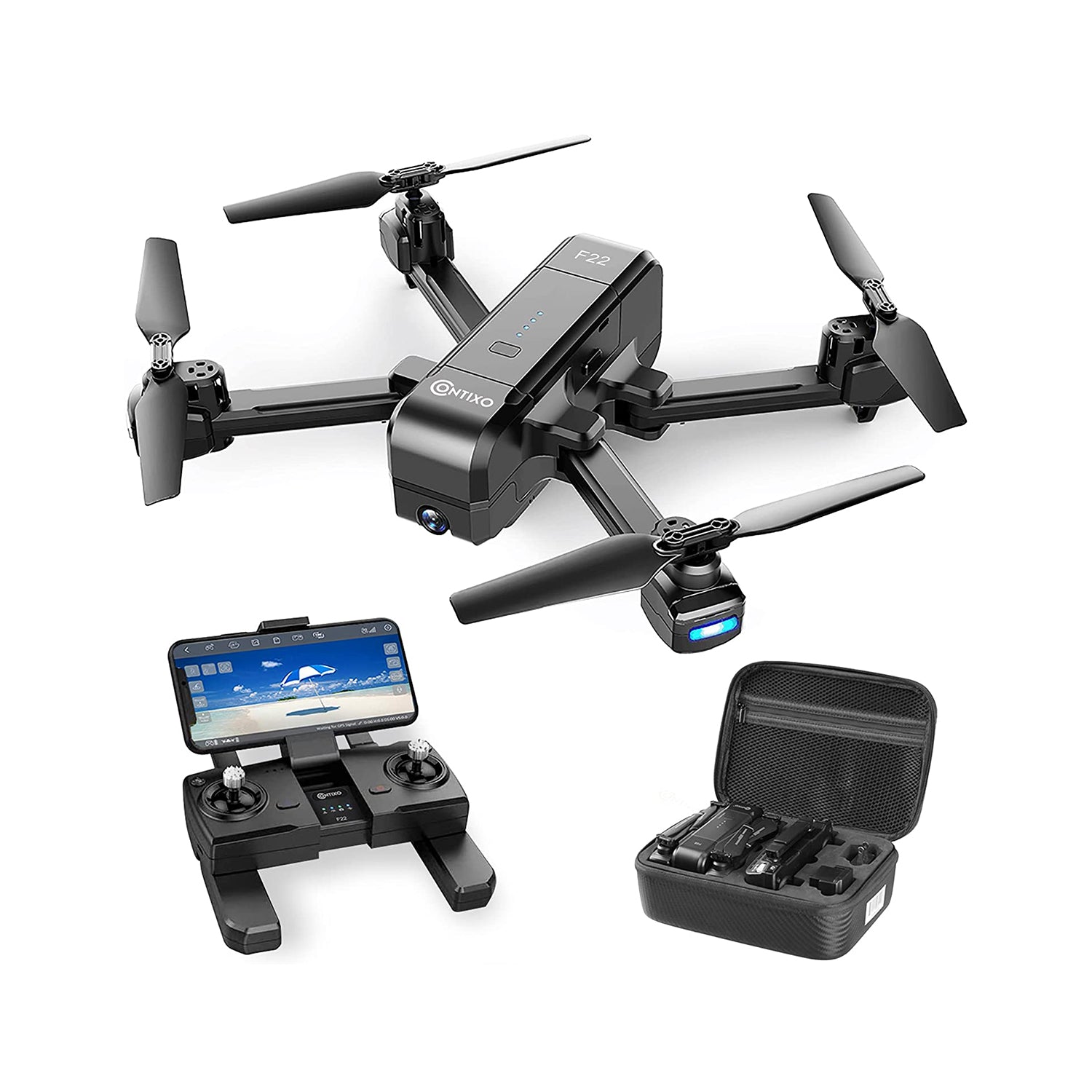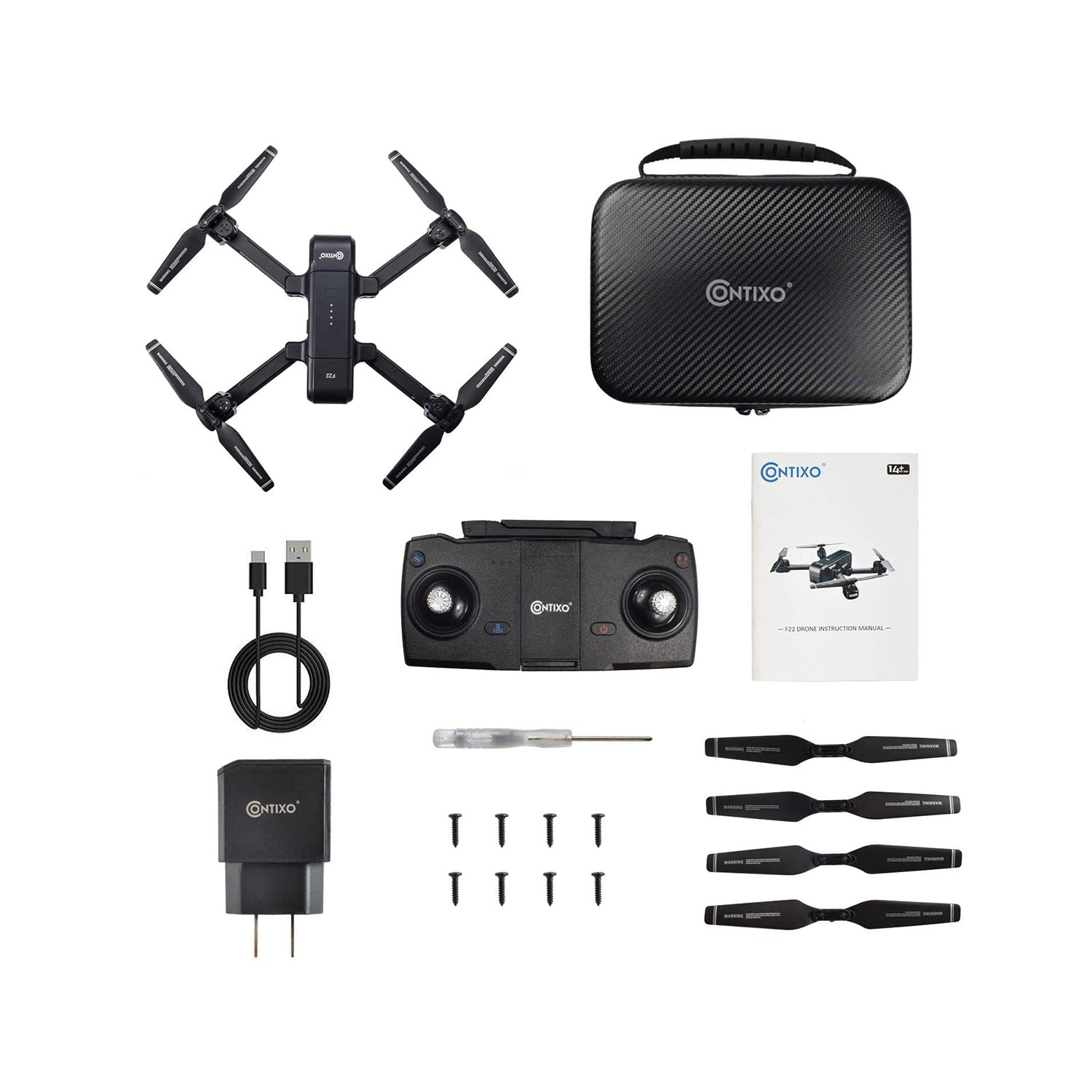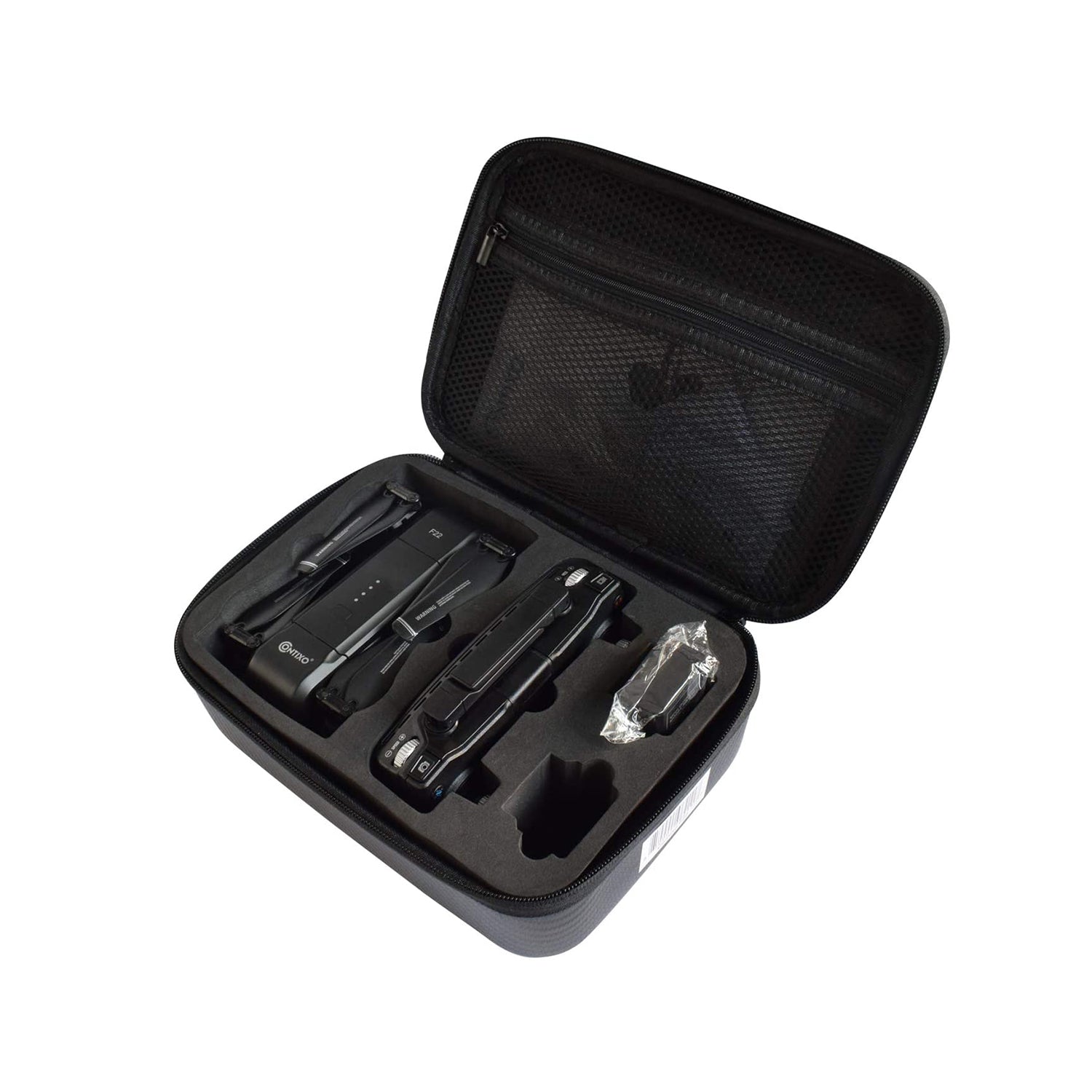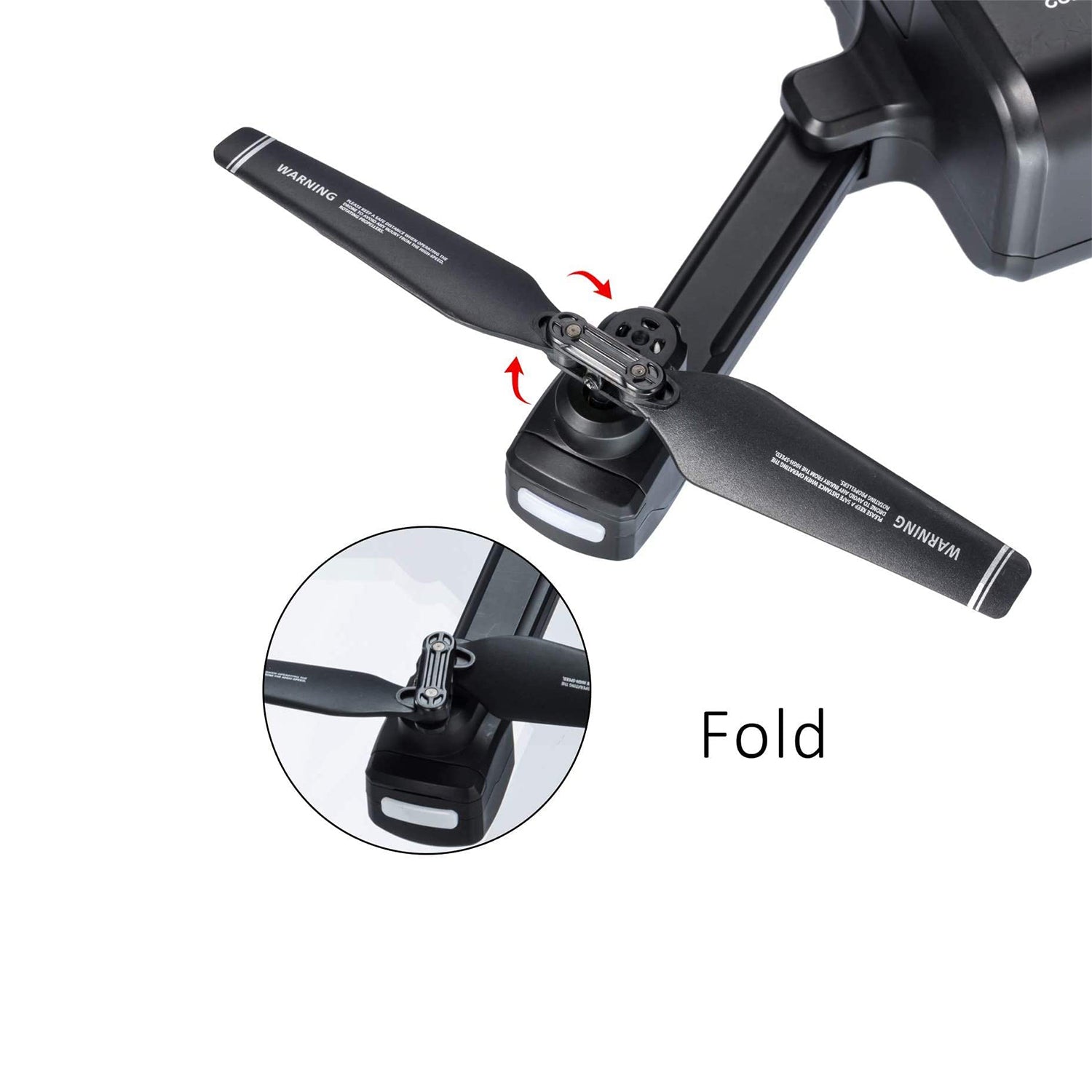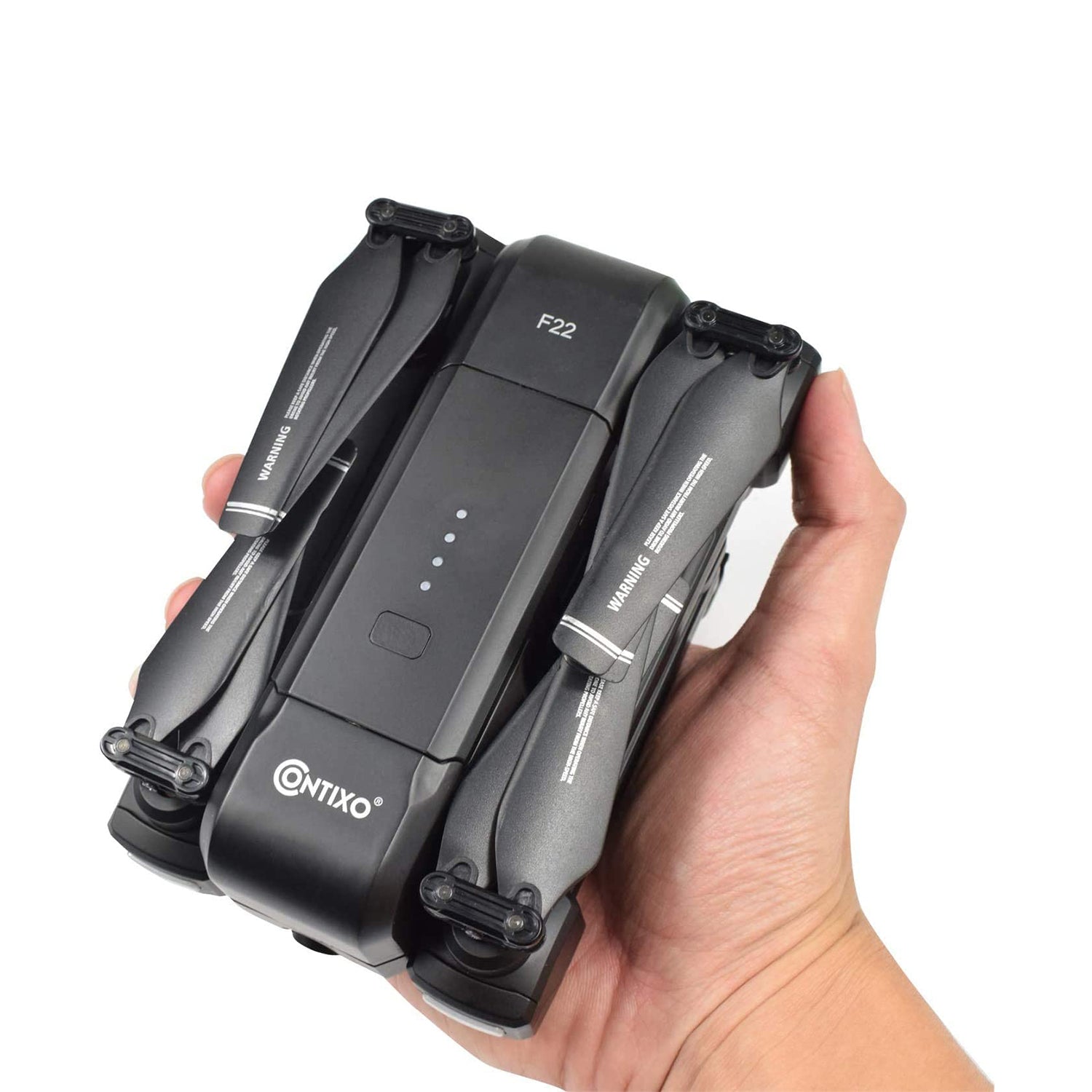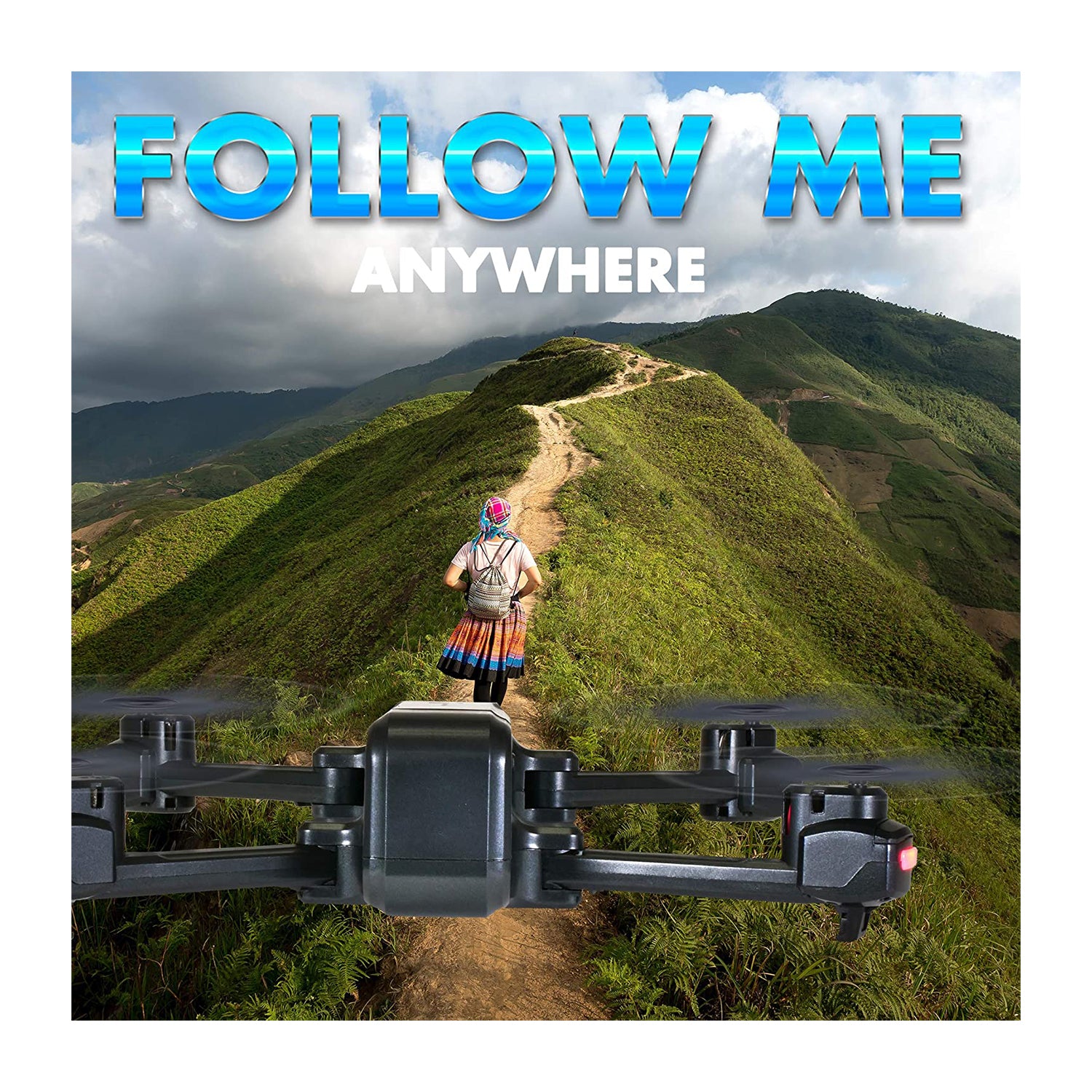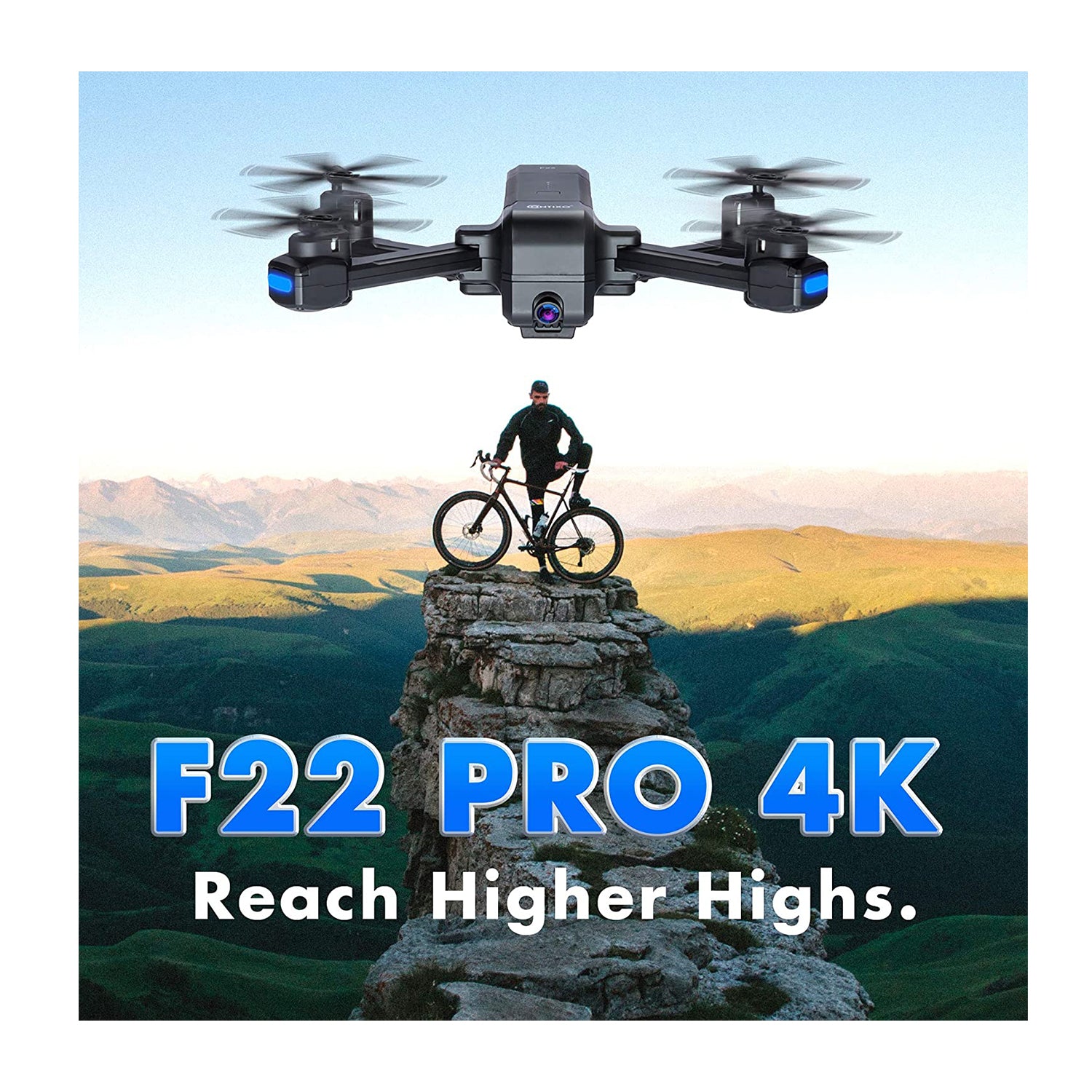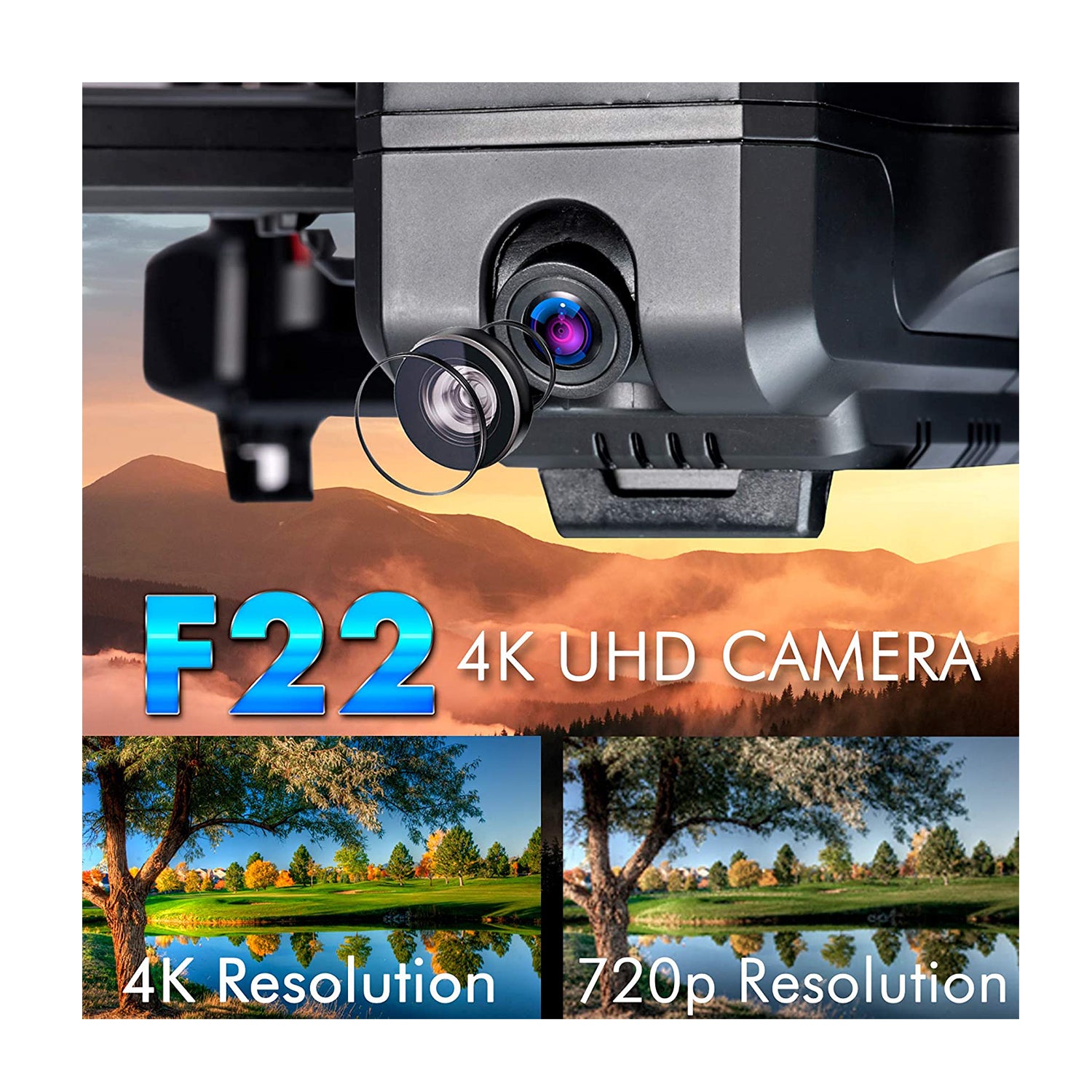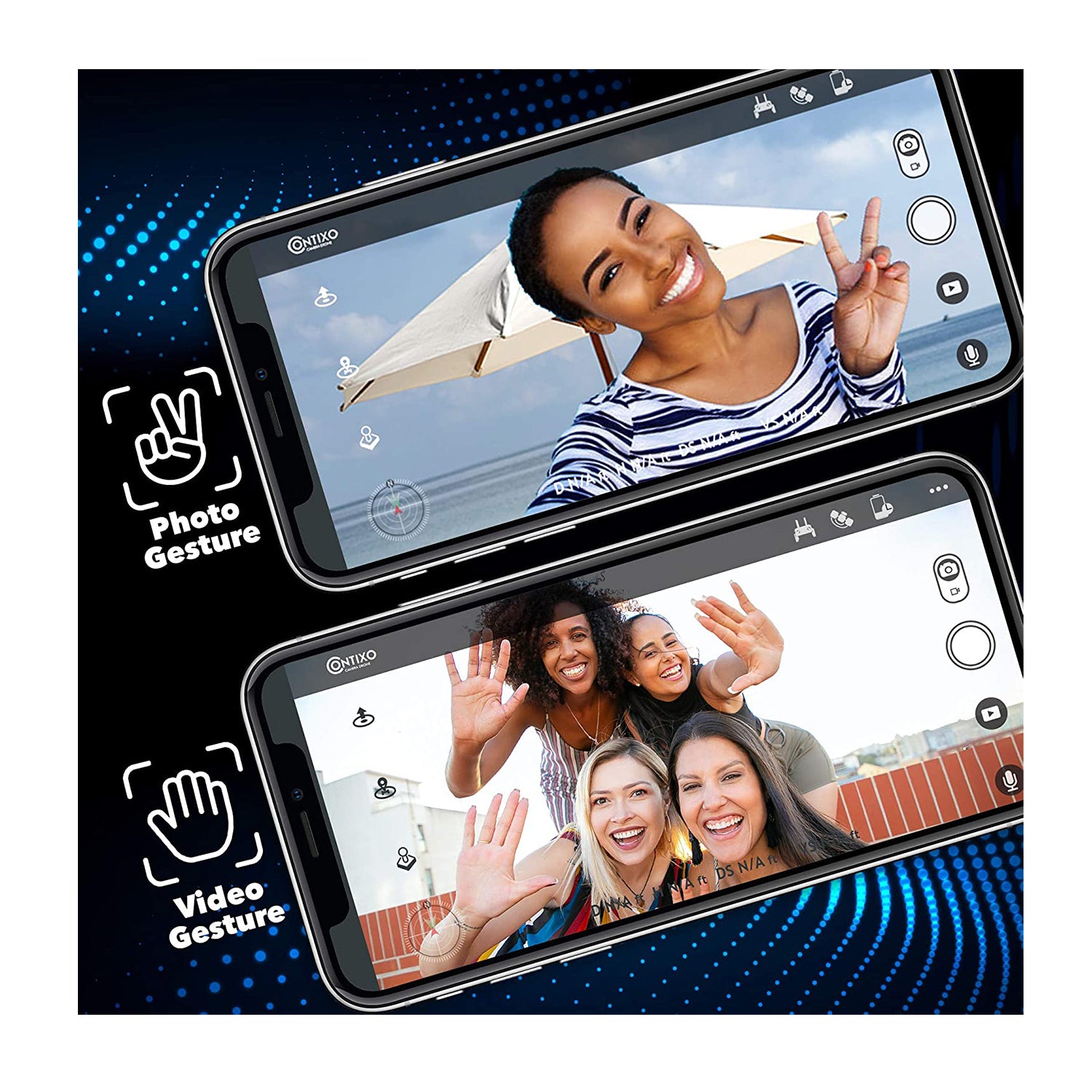 Contixo F22 FPV Drone with Camera
Regular price
$169.99
Sale
GPS Assisted Flight Features - Shoot with ease when using the Follow Me, Orbit Mode or Tapfly. Selfie Mode with Gesture Control, Headless Mode, Auto Hover, 1-Key Takeoff/ Landing & More! Great drone for beginners, will entertain hobbyists of all levels and ages.
Auto Return Home - The 

Contixo F22 will fly back to Take-off Point whenever you press the one key return. Or if it runs out of power, loses connection, or accidentally flies out of range, it will automatically fly back.

1080P FHD WiFi Camera - Built-In adjustable 120° FOV wide angel allows you to both take pictures or record live video during flight for First Person View (FPV), Bird's Eye View, etc. Edit and upload your videos clips to Social Media.
Pre-Assembled GPS Foldable Drone – No need to put the drone together! It's a small, compact, foldable drone with a super portable design that makes it fun and easy to take everywhere you go. The Popular F22 is one of the Best Drones for Adults and for kids alike.
Custom Storage Case Included - The exclusive carrying case allows you to safely store and transport your Foldable GPS Drone. Never worry about removing the propellers or taking your new hobby apart and makes it safe and convenient to transport your unmanned aerial vehicle (UAV) everywhere!
Video Transmission With WiFi - The Contixo F22 Drone provides video transmission within a range of up to 750 feet. You can capture Pictures and Videos while flying for 15 to 20 minutes allowing you to fly farther. The still images and stream live HD footages are automatically saved to the Micro SD card in 1080P Quality.
PRODUCT INCLUDES:
(1) F22 Drone
(1) 2.4 GHz Remote Control
(1) Li-Po Modular Battery
(1) Micro USB Charging Cable
(1) Transport Case
(4) Replacement blades
(1) Screwdriver
(1) Instruction Manual
PRODUCT SPECS:
Drone
Model: F22
Weight (Including Battery): 242g / 8.5oz
Flight Time: About 18 min
Wifi Camera Distance: 50m to 300m (150ft - 1000ft)
Motor Model: 1020
Auto-Hovering: Enabled
Operating Temperature Range: 32° - 104°F (0° - 40°C)
Satellite Systems: GPS / GLONASS
Dimensions: (LxWxH): 
- Unfolded: 11.81 x 11.41 x 2.56 (in)
- Folded" 5.71 x 3.94 x 2.56 (in)

-------------------------------------------------------------------------------------
Camera
Controllable Range: Pitch: -90° - 0°
Lens: FOV 90° / 2.0
Still Photography Mode: Single Shot
Photo Format: JPEG
Video of Format: MP4
Supported SD Cards: Up to 32GB (Not Included)

-------------------------------------------------------------------------------------
APP/Live View
Mobile App: Contixo F22
Required Operating System: iOS 8.0 or later / Android 4.4.4 or later
-------------------------------------------------------------------------------------
Remote Control
Operating Frequency: 2.4GHz
Battery Capacity: 300 mAh
Operating Voltage: 3.7V
Max Control Distance: 548M (1800ft)
Max Charging Time: About 60 minutes
Battery life on Control: 10 hours max
Mobile Device Holder: 4.7" - 5.5" Smartphones
Operating Temperature: 32° - 104°F (0° - 40°C)
-------------------------------------------------------------------------------------
 Charging Cable: MicroUSB
Voltage: 5V / 2A
Rated Power: 10W
Download
User Manual
Love at second sight
I hated it at the beginning, now I want an extra battery. We use it to "scout" ahead of our jeep when going in off beaten paths trails. For such a small thing it has decent endurance (10 minutes plus) and controls while needing to get used to are fairly decent. Beware of winds and if in tight spots be mindful that at the times may be some delays between your control input and the drone's reaction. Hopefully my video skills will improve , can only do so, for I would like to post some.
Trash
If you want I good quality drone this isn't the place for you!! I've spent over 800 dollars in the past month on this brand! I regret it for sure! Not only did it mess up on the second day I had it I had to pay for another one that was sent as a replacement. That lasted a week. I have several other drones that I fly a lot more an never have I had a problem. So just giving everyone a heads up if you want garbage go ahead an buy this.
Amazing hardware
One thing I will say is that the hardware is amazing. That little machine seems flak proof and makes it worthwhile trying to figure out the finicky controls.
Solid hardware, finicky software
Finally figured the download issues and the hardware is good and seems of rather robust but the controls just are awful. Back in the days I had few of these mini $20 helicopters. You could easily land them on top of a box, fly in a tight stairwell and would hover on the spot until the battery died. This guy? The controls seem to work on a second, two or even more delay and the hovering is more like a drunkard trying to stand. Very frustrating. Am I missing something?
Engineer designed
The app to use the machine should be available on the product's, or product manufacturer's website... Running around trying to the app to download is frustrating, must be designed by an engineer. I have the product, received as a gift, and get get it to work due that there is no app on my phone for it. Sure google play will sell me one. Yeah, you are going to by a car and then have to buy a key? Ridiculous.