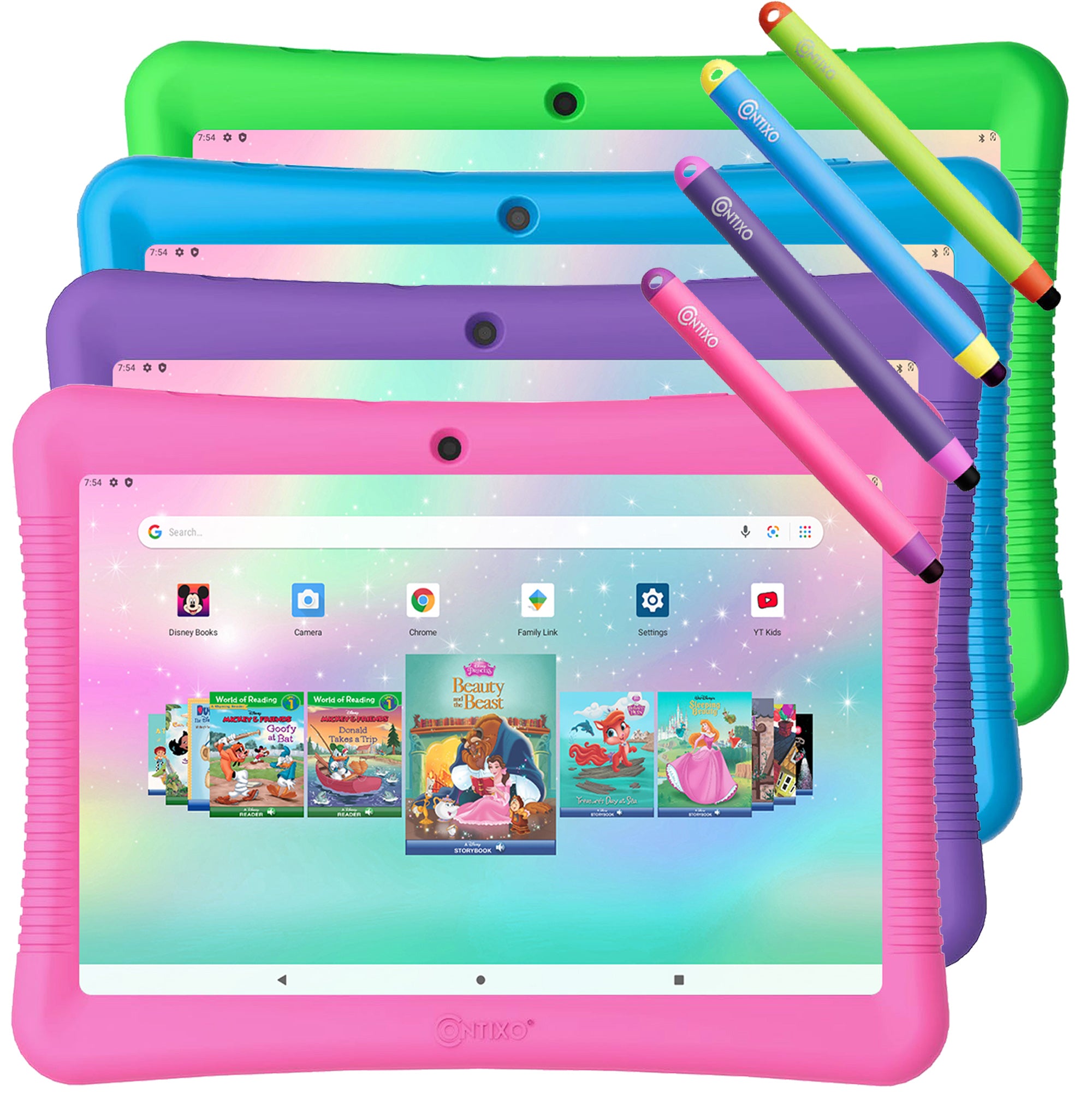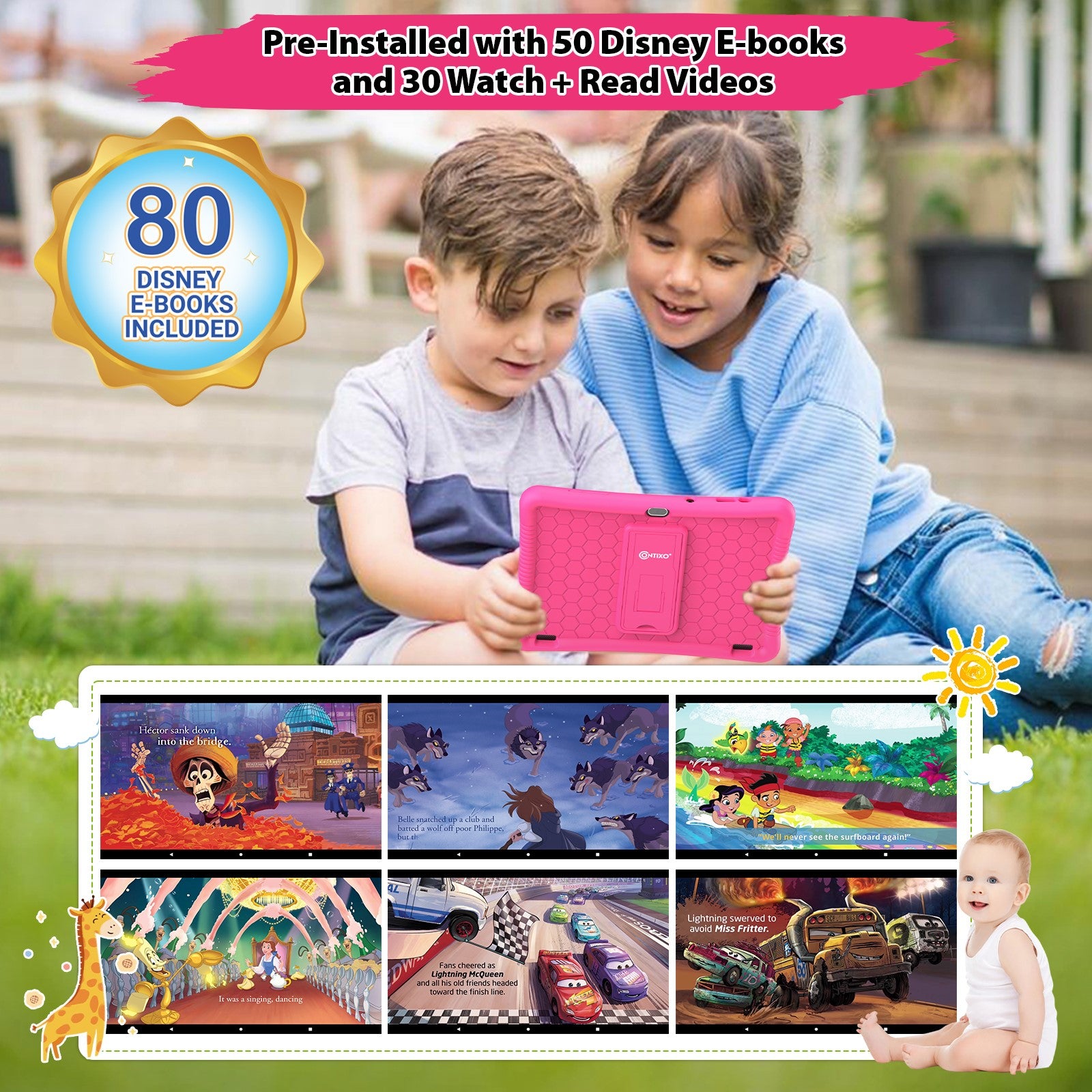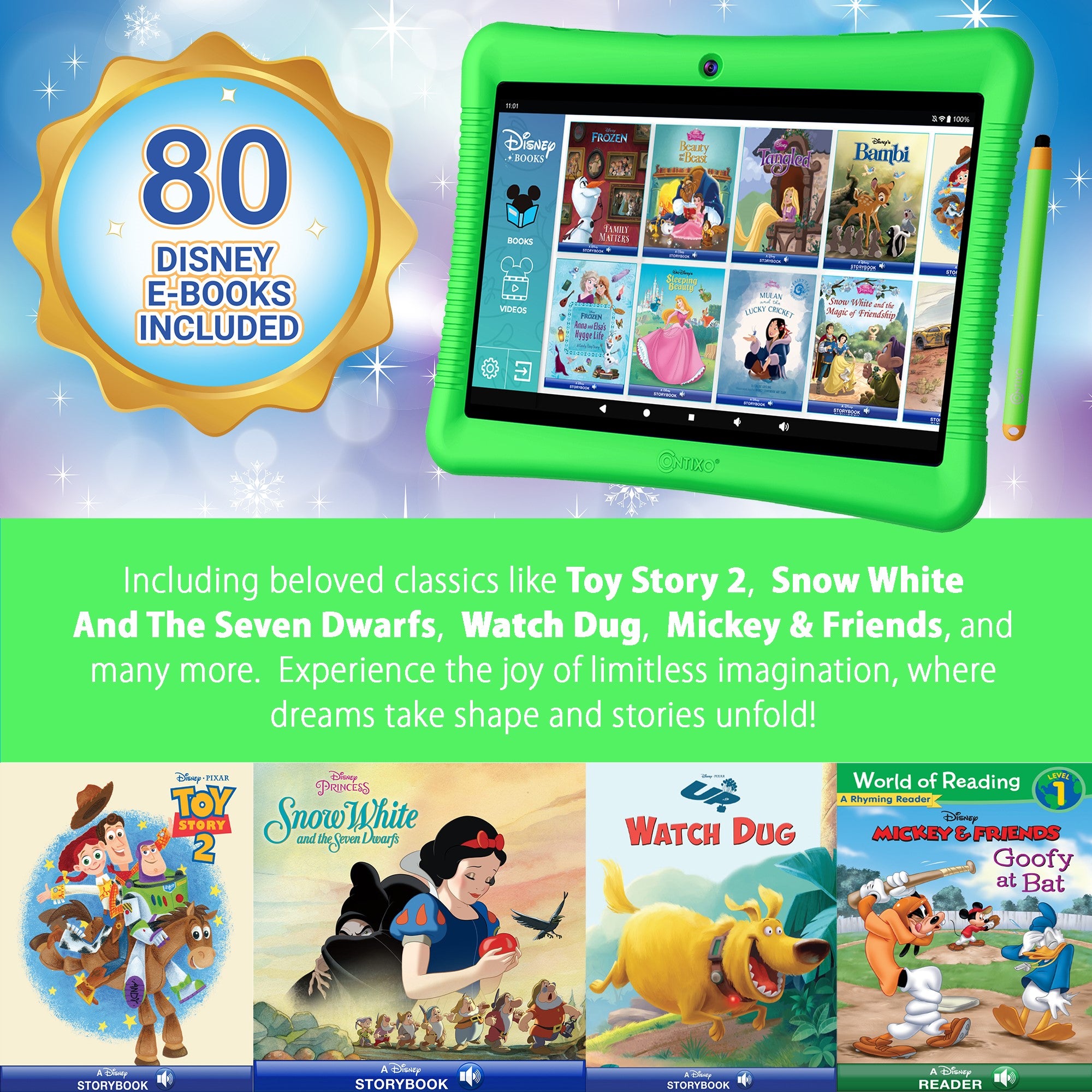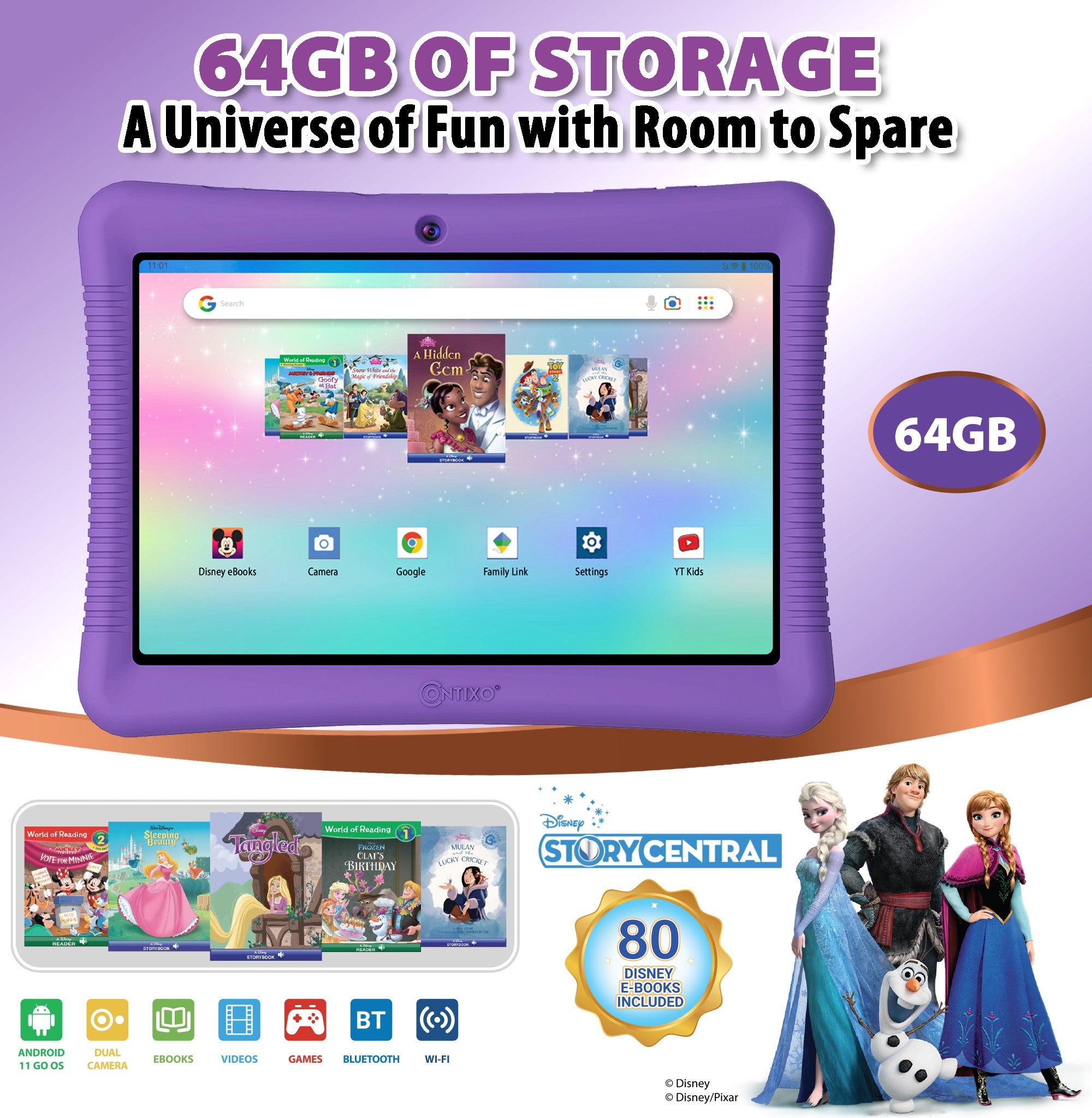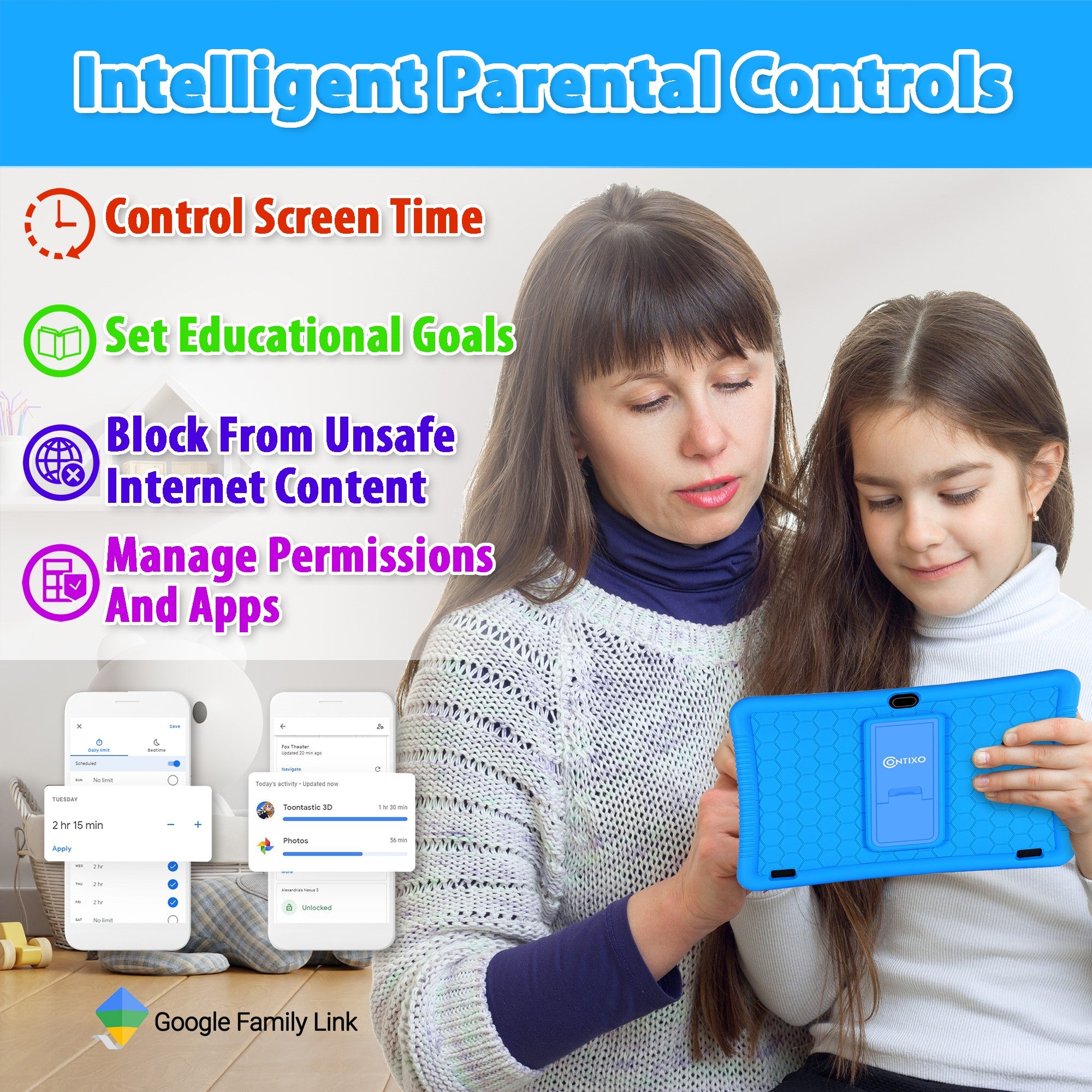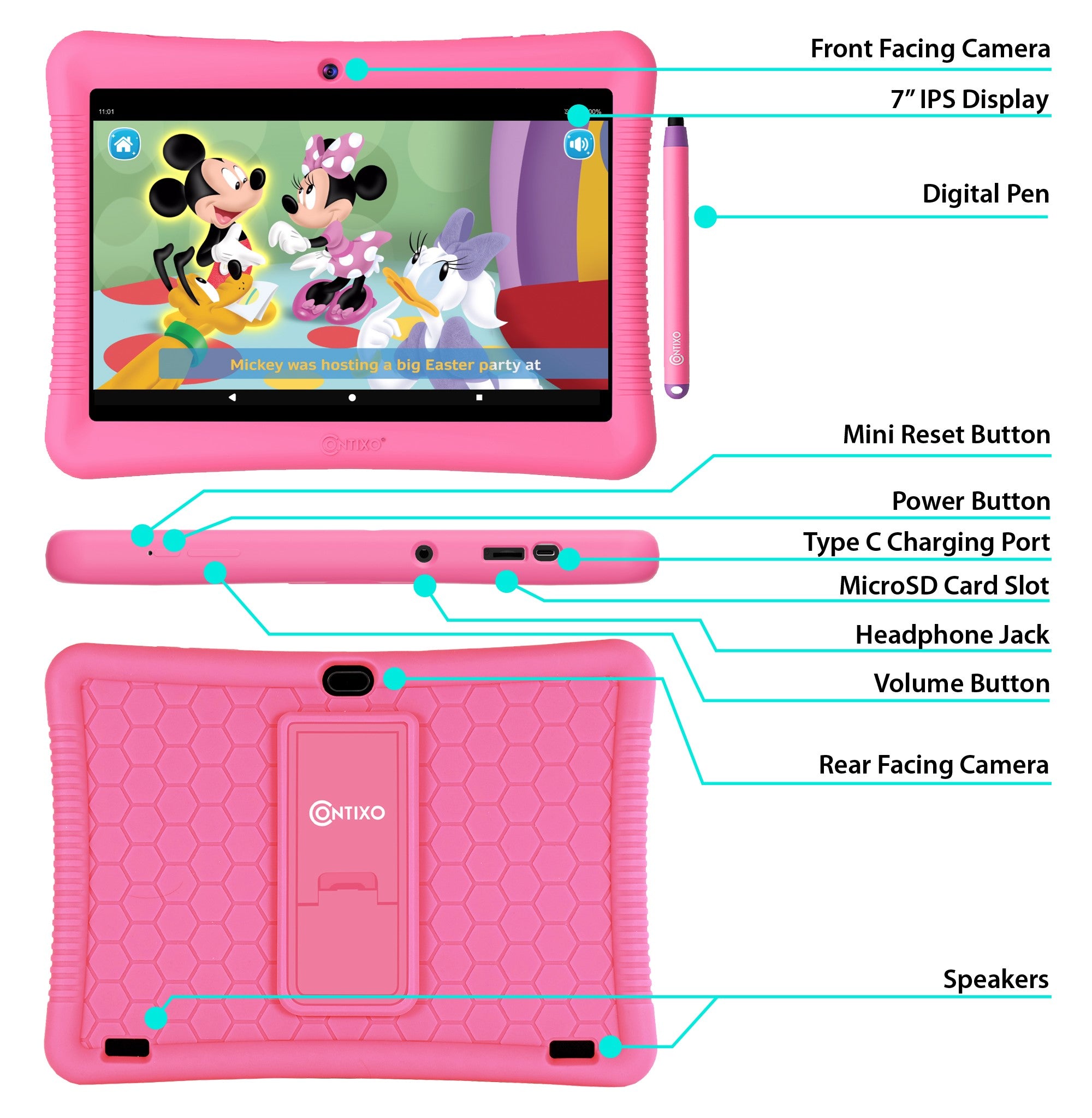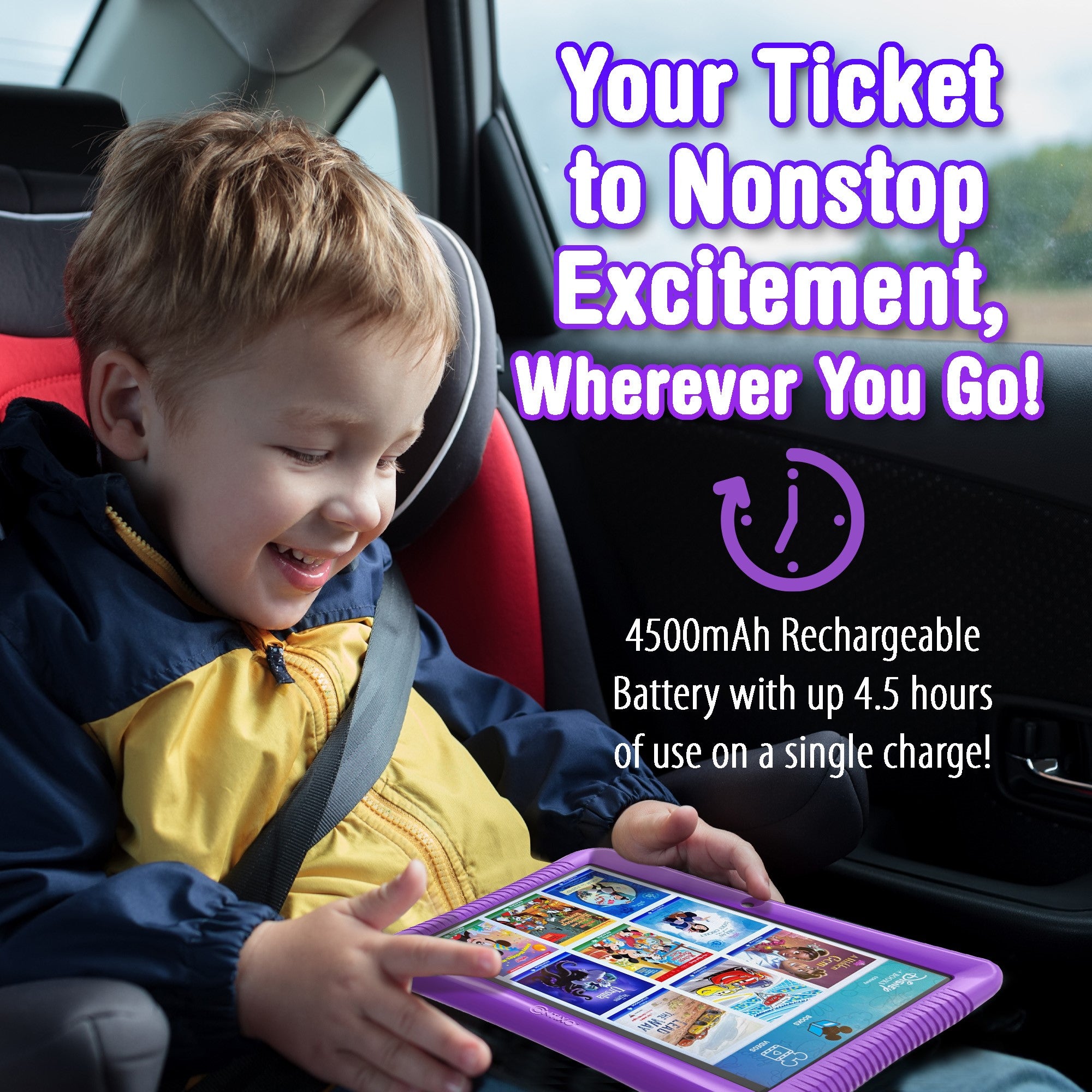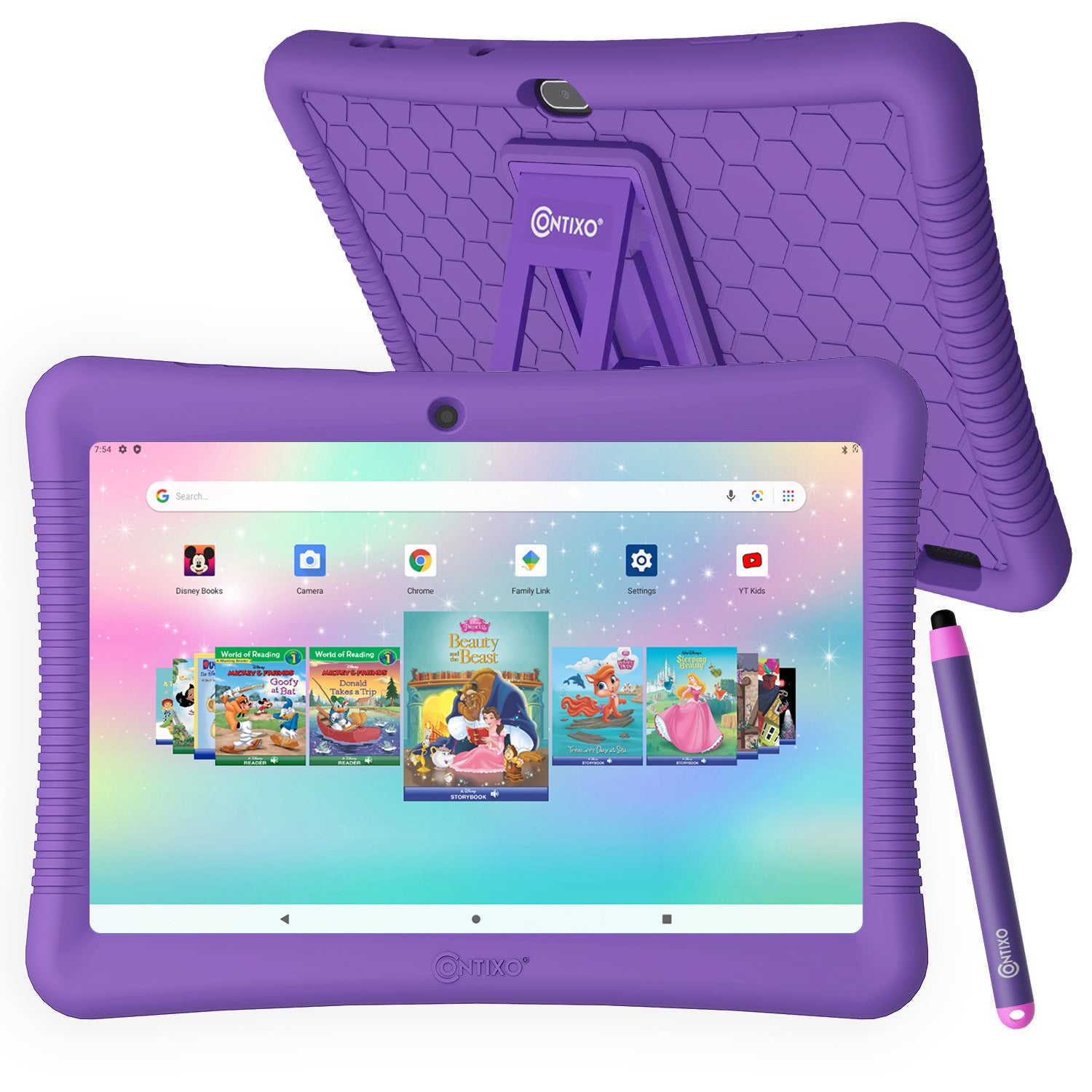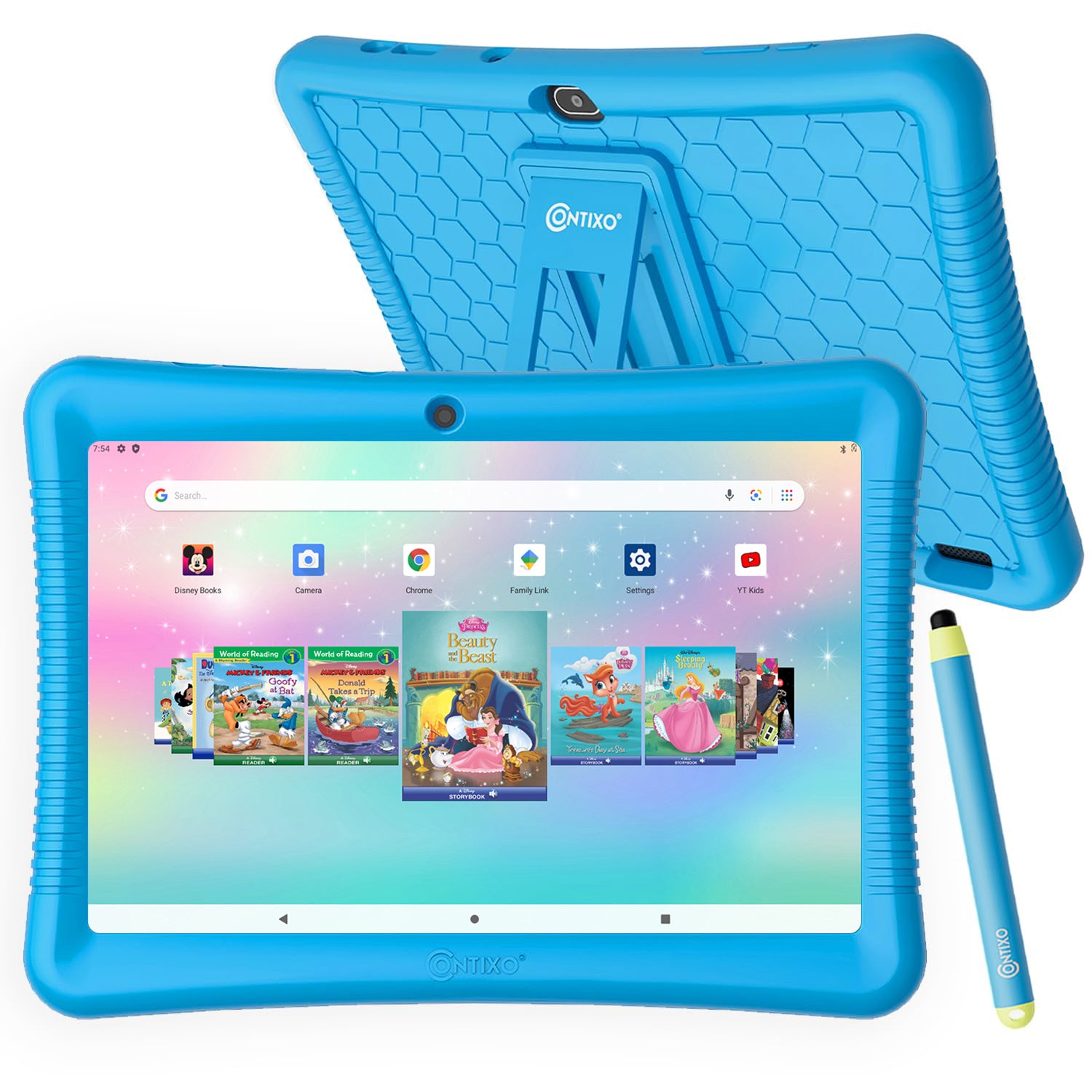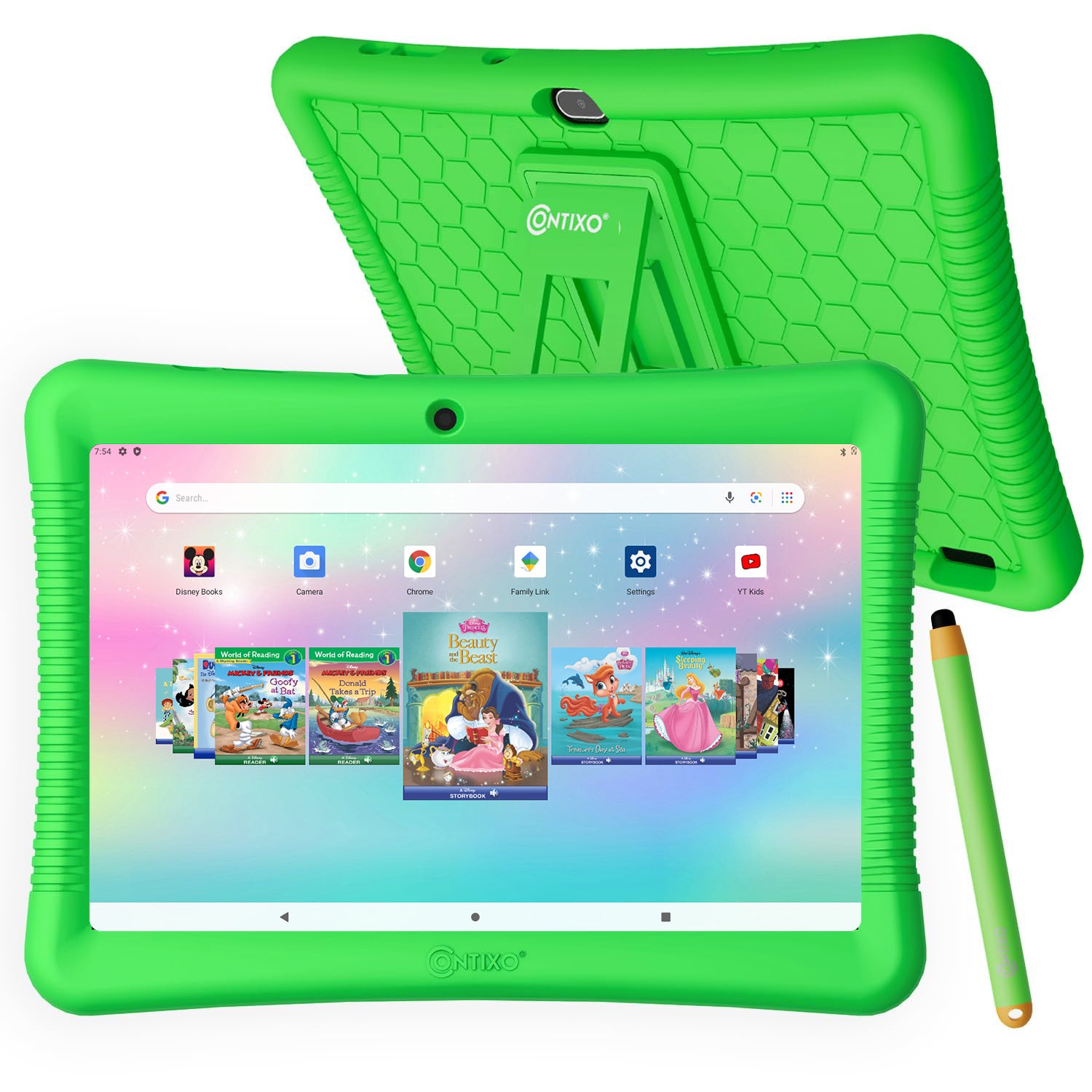 Contixo K102 10-Inch Kids 64GB HD Tablet Featuring Disney E-Books
Regular price
$109.99
Sale
Introducing the Contixo 10" K102 Kids Tablet 64GB - Your Child's Gateway to Adventure!
Introducing the Contixo K102 Kids Tablet - a gateway to boundless imagination and endless adventures! With its vibrant 10-inch IPS 1280x800 HD display, this tablet is designed for kids aged 3-12. It's not just a tablet; it's a world of wonder packed with features like a built-in camera, Android 10 operating system, Quad-Core 1.5GHz CPU, and a spacious 64GB of storage. Choose from a spectrum of colors - purple, blue, green, or pink - to match your child's unique style.
Worried about bumps and spills? Fear not! We've got you covered with a protective case and pre-applied screen protectors. Capture memories with the 2MP rear-facing camera, stay connected with the 0.3MP front-facing camera, and dive into 50 Disney Digital Audio Books and 30 Watch + Read Video Books, featuring beloved tales like "Elsa's Gift," "The Little Mermaid Storybook," "Cars 3," "Toy Story 2," and many more! Plus, with a 5000mAh rechargeable battery, the fun lasts up to 4.5 hours on a single charge. The Contixo K102 is more than a tablet; it's a ticket to hours of excitement, learning, and exploration anytime, anywhere.
Disney Magic Awaits: Immerse your child in a world of enchantment with 50 Disney e-books and 30 videos, including beloved classics like "Frozen" and "Beauty and the Beast."
Vibrant 10-inch Display: Featuring a dazzling 1280x800 HD IPS display, this tablet is perfect for ages 3-12, igniting creativity and learning.
Safe and Smart: With parental controls, a Kid-Proof Case, and screen protectors, it's designed to keep your child's experience safe and secure.
Powerful Performance: Powered by Android 10 and a speedy Quad-Core 1.5GHz CPU with 2GB RAM and 64GB storage, it's ready for educational adventures.
Long-Lasting Fun: Enjoy up to 4.5 hours of fun on a single charge with the built-in 5000mAh battery. Available in four vibrant colors: Purple, Blue, Green, and Pink.
Get ready to witness the joy and excitement on your kids' faces as they embark on this thrilling learning adventure with the Contixo K102 Kids Tablet! Hurry and grab yours now, because the fun is about to begin!
PRODUCT INCLUDES:
Protective Case with kickstand
Screen Protector & Stylus
Power Adapter (DC 5V/2A)
Charging Cable (C type)
Owner's Manual

PRODUCT SPECS:
CPU Processor: Quad-core 1.5GHz A100
Operating System: Android 10.0
Browser:  Google
Internal Storage: 64GB 
Memory (RAM): 2GB RAM
Expansion Slot: Micro SD Card Slot, Support up to 128GB Flash
Screen: 10.1" IPS Touch Panel
Camera: 
   • Front - 0.3 megapixel
   • Rear - 2.0 megapixel
Screen Resolution: 1280 x 800
Input Method: Touch Screen
Built-in Speakers: 1W 8 Ohm Built in speaker
Earphone Jack: 3.5mm
Charging Cable: Type C
Battery: Rechargeable 5000mAh Battery
Size: 10 in x 6.8 in x 0.4 in
Weight: 17.99 ounce / 510 g
Voltage: AC 110-240 50/60Hz DC 5v/2A
Operating Temp:  -10C /14F to 40C / 104F
Network Access: Wi-Fi (802.11 b/g/n)
Parental Controls: 
   • View Kids activities
   • Manage Kids Apps
   • Set Time Limits
   • Lock Device
   • See where kids are
Warranty: 1 Year Manufacture Defect 


Download
User Manual
Contixo K102 10-Inch Kids 64GB HD Tablet Featuring Disney E-Books
Highly Recommended Tablet for Kids
I highly recommend this tablet for kids. It has a great size screen and works perfectly for their screen time. The tablet's quality is exceptional, and it meets all our expectations.
Battery That Goes the Distance: A Tablet Worth Every Penny!
I can't praise the battery life of this kids tablet enough. It's truly impressive how long it lasts, even with continuous use. Whether it's for schoolwork or entertainment, this tablet keeps going and going. It's definitely worth the investment!
Great tablet!
I'm amazed by the quality of the K102 10 inch kids tablet. The touch screen is responsive, and the tablet runs smoothly. My daughter, Olivia, enjoys using it for both entertainment and learning.
Brilliant
It just so happens that my clumsy daughter broke her previous tablet so we were in the market for a good, durable, kids tablet.