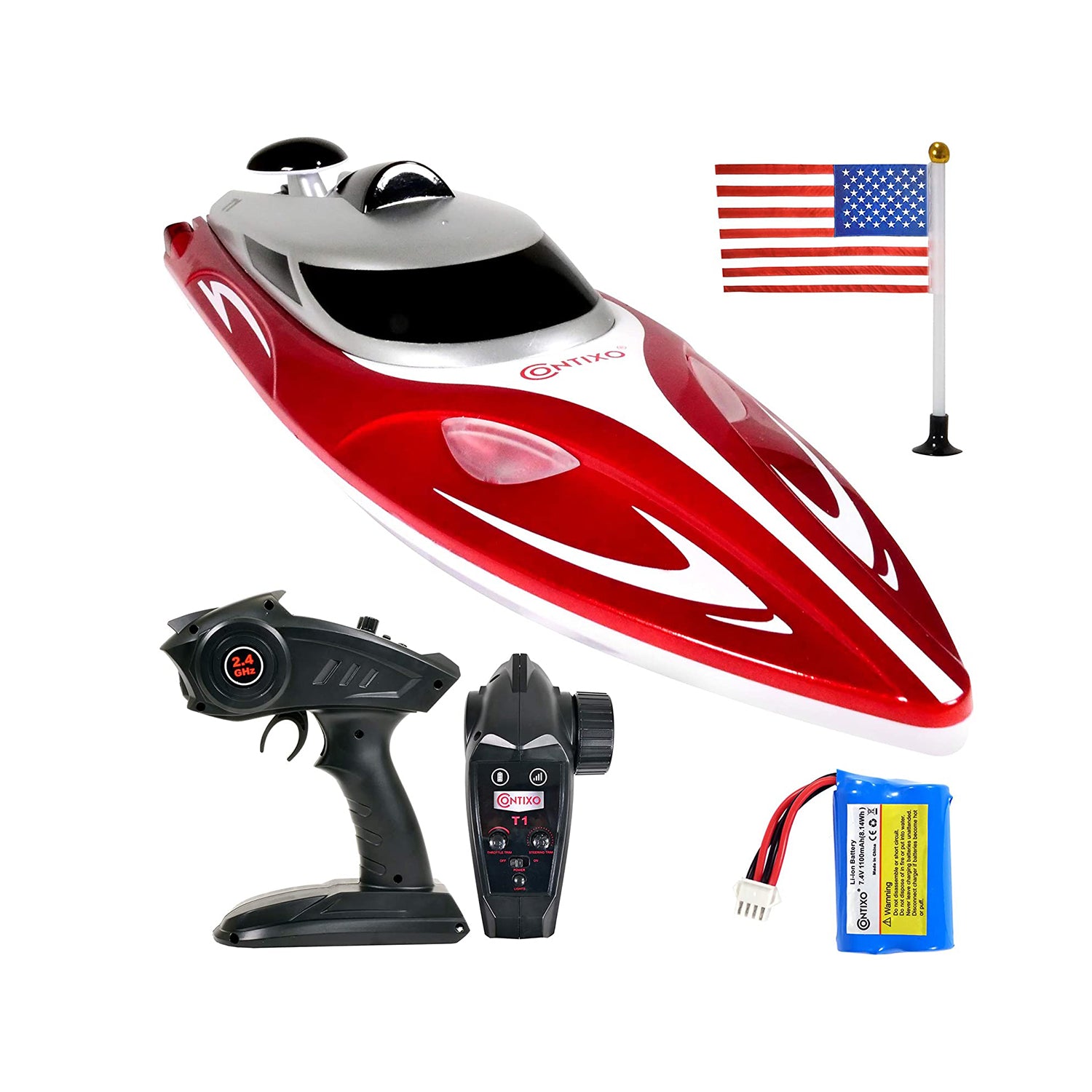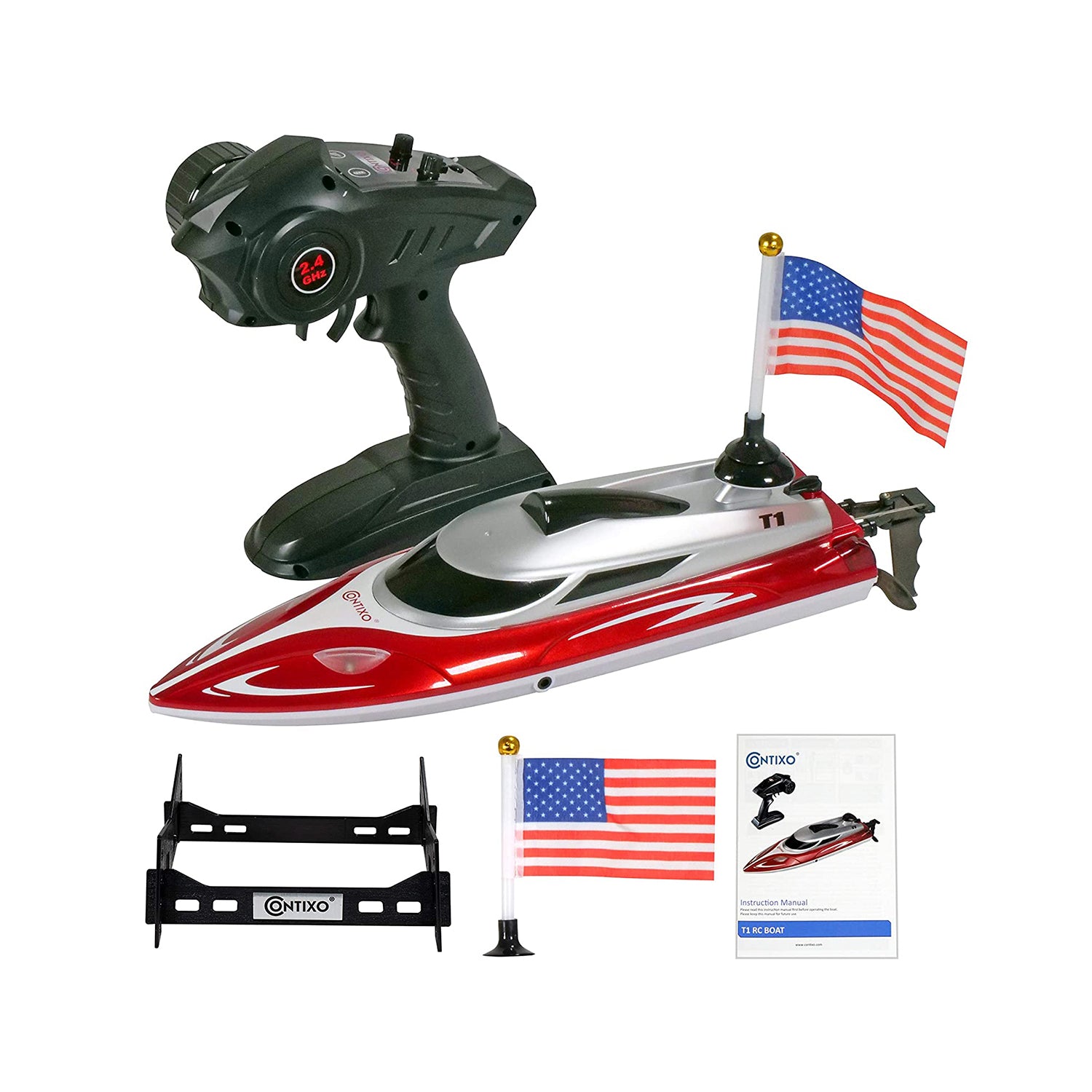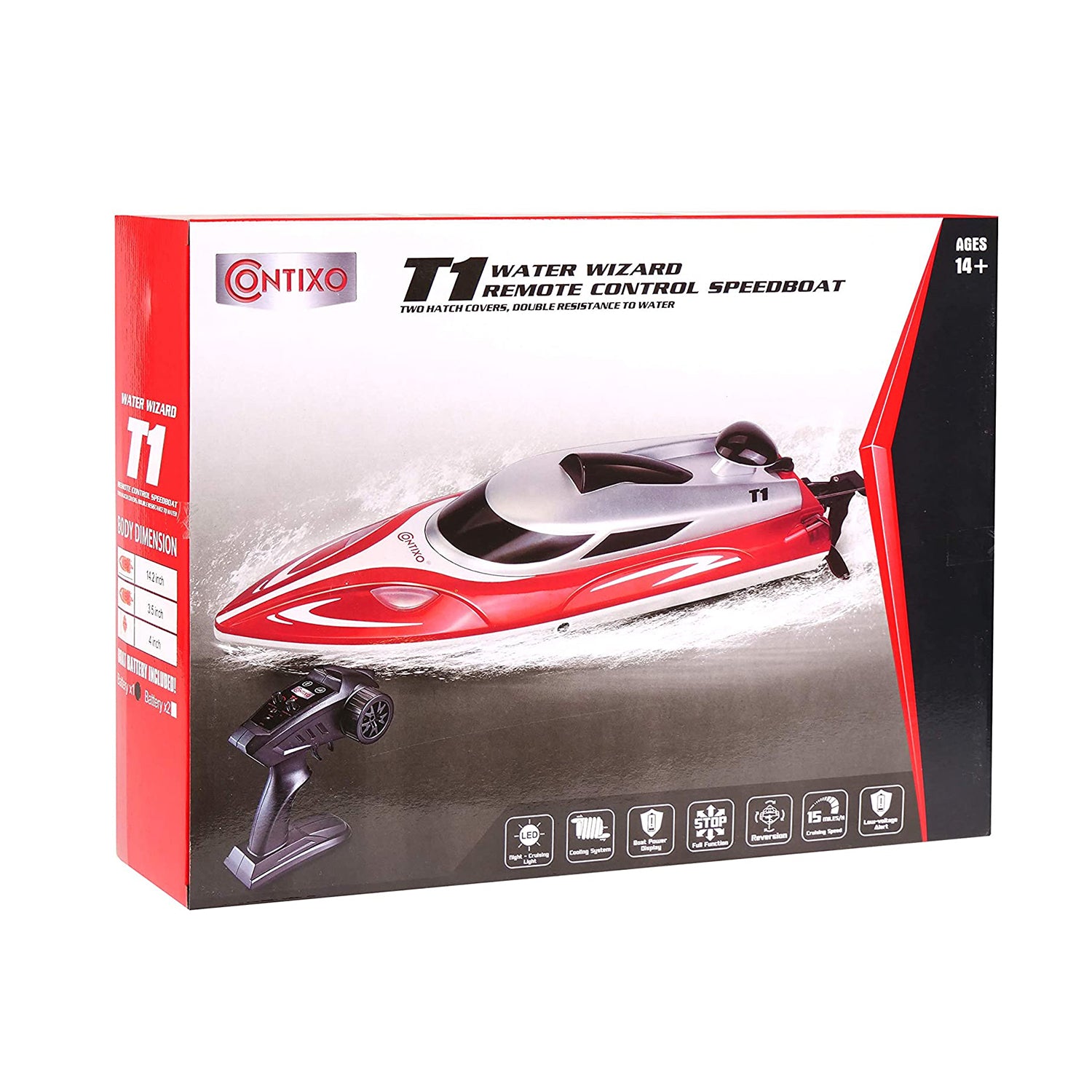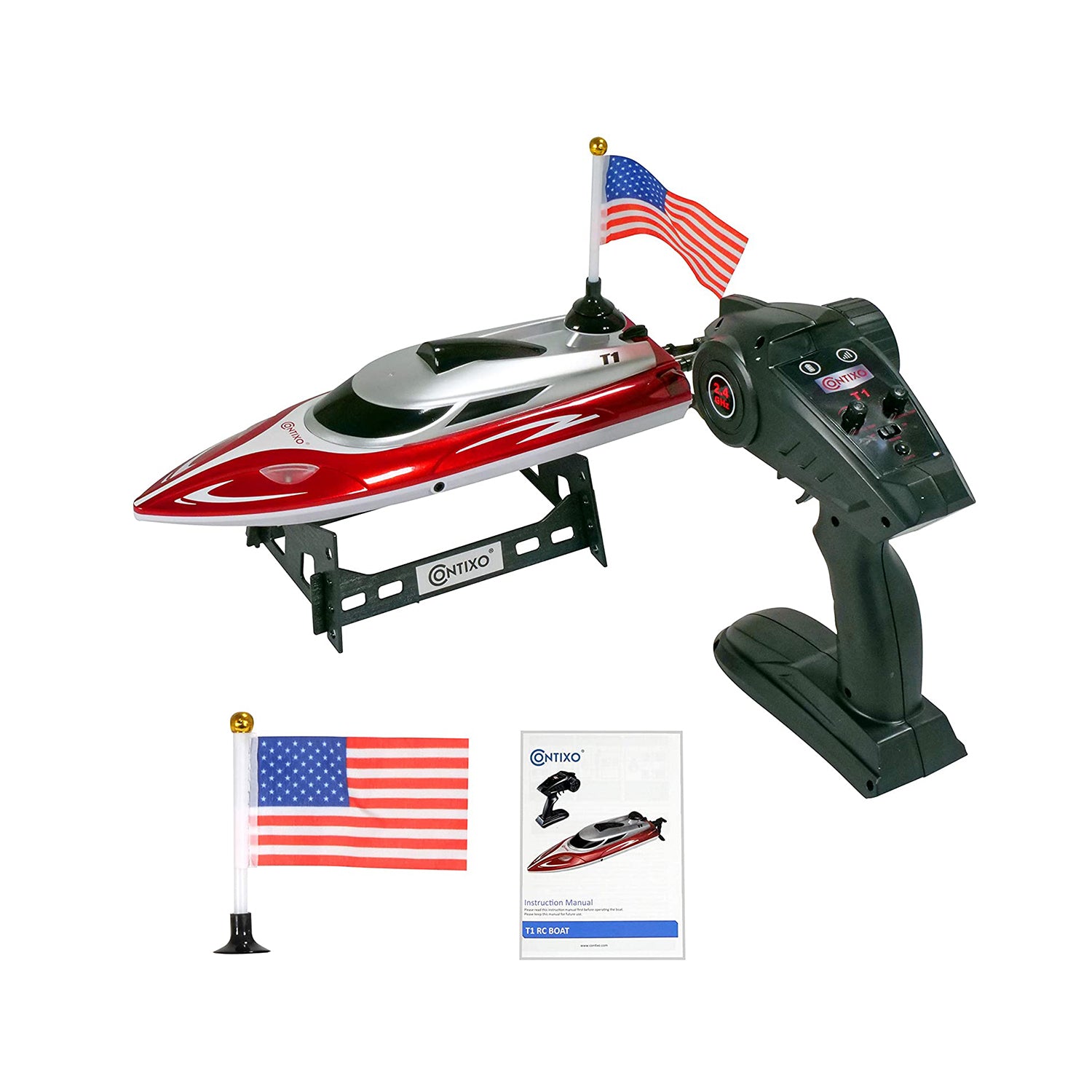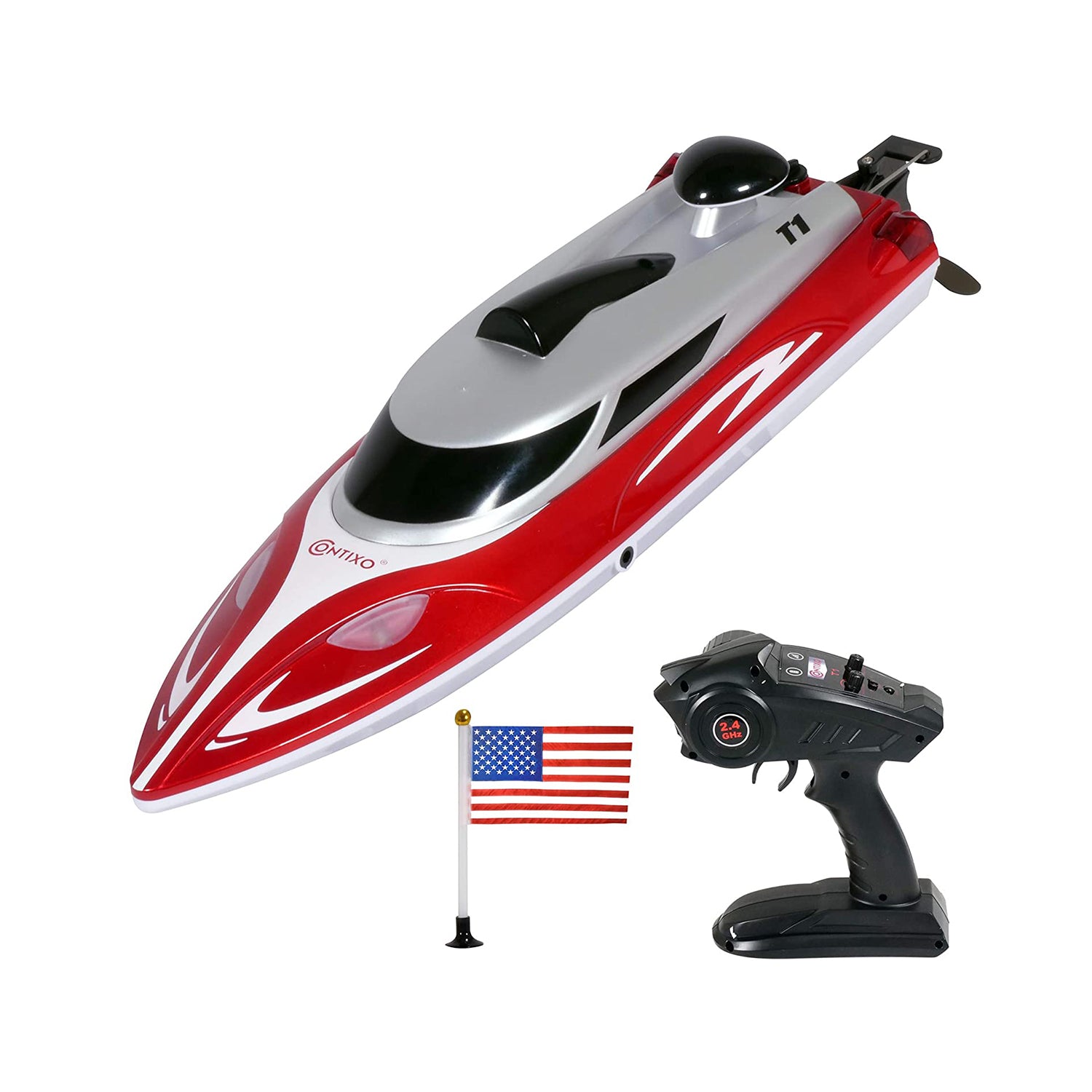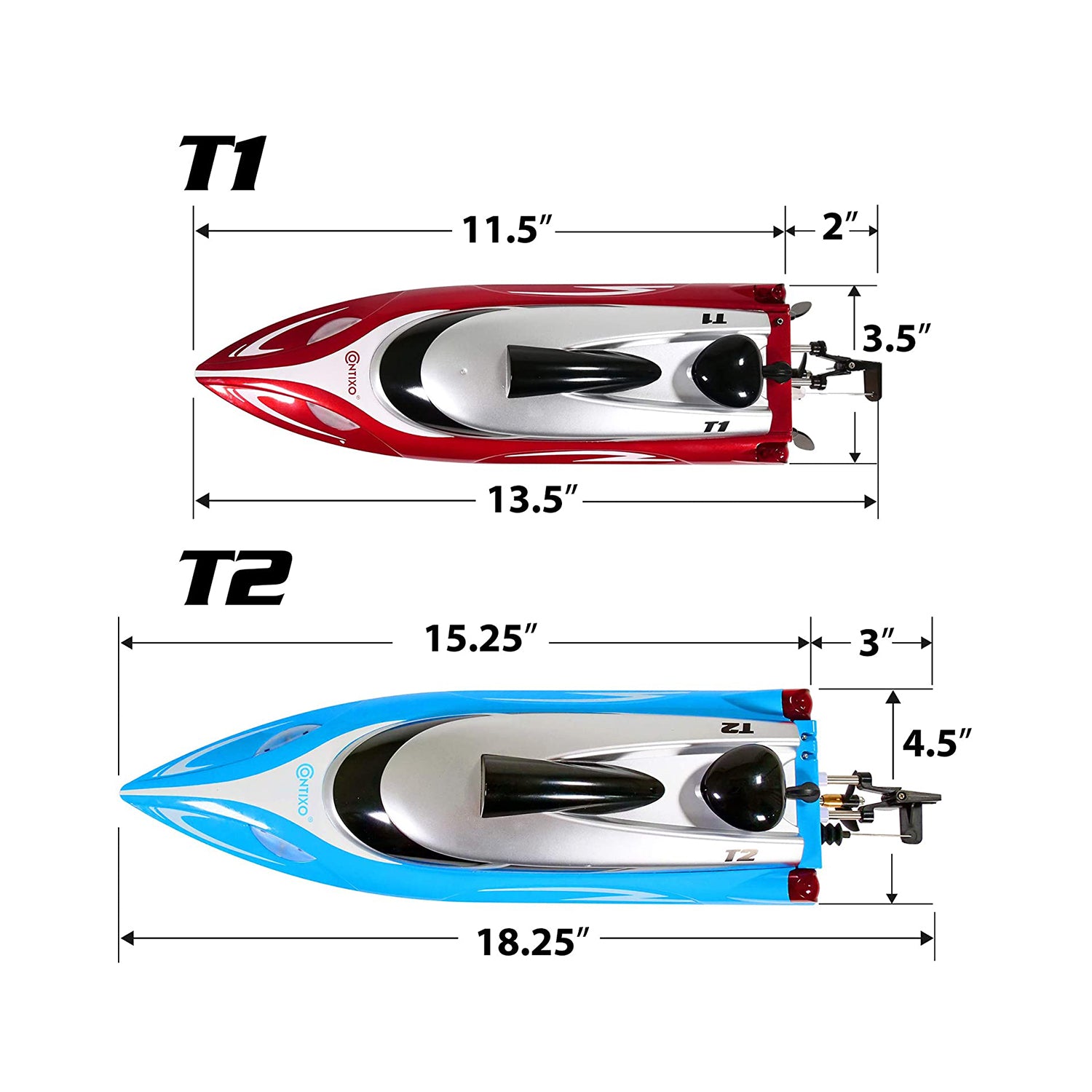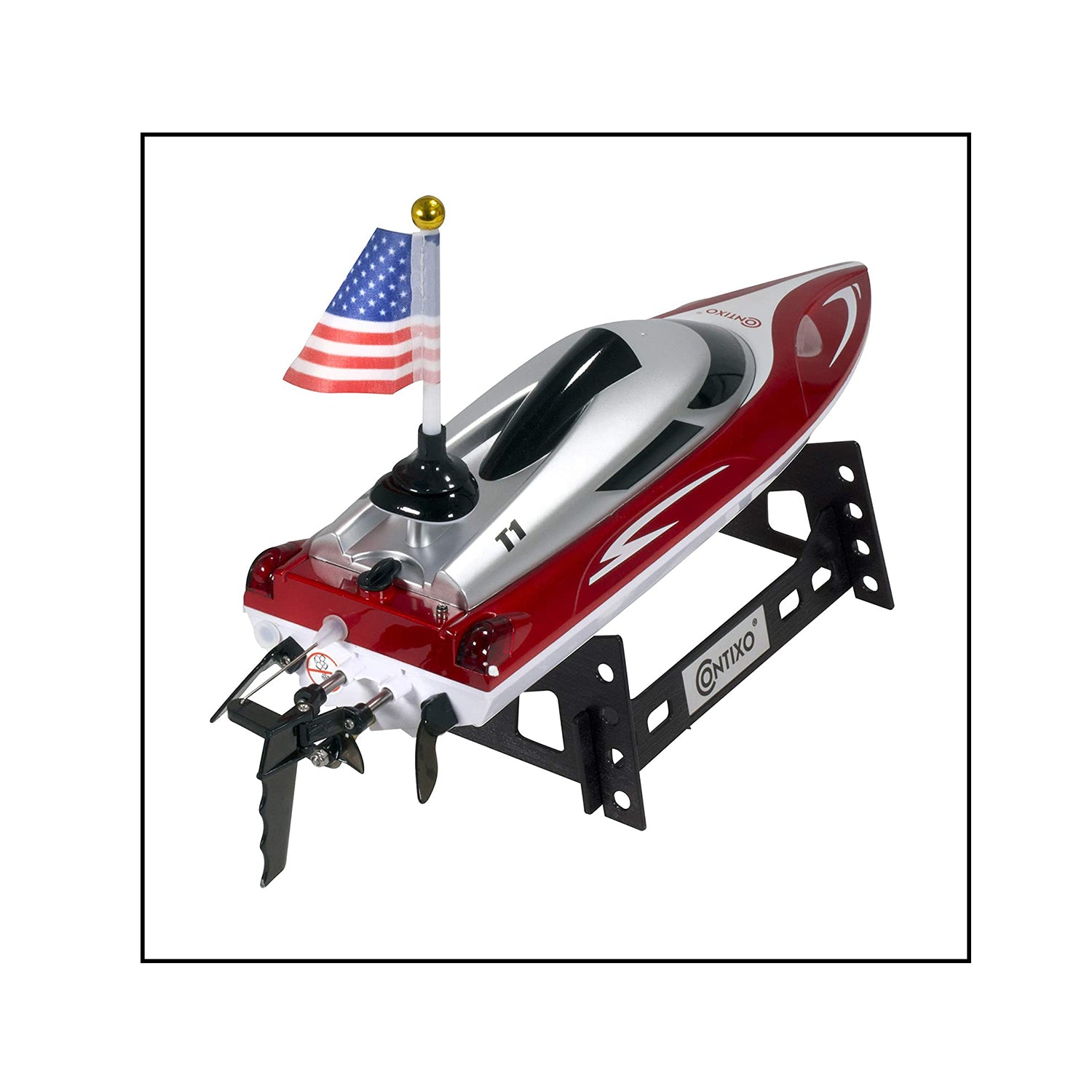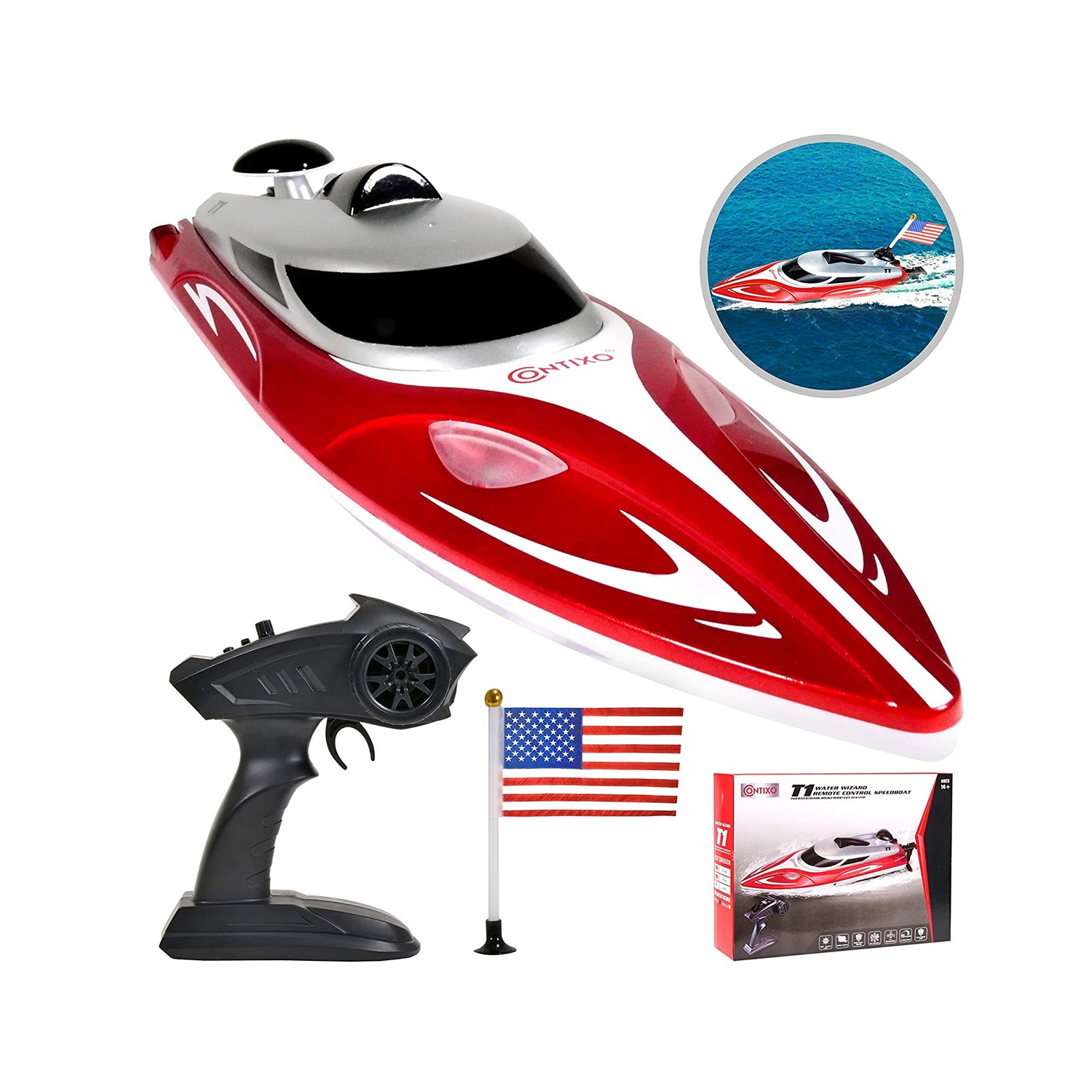 Contixo T1 Water Wizard RC Remote Control Speed Boat
Regular price
$52.99
Sale
About this item
HIGH SPEED REMOTE CONTROLLED BOAT: The Contixo T1 RC toy boat for adults and kids races across water at 15+ mph; this high speed boat includes a 4-channel remote with a 150-180 meter (Up to 590 ft.) signal range
RC BOAT FOR ADULTS AND KIDS: This remote controlled boat features easy controls, a double-hatch body for control over waves, capsize recovery mode to turn the boat upright if flipped, a water cooled engine that keeps the engine cool, and high capacity battery for longer run time
DURABLE FRESHWATER BOATS: Race these durable remote control boats in rivers and lakes with low surface-debris or outdoor/indoor pools with liners; these boats are NOT for saltwater use
RECHARGEABLE RC BOAT: 13.75" Remote control speedboat; (1) rechargeable 7.4v 1100mAh Lithium Ion - battery, dry-dock stand, Single Propeller. Charge time 2 hours for 20 min play per battery. for ages 14 and up
ADVANCED REMOTE CONTROL: Smart 2.4 GHZ remote control shows signal/power/trim adjustment/Left-Right throttle switch mode, emergency stop function, and low signal warning to avoid the boat going out of range

Contixo T1 Racing Speedboat - Quality Design, Components & Detailed Craftsmanship
The Contixo T1 Racing Speed Boat offers the best racing action for outdoor recreational fun. Compared to other competitors, our T1 speedboat is made of more quality components and detailed craftsmanship. This is best Black Friday, Cyber Monday, Christmas, Thanksgiving or Birthday Gifts for kids.
HIGH SPEED REMOTE CONTROLLED BOAT
RC BOAT FOR ADULTS AND KIDS
DURABLE FRESHWATER BOATS
ADVANCED REMOTE CONTROL
RECHARGEABLE RC BOAT
QUALITY ASSURED: The Contixo T1 RC boat is easy and fun for kids and adults; We'll provide a full refund if you're not totally satisfied with our remote control boat. A Perfect Gift for your Loved ones for Back to School Deals!
Our Contixo T1 Racing Speedboat is incredibly fast, powerful and durable. Take it to a lake or anywhere with calm water and enjoy pure racing fun. Grab 2, 3, or more and start a racing contest.
DOUBLE-HATCH DESIGN:
Gives the Contixo T1 Speed Boat an extra layer of water-resistance protection and better protects the boat engine. The double-hatch design protects your RC motorboat and improves water resistance in waiver waters
SPEEDY REMOTE CONTROL BOAT:
A large-prop motor pushes our Contixo T1 to 15+ MPH! The 4 Channel 2.4 GHz transmitter lets you find your own signals while racing other boats.
WATER-COOLED ENGINE:
The powerful single prop motor is made even more efficient with technology that uses the freshwater lake, river or pool water to cool the engine while you race. Do not use Salt water
CAPSIZE RECOVERY:
Contixo T1 is equipped with Capsize Recovery Button in which will automatically upright your RC Boat when flipped. The Emergency Stop feature halts this electric RC boat in its wake when necessary
RC BOAT REMOTE:
Your remote transmitter emits a low-signal alarm when you're close to your max range or the battery is low voltage.
2.4 GHz LONG RANGE REMOTE-CONTROLLER:
With the 2.4 GHz wireless transmission technology, you are able to race the boat with a range up to 150 - 180 meters (Upto 590 Ft.)
HIGH-REV STEERING RUDDER:
The High-Rev Steering Rudder allows for faster action, precise directional control, and operations.
FOR THE FUN:
On a full charge, the CONTIXO T1 (1) battery can last up to 20 Minutes of high speed racing. HIGH CAPACITY battery of 1 x 7.4V 1100mAh Li-ion Battery.
EQUIPPED WITH LED LIGHTS:
Contixo T1 is equipped with two LED Lights for driving your RC Boat at Night. you can turn them on via the remote so it is always visible when it running at dark.
PURE OUTDOOR FUN:
Our Contixo T1 Racing Speedboat is incredibly fast, powerful and durable. Take it to a lake or anywhere with calm water and enjoy pure racing fun. Grab 2, 3, or more and start a racing contest.
PERFECT GIFT & COOL EXTRAS:
Makes the perfect gift for anyone who enjoys outdoor fun!
Measures approximately 14.2" x 3.5" x 4"
WHAT'S IN THE BOX:
It comes with full accessories as shown in the above.
Comes with cool extras such as:
1 x Contixo T1 High-Speed RC Boat
1 x 2.4 GHz Transmitter (Remote Control)
1 x 7.4v 1100mAh Li-ion Battery
1 x USB Charging Cable
1 x Single Propeller
1 x Boat Tool
1 x User Manual
1 x Display Rack
Download
User Manual
Can't get just 1 if you have multiple kids
Very fast and really easy to drive. My son was even able to control it with ease and had a blast playing with it. The run time is a lot longer than most RC boats and it's able to travel a lot further without going out of range. I highly recommend this boat!
Really fast boat!
I bought this for my 8 y.o. And he loves it!!! This thing is super fun and really REALLY fast.. The only thing I dont like is the battery life, although it takes almost no time to charge it only lasts about 10 minutes.. Other then that its worth it, he wants another one so we can race around our pond.. Most likely well be buying again!! :)
Great product & service!
AS SOON as I opened up the packaging, I knew that this was definitely a high-quality speedboat! I was amazed by almost every aspect of this product and I thoroughly enjoyed driving it around super fast! I like that it has a great BUILD QUALITY, a superb amount of POWER, and an awesome CONTROLLER with a great range! All in all, I really enjoyed this product, and would recommend it to anyone who wants to get into the RC hobby and have a lot of fun!
I highly recommend this Speed Boat
Great boat, lots of fun, my grandson loves it...